by Lynn Hinkle Roberts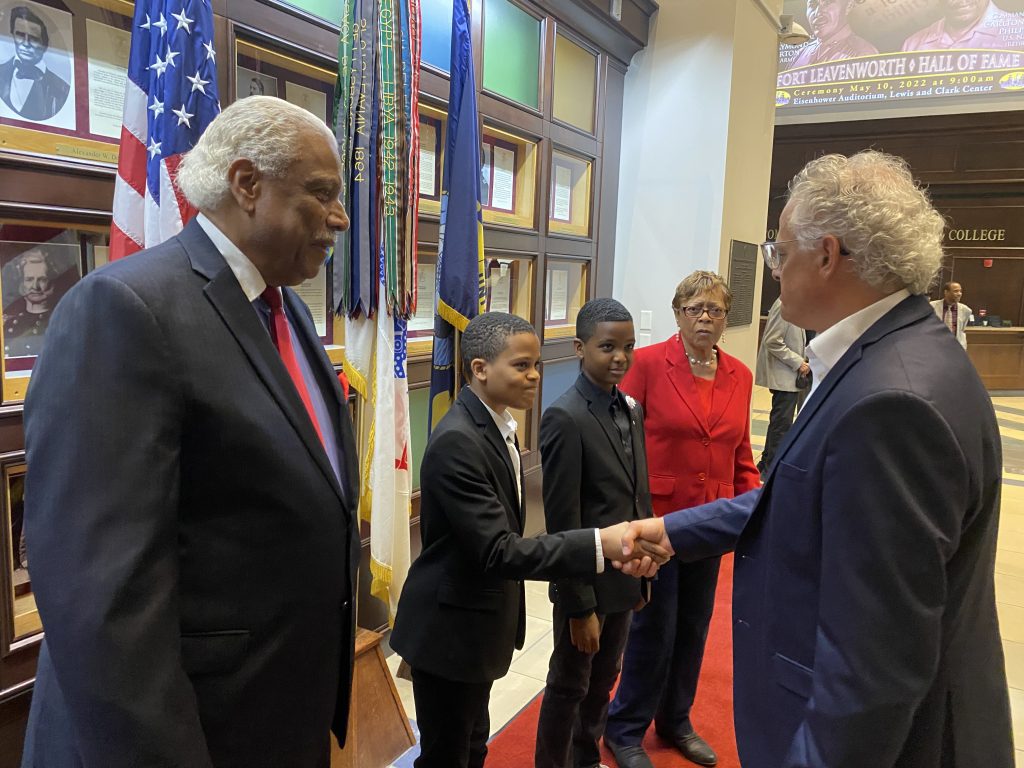 Carlton Philpot, a retired U.S. Navy Commander living in Kansas City's northland, was inducted into the Fort Leavenworth Hall of Fame on May 10th, along with the late Major General Raymond Burton, Commander of the Fourth Infantry Battalion in WWII.
The Hall of Fame honors "outstanding military and civilian leaders of the Armed Forces of the United States who have served at Fort Leavenworth, Kansas, and made a significant contribution to the achievement, tradition, or history of Fort Leavenworth and the Armed Forces of the United States."
Commander Philpot was honored for more than three decades of work recognizing the contributions and honorable service of African American military units and individuals. At Fort Leavenworth, he led the largest such undertaking at the request of General Colin Powell, a $1.3 million installation of a bronze Buffalo Soldier on horseback by artist Eddie Dixon, which was dedicated by Gen. Powell in 1992 behind Lewis & Clark Hall, where the Fort's Hall of Fame is housed. Both Meriwether Lewis and William Clark are members of the Hall of Fame, as are Generals Dwight Eisenhower and Colin Powell.
Commander Philpot volunteered to honor black servicemen and women after his retirement from the Navy in 1994, serving as Chairman and Project Director of the Buffalo Soldier Educational and Historical Committee. He drew a laugh from the audience of hundreds of military and civilians when he shared that his nickname was "Buffalo Sailor" among his Army colleagues.
The area at Fort Leavenworth known as Buffalo Soldier Park features seven more monuments, including one for the former slave and first black graduate of West Point, Lt. Henry O. Flipper. A monument to the only known female Buffalo Soldier, Cathay Williams, is at the Richard Allen Cultural Center.
The picturesque setting for the Circle of Honor beside the lake hosts bus loads of school children and reminds today's military of the leadership and contributions made by black men and women.
In his acceptance speech, Commander Philpot said he is most proud of the monument dedicated to his friend, the late Gen. Colin Powell, who was the first Black Chairman of the Joint Chiefs of Staff, and first black Secretary of State.
The seventh and most recent monument in Buffalo Soldier Park that Carlton spent endless hours developing was dedicated in 2018 and honors the 6888th Central Postal Directory Battalion, the only predominantly black Women's Army Corps unit deployed overseas during WWII. Commander Philpot recognized John Freshnock of WSKF Architects headquartered in North Kansas City, who donated his firm's services for the 6888th monument.
Attending the ceremony and unveiling of the Hall of Fame shadow box with Carlton were his wife Othello Philpot and their two daughters, Trina Montano and Karla Dozier, along with two grandsons, Cole and Carlton Dozier. He recognized the many sacrifices Othello made during his Navy career, noting with a smile that she said she signed up to be a Navy wife, but not a projects wife!
Commander Philpot was an instructor at the Command and General Staff College from 1989-1994, and after retirement from the Navy he started the first Navy JROTC at a Job Corps Center in Excelsior Springs.
In his acceptance speech, he gave all glory to God and spoke of those who had passed before this day, including his mother, Mrs. Daisy Philpot. He reflected on the pride he felt at being mentioned in Gen. Powell's autobiography, "My American Journey". On page 556, Gen. Powell recalls the day in 1992 when the Buffalo Soldier monument was unveiled to 20,000 attendees.
"I thanked the Fort Leavenworth military historian, Colonel Von Schlemmer, for nourishing my first hope to memorialize the Buffalo Soldiers, and General Dougherty, who had kept the torch of this project burning when it almost guttered out. I saved my warmest praises for Commander Carlton Philpot, U.S. Navy. 'Thank you, my friend, from the very bottom of my heart, for making my modest dream into a stunning reality,' I said. 'There he is, the Buffalo Soldier,' I went on, pointing to the magnificent eighteen-foot-tall statue, 'on horseback, in his coat of blue, eagles on his buttons, crossed sabers on his canteen, rifle in hand, pistol on his hip, brave, iron-willed, every bit the soldier that his white brother was.' African Americans had answered their country's every call from its infancy, I reminded the audience….what a beautiful day it was, one forever engraved in my memory."