One To World Honors Global Leaders and Fulbright Scholars at Annual One To World Fulbright Awards Dinner in NYC on May 24
by Kristin Rubisch
One To World, an international education organization based in New York City, honored an extraordinary group of individuals who have furthered Senator J. William Fulbright's vision of peace through international education and exchange on May 24, 2022 at the One To World Fulbright Awards Dinner. This special event celebrated its in-person return after a three-year hiatus at The Plaza Hotel in Manhattan alongside friends and supporters. One To World holds this fundraising gala every year to raise funds for its programs, awareness of the Fulbright program, and to honor individuals who have furthered Senator Fulbright's vision of peace through intercultural understanding. It's a wonderful evening with attendees representing international business, education, the arts, and international affairs and governance.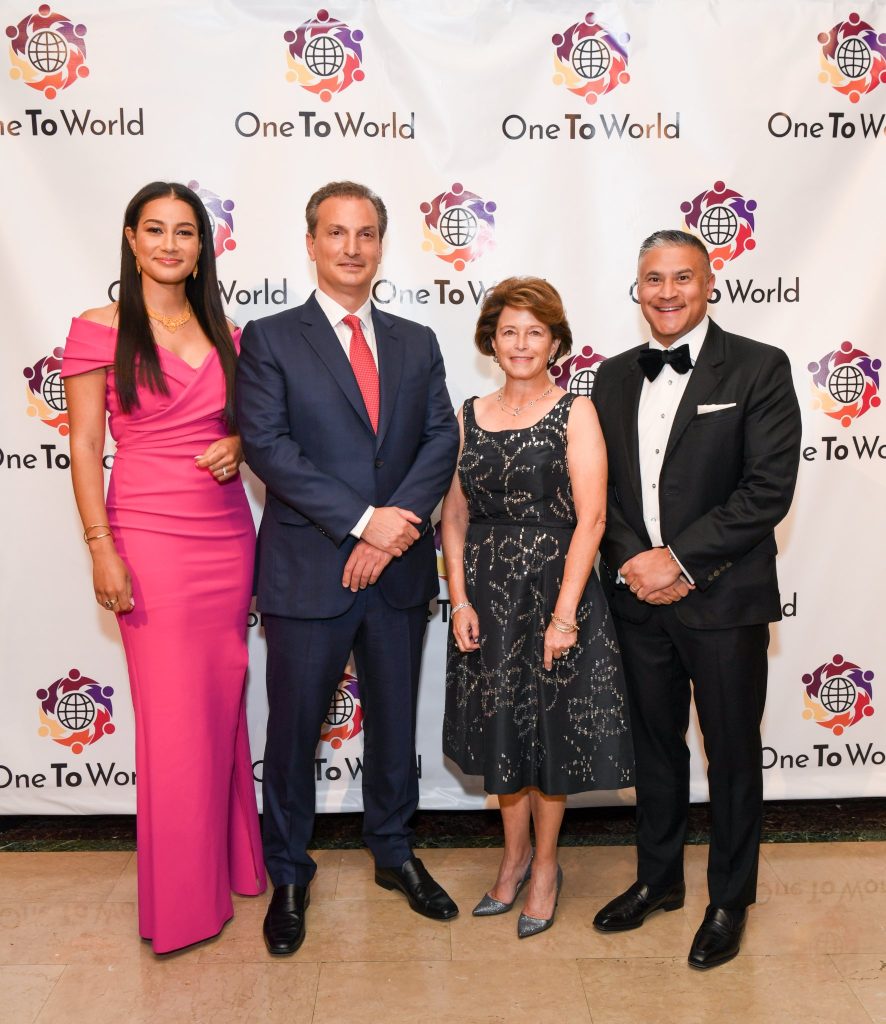 This year's honorees included:
• Morgan Radford, Anchor / Correspondent, NBC News, One To World Fulbright Award for Intercultural Awareness & Understanding – Ms. Radford is a thoughtful journalist who has covered some of the country's biggest stories including the 2016 and 2020 presidential elections, the disproportionate impact of COVID-19 on low-income communities, and the immigration debate over the U.S. southern border. In addition to receiving degrees from Harvard and Columbia, Ms. Radford received a Fulbright Fellowship from the US State Department, where she spent one-year teaching in Durban, South Africa. During her speech, Morgan, a Harlem native, shared her love of journalism and reflected on the lessons she learned during her time as a Fulbright scholar in South Africa; lessons that propelled her into a lifetime of curiosity and a career centered on compassionate storytelling. Morgan went on to explain the meaning of Sawubona, the isiZulu word for "hello", as she said it is "the most beautiful greeting I have ever known. It literally translates to 'I see you' — and is about recognizing the worth and dignity of every single person you meet."
• Toni G. Verstandig, Co-Founder and Executive Director, Verstandig Family Foundation, One To World Fulbright Award for International Diplomacy & Philanthropy – Mrs. Verstandig is a devoted philanthropist and peacekeeper, having dedicated her foreign affairs career to programs and partnerships in the Middle East. She is actively engaged in numerous boards and foundations dedicated to international affairs and more. A key theme to Toni's career and speech, and One To World's own work is the idea that "direct engagement" is critical to fostering stability, the seed to understanding, reconciliation, and resilience. Toni was able to meet many Fulbright scholars while hosting a Conversation with World Leaders program, a series of face-to-face meetings with CEOs, philanthropists, civic leaders and other prominent New Yorkers who wish to engage Fulbright students in an exchange of ideas and life stories, hosted by OTW. When thinking back on this program, Toni remarked "seeing the young Fulbright scholars gives me enormous hope", she then went on to identify the importance of the Fulbright program and the scholars that OTW works with when she said "the Fulbright scholars are a bridge, they bridge the world of ideas and action, they are rolling up their sleeves and bringing to the table real solutions."
• Ram Jagannath, Senior Managing Director, Blackstone, One To World Fulbright Award for Global Healthcare Innovation & Development – Mr. Jagannath is a distinguished investor and leader in the field of global healthcare, facilitating technological innovations while addressing systemic inequalities. A former Fulbright scholar himself, Mr. Jagannath completed post-graduate research in Economic Development at the University of Zagreb in Croatia and was a Hart Fellow in Bosnia-Herzegovina. As a son of Indian immigrants and leader in international healthcare, Ram's "life has been defined by the interconnectedness of our global community". The intercultural values his parents instilled upon him led him to pursue his Fulbright in Croatia, where he worked at a Bosnian refugee camp, he (developed a deep passion for the plight of the Bosnian people and) continued his humanitarian work through a variety of projects. He shared a staggering statistic from the UN High Commissioner of Refugees, there are over 100 million refugees worldwide, "a staggering and deplorable figure" while discussing the shocking rise of deglobalization. Ram acknowledged the critical work of the Fulbright Program and One To World in overcoming the threats to our interconnected world, so that our children can roam the world freely just like he did.
• George M. Logothetis, Chairman and CEO, Libra Group, One To World FulbrightAward for Outstanding Global Leadership – Mr. Logothetis founded and leads Libra Group, a privately-owned international business group whose subsidiaries own and operate assets in more than 50 countries. The Group is predominantly active in six sectors, including several vital to the global economy. Mr. Logothetis is a global leader committed to corporate responsibility. The Libra Group has 10 social responsibility programs that have a positive impact on the lives of many people around the world. These programs, including internships, educational fellowships, backing for entrepreneurs, and support for charitable institutions and other non-profit organizations, reflect the Group's values, as well as a deep commitment to ESG.
Our program was further enriched by current Fulbright grantees studying at local colleges and universities, who present the awards to our honorees. These future global leaders share their perspectives and experiences here in the U.S., and included the following individuals: Jatin Mohan, from India, studying Musicology at the Graduate Center, CUNY; Martina Novakova, from Bulgaria, studying Arts at New York University; Carla Nudel, from Argentina, studying Journalism at New York University; Iris Patra, from Greece, studying Negotiation and Conflict Resolution at Columbia University; and Ilyssa Yahmi, from France, studying Political Science at Template University.
"After three years, we were so excited to welcome back our international community of change-makers and thought-leaders to the annual One To World Fulbright Awards Dinner to celebrate this year's honorees," said One To World Executive Director Jen E. Clarke. "The news headlines of cultural divides both overseas and on our own soil prove the importance of Senator Fulbright's vision of a more peaceful and empathetic world, through international education and cultural exchange. The honorees we will celebrate during the event embody the best of this mission. We look forward to sharing their stories."
Serving as event Co-Chairs were Erica Berthou, Partner at Kirkland & Ellis, Creighton Condon​, Partner and Senior Partner Emeritus at Shearman & Sterling LLP, Georgia Garinois-Melenikiotou, Former
Executive Vice President of Corporate Marketing at The Estée Lauder Companies Inc., and Sue Henderson, Ph.D., President of New Jersey City University.
To learn more about One To World and its programs, visit onetoworld.org or visit onetoworld.org/signup to sign up for their newsletter.