Schomburg Center for Research in Black Culture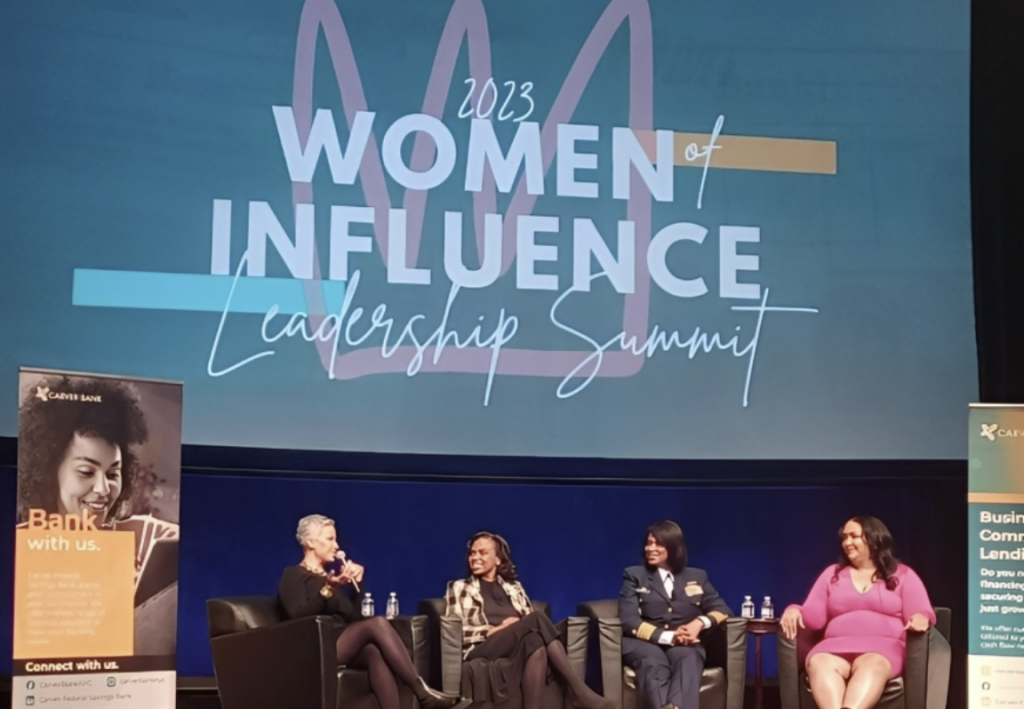 The 2023 Women of Influence Summit event at the Schomburg Center for Research in Black Culture on March 21, 2023 was simply inspirational and beautiful. Listening to these four amazing women made me think about my mother and how she raised two boys working two jobs, and how strong women are and how we should never give up. It also made me reflect on Tupac's Dear Mamma lyric "There is no way I could pay you back, but my plan is to show you that I understand you are appreciated."
Carver Federal Savings Bank announced its inaugural "Women's Leadership Summit" as part of its 75th Anniversary celebration. The panel discussion was moderated by Michele Ghee who is currently the President of Multicultural Advertising at the Allen Media Group. She did such a great job and hit on all of the right questions. Jessica Spaulding, who is the founder of Harlem Chocolate Factory, talked about how it was so important for her to have mentors in her life.
I had a great conversation at the reception with Captain Zeita Merchant, U.S. Coast Guard Commander of Sector New York. We exchanged numbers and she said she would love to come to my school and talk with the students about her journey. She texted me this quote that I could read to my students: "People often say, if you see it, you can be it. But I am living proof that even if you don't see it, you can still be it! You are smarter, stronger and more capable than you believe! So if not you, then who?" Robin Nunn, partner at Morgan, Lewis and Bockus, spoke on never giving up and believing in yourself, and never to forget to help the next generation in any way that we can.
That night I sat in the Langton Hughes Auditorium in awe watching these women speak. Sitting next to my friend Trudya Jones, who is an Educational Consultant, I asked her if she could give her reflection of the night being a woman and what she felt…
-David Ellis, Poet/Teacher
What better time to celebrate minority women than during Women's History Month! In celebration of its 75th anniversary, Harlem's own Carver Federal Savings Bank announced its "Women of Influence'' leadership summit.
This event was birthed from the limitless contributions women have attributed to the financial industries. Simply walking up the streets of Harlem, NY arriving at the famous Schomburg Center for Research in Black Culture set the tone for such an impactful night of inspiration and influence.
The wealth of information spread across this panel was simply inspiring. As first a woman and second a woman in business, I listened attentively for words of wisdom and tips I could take away, and apply to my life. A special part of the summit that stood out to me was when Ms. Ghee asked each speaker to "Name an adjective that would best describe you." In addition, she shared with the audience that throughout her years she realized that "if you don't verbalize your own adjective, then somebody will give you one."
This was black girl magic! In full alignment with the vision of Carver Federal Savings Bank and President and CEO Michael T. Pugh; these women truly fulfill the legacy of championing women in the community and the business world. This evening of conversation and connection was black excellence at its finest.
I was truly honored to be in attendance to spotlight the achievements of women in business breaking down barriers and building legacies. From one girlboss to another, I can't wait to see what's to come for each of these phenomenal women. Let the legacy continue!
-Trudya Jones, MS.ed