by Ryan Yablonski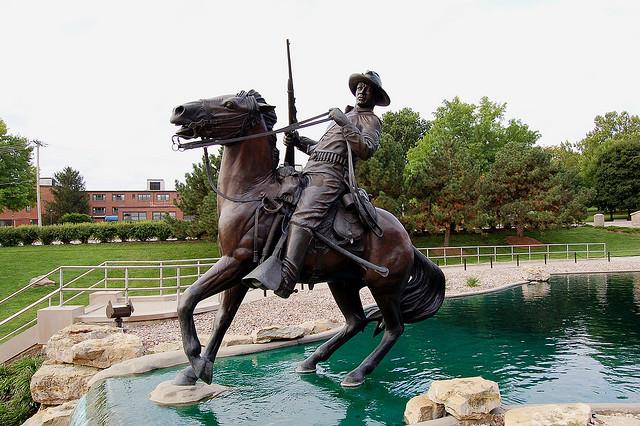 Master Sculptor Eddie Dixon was born in 1950, the son of a California African-American military family. His mother ignited his artistic spark by gifting him sculpting clay at a young age. When there was no clay available, he would carve sticks of butter at the kitchen table. Dixon claims that his remarkable talent was God-given, as many great artists do. Indeed, he found his calling as a vessel for creation of many of the most important monuments found across the country which commemorate the military history of Black men and women.
Eddie is a veteran who served in the 101st Airborne Division in Vietnam from 1968 to 1970. Following his military service, he attended Texas Tech University. He graduated with degrees in chemistry and zoology and a Master's Degree in Etymology. During graduate studies, his interest for sculpting was rekindled by carving wax candles. His friends were so impressed, they encouraged him to have one of his best carvings: a wax block turned into an Iberian warrior, cast in bronze. This became a series which launched his company, "Historical Art in Bronze." Following his education, he worked as a commodities trader in Chicago for seven years.
Dixon returned to his college town in Lubbock, Texas to begin his sculpting career. One of his most celebrated pieces is the Buffalo Soldier Monument at Fort Leavenworth, Kansas. The story of this monument began in the early 1980s with another key figure in Black military history, a young Colin Powell, who was at the time stationed at Fort Leavenworth. This post is famous for being the location where one of six all-Black units of 10th Cavalry Unit was formed, and was a staging point for the legendary Buffalo Soldiers. They were the first all-Black regiment integrated into the US Army. They were formed from former civil war soldiers who enlisted to fight Native American wars. They became instrumental to America's Westward Expansion by building towns, establishing logistics and eventually becoming advocates for Native Americans in that region.
As he was doing his physical training and running around Ft. Leavenworth, then-Brigadier General Colin Powell noticed that the only memory of these soldiers was the namesake given to a couple back roads on base named for the 9th and 10th Cavalry. Powell began a movement for a proper monument but was soon transferred and the dream went dormant.
This would change in 1989 when retired Navy Commander Carlton Philpot was transferred to Leavenworth. When Philpot rekindled the monument effort, he remembers knowing little about the Buffalo Soldiers. However, meeting with surviving members had a profound effect. Philpot recalls being disappointed by the fact that their story was typical of the second-class treatment that Black military personnel had to contend with in all branches of the military at that time. In spite of that, none of the soldiers were angry; they were incredibly proud of their legacy. Philpot began to understand how important it was for them to have paved the way for current and future Black servicemen and women. He began connecting with like-minded people and secured $1.3 million of fundraising for the project.
Within 30 days of Philpot, Dixon, and St. Louis artist Lee Brubaker coming together, the design was done and they were ready to get started. The men began traveling to consult with equestrian handlers in Florida as well as military historians at West Point and the Smithsonian. This was in order to perfectly understand the anatomy and period-accurate kit of the horse and soldier exactly as they would appear in 1918. Dixon embraced the commission as a passion project with a simple handshake, signing no contract for payment until his sculpture was taken to the foundry in Colorado. Because of his personal interest, he did so without the advances that an artist usually requires. He also had the resolve to actualize Powell's dream within three years of that meeting. Philpot cites Dixon's generosity as a major contribution to the success of the project in addition to his talent.
Master Sculptor Eddie Dixon delivered a 13-foot-tall bronze Buffalo Soldier mounted on horseback in striking detail and grace. Special attention was given to the horse so that it appears to be shifting its weight and contracting its muscles as if still in motion. The saddle, the uniform, and every button and trinket on the soldier were perfectly executed and historically accurate. When the historians at the Smithsonian came to analyze the statue, the only criticism they could make was of the circumference of the bottom of the soldier's drinking cup. The statue is set on the grounds at Fort Leavenworth where the Buffalo Soldiers slept. It is included within a larger design which sets the rider in a limestone canyon basin overlooking a running waterfall.
Colin Powell's idea for a small monument on the back roads of Fort Leavenworth meant the world to him. What he saw on July 25, 1992, when the monument was dedicated, moved him to tears. Approximately 20,000 people were in attendance for the event including more than 100 veterans of the National 9th and 10th Horse Cavalries known today as the Buffalo Regiments. President George H. W. Bush declared July 25th "National Buffalo Soldier Day," and in further recognition, a United States postage stamp was issued in the likeness of the Buffalo Soldier Monument. On October 16, 1993, "Eddie Dixon Day" was declared in Washington D.C. and New York City and on March 28, 1994 in Lubbock, Texas.
As a veteran himself, Eddie Dixon continues to embody and immortalize the spirit of American Black Servicemen in our country. His sculptures are found in the Pentagon, West Point, US State Department, the Smithsonian Air and Space and National History museums as well as many memorials and national parks across the country. In October 2022, Master Sculptor Eddie Dixon was nominated for the National Medal of Arts, and is therefore currently in consideration for the highest award given to an artist by the United States government.