Interviewed, Transcribed, and Written By Monika Eva Hadaszy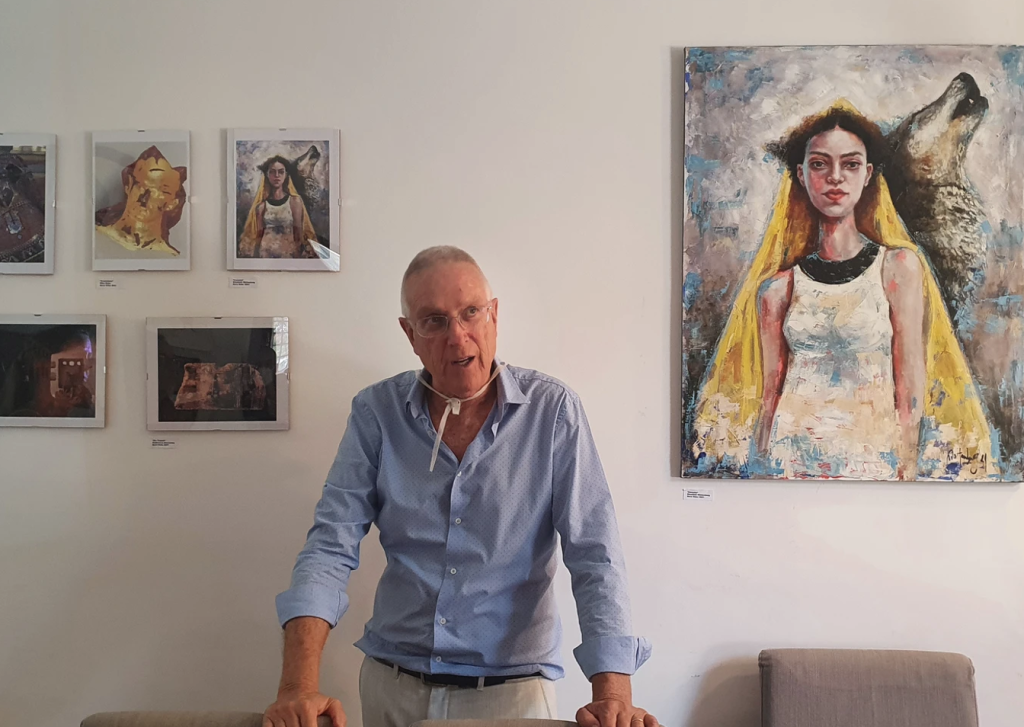 What comes to mind when one thinks of a Renaissance man?…A brilliant mind, who generously shares ideas? A titan of industry? A relentless advocate of justice, who fights for the rights of victims, innocents, and the voiceless? A major influencer in the art world? An utmost gentleman with charming humor and sharp wit? An accomplished scholar, who has used his knowledge from ivy-league level studies to successfully implement in his career and personal pursuits? A kind-hearted role model, willing to assist aspiring artists, from various walks of life, to live and study in Rome, while surrounded by the beauty of classical art? A dignified, compelling voice, who shares his time to answer many questions about the journey of his life?
Although one may think that a Renaissance man, with those qualities, only exists in fiction, I confidently attest that he is real, he exists, today – his name is Guillermo Gleizer. I had the privilege to interview Gleizer, who casually told me to call him "Gui," making the experience enjoyable from the first moment of our conversation. It is an honor to listen to a man, who possesses many artistic and professional accolades, share moments of his life with the generosity, passion, and humor that Gleizer expresses.
Most notably, Gleizer continues to successfully practice law, in which he has been immersed for several decades of his life. Clearly, his alma maters are impressive: Yale Law School, New York Law School, New School for Social Research, Columbia University, and University of Buenos Aires. Gleizer has successfully represented many internationally renowned clients such as holders of defaulted Argentine debt, World Trade Center 9-11 victims and their families, personal injury victims, immigrants seeking administrative appeals with matters relating to Immigration and Naturalization Service (INS), and he has litigated cases associated with international child abduction, via a multilateral treaty, The Hague Convention. This is merely a sampling of Gleizer's achievements in the world of law. Furthermore, he has optimally managed and invested in real estate, developing and redeveloping buildings in Miami, New York, and Buenos Aires.
Several years ago, Gleizer founded and began directing an institution in Rome, called Classical Roman Arts Foundation (CRAF), which keeps alive the classical arts, while showcasing their influence, through a select group of artists, students, and scholars. Continuing his artistic projects, Gleizer has demonstrated his talent and wit with creating the art piece, entitled "Retrieved Golden Idol," a large piece of driftwood, painted gold, located at South Beach, Miami, where locals and tourists visit daily, specifically to take photos with this art piece. In some circumstances, couples make "Retrieved Golden Idol" a crucial, personified addition to their wedding albums, posing with it during their wedding ceremonies. In other situations, beach-goers serendipitously stumble upon the art piece and gaze at it with delight in their eyes. Most likely, if William Shakespeare were alive to observe "Retrieved Golden Idol," he would change his mind (about his famous quote) to "all that glitters IS gold," in the same vein of marvel as many other viewers of the art piece, especially those who understand the glittering culture of Miami. Perhaps most importantly, Gleizer is eager to provide opportunities to Harlem youth who are aspiring artists, or who would like to secure careers in the art world, by offering them study abroad programs at Classical Roman Arts Foundation.
The following interview illustrates Gleizer's impressive contributions to the art world with a focus on Classical Roman Arts Foundation.
MONIKA EVA HADASZY: Good afternoon. How are you today, sir?
GUILLERMO GLEIZER: Very well. How are you?
HADASZY: Well, thank you. Thank you so much for agreeing to this interview and your time. I greatly appreciate it. How may I address you?
GLEIZER: [With an amiable tone of voice] My pleasure. You can call me Gui.
HADASZY: Gui, what was your first experience, whether formal or informal, with the art world?
GLEIZER: I have been, for fifty years or more, inside as well as around the periphery of the art world. I came to New York in 1975, and I began attending New School for Social Research, which was very hard. And I moved to Soho because it was cheap. [Chuckles] That's realistic. Back then, all the guys hanging out were artists. So, I built a loft with a guy, Rafael, who later became a very famous artist. I was his representative for about a year, and I went around selling his art. We had a good time. That was my first connection. We built Soho.
HADASZY: That's an amazing accomplishment.
GLEIZER: We had a big loft at Broadway and Bleeker streets. All that can be considered my first direct connection with the art scene.
HADASZY: What does art mean to you, personally?
GLEIZER: No idea. If a lot of people say it's art, that's as far as I can tell… I think that's a very deep definition because the whole concept of Classical Roman Arts Foundation is that art reverberates and it recycles itself in so many ways. There are the obvious ways of recycling – you go and you steal the other guy's marble pieces and you make your own castle. That's how we made out in the 1400's through 1700's.. You can go and steal the other guy's pieces of art with your army, like the Nazis did, and you bring them home. There are many ways to recycle. These days there are excellent reproductions of classical art. I think the most famous one sold for over 50 million dollars, by Salvator Mundi, the reproduction, and it's being shown at a museum in Trieste. And the original is something that guys from MIT (Massachusetts Institute of Technology), or somewhere, found – it's a beautiful piece of work, Salvator Mundi's work. They said, "Yes, yes! [hits his fist against his table] This is Leonardo da Vinci's." Several other guys agreed, "Yeah, yeah, it is!" Now, it is worth approximately 150 million to 200 million dollars. And it was just sitting there, in somebody's attic. Clearly, I am very much in favor of reproductions. I think the best ones become works of art in and of themselves, separate and apart. Another astonishing example is Pieter Bruegel, a son, who copied his father's, Pieter Bruegel the Elder, paintings, during the 1500's. And that's how they started. [Laughs] And both of their paintings are now at a museum in Brussels. They are both exquisite, sensational. Everybody was copying. Bruegel was copying Bosch, and Bosch was copying Bruegel. This has been happening forever. That's what most fascinates me about art.
HADASZY: Was there an individual, who you personally knew or someone famous, who inspired you to become an artist?
GLEIZER: [With an assertive tone of voice] Joan Miro.
HADASZY: Why?
GLEIZER: Miro was a genius. He was an excellent technical artist. He started distilling figures, distilling colors. Look at his most famous works – they have splashes of colors. Several years ago, I started copying his work, and I enjoy it.
HADASZY: What kind of art do you create? Why do you choose this particular medium, in which to create?
GLEIZER: I worked on a lot of Miro copies, in whatever colors I found. Three years ago, I started with gold coloring. At CRAF, I have some pieces that I really like that are about fifty centimeters by 40 or 50 centimeters. And I have one that is one meter tall.
HADASZY: What was your inspiration for the art piece, entitled "Retrieved Golden Idol"?
GLEIZER: One day in Miami, I saw this massive piece of a tree that was one meter and a half tall by fifty centimeters wide in diameter. A couple of guys helped me carry it up to my balcony.This was several years ago. I started experimenting how to paint it gold. Eventually, I painted it gold, and when the sun hit it, it was wonderful to see. It's still there. And then, I found a huge piece of driftwood on the beach, on First Street, in South Beach. I suspect that piece of driftwood came there with a storm surge.That's the only force that could have moved it there. I painted this piece of driftwood gold. It's very flashy, just like Miami. And all day, there are different sun-rays bouncing around on it.
HADASZY: Describe people's interactions with "Retrieved Golden Idol." What was your favorite interaction to witness?
GLEIZER: Everybody goes on top of it, and they take pictures. There was a wedding with it incorporated – two girls were getting married. The runners always go upon it, look at the lighting on it, look in and out of it.
HADASZY: What message do you hope that "Retrieved Golden Idol" conveys to the world?
GLEIZER: Self-knowledge, reflections, a very classical piece of work. Driftwood is the first thing that the first African men used to make masks. Everything is reflections.