As I inched my way through the throng of people at the 2014 USA Science and Engineering Festival in Washington, D.C., I had a repeating thought. Watching ten-year-olds learn about genomics on an iPad, talking matter-of-factly about cyber security, or instructing surgical robots to cut open teddy bears, this kept repeating in my head: here are our future leaders.
I am not usually so enthusiastic about talented young people. Your kid plays Beethoven? So what? Still, seeing so many young people excited about STEM (Science, Technology, Education, and Mathematics), thinking and engaging creatively with new possibilities in medicine, new ways to live sustainably on this planet, creating deeper insights into Universal truths — the curiosity and excitement was tangible at the Festival; it gave me renewed hope in the power of eager minds to change the world for the better.
Kids already posses the most important element of the scientific mind — curiosity. Adults often get frustrated with the number of questions kids ask. However, in science asking questions is how we create and test hypotheses. As I passed by the hundreds of expo exhibits I saw kids asking questions constantly, all while entertaining complex ideas and having fun in the process!
Lockheed Martin is the founding and host sponsor for the Festival. Lockheed Martin's exhibits had scientists, engineers, and technologists giving hands-on lessons to Festival-goers in areas such as aersospace, robotics, green energy, weather tracking, and cyber security. Here's just a sample of the exhibits. In the Orion Human Space Flight Simulatorparticipants used actual flight controls to pilot the Orion Capsule. The Large-scale 3D Printing Robot built a structure in real-time, while kids learned about Additive Manufacturing systems. Mission Capabilities Powered by Cloud Computing was a lesson on how cloud computing can be used for emergency response, energy savings, and space exploration.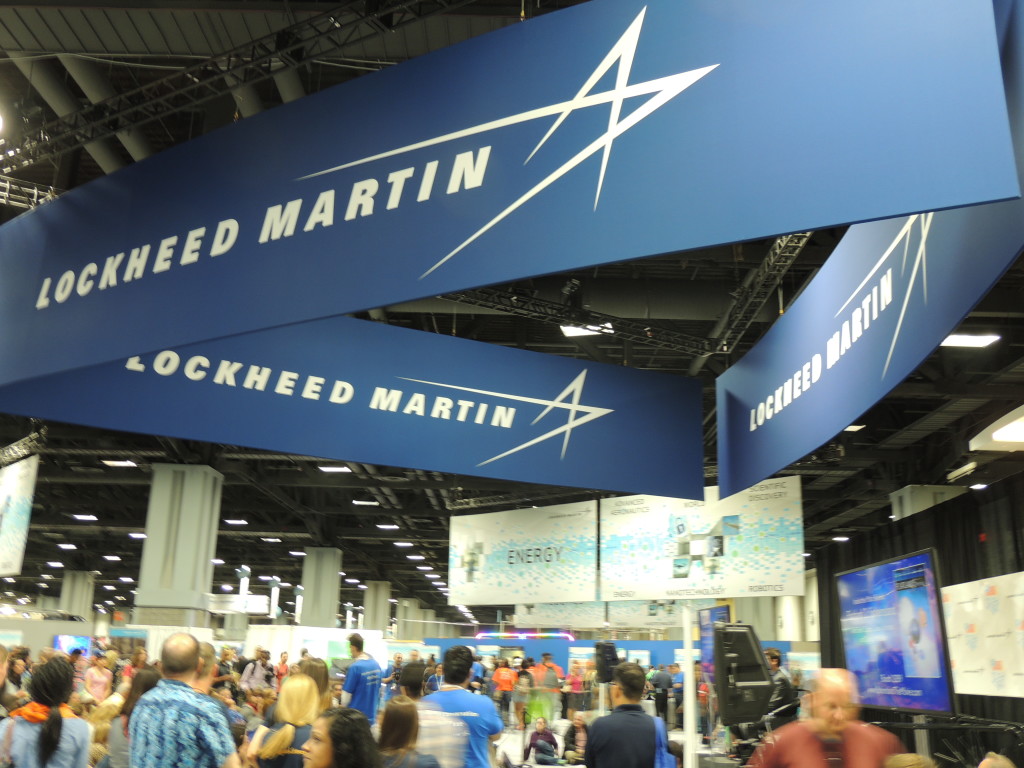 "I've been so excited to see children's reaction to our various booths. And I hope they see how scientists and engineers have such an incredible impact on our nation's security and our daily lives," said Stephanie C. Hill, vice president and general manager of Lockheed Martin's Information Systems & Global Solutions – Civil business. Hill has been noted for her achievements in STEM community outreach, and was named the 2014 Black Engineer of the Year by Career Communications Group.
"I know the F-35 cockpit simulator was very popular, and it allowed students to fly the world's most advanced plane as easily as playing a video game! Lockheed Martin also showcased a large-scale 3D printer. We leverage 3-D printing to accelerate product development cycles, mitigate risk, prototype our designs and, more recently, manufacture components used in our product," said Hill.
"We also had a booth where students could browse a human genome on an iPad, which helped them grasp how a better understanding of our genetic makeup can improve our health and medical care. Through genomics, Lockheed Martin is supporting efforts to prevent, detect and treat disease for our nation's veterans."
The event was all-ages and there was plenty for adults. Celebrity stage presenters and performers included Bill Nye the Science Guy, Dr. Michio Kaku, Mike Rowe, and Grammy-Award Winners "They Might be Giants." Honestly, the adults seemed to be having as much fun as the kids. Dr. Kaku gave a talk on the emerging technologies and science that will soon restructure life as we know it. Ever thought about uploading your memories onto a computer a la The Matrix? Well, we may be closer to this possibility than you imagined. Bill Nye talked about how he accidently fell in love with astronomy (he was attending college for engineering, and happened to take an elective taught by the legendary Carl Sagan). Mike Rowe from the TV show Dirty Jobs gave a presentation on the importance of skilled labor and its connection to STEM (recently Mike teamed up with Caterpillar to launch profoundlydisconnected.com, which promotes affordable and practical trade schooling). Danica McKellar, "Winnie" from The Wonder Years, was also present, now an accomplished mathematician and somehow looking nearly the same age.
As can be expected, there were strong industry interests present at the Festival. Along with Lockheed Martin other sponsors included the Northrop Grumman Foundation, Chevron, Caterpillar, Walmart, Scientific American, the U.S. Air Force, and MedImmune. These stakeholders are looking towards the next generation of industry innovators. The STEM Career Pavillion featured over 50 colleges and universities in the College Fair, and over 20 companies showcasing STEM internships, mentorships, and afterschool programs. The X-STEM Extreme STEM Symposium was held at the Convention Center on April 24th. Leading scientist and engineers gave talks and workshops aimed to empower kids to learn about future STEM careers.
I spoke with the executive Director of Iowa's STEM Advisory Council, Dr. Jeff Weld, who stressed the importance of diversity in STEM education. "This STEM thing is a national imperative. The STEM fields are economic drivers, they're the sources of innovation, creativity, new inventions to change the world. So it's an economic imperative that we get this STEM thing right, but it's also a moral imperative. Because all of these kids are going to be consumers, voters, parents," Weld said.
"We've got a real challenge to diversify this STEM pipeline for sustainability. If we don't, this fizzles out as something that was the rage in the early 21st century (some historian one day will recount), unless we succeed in igniting the imaginations of all these kids, the various colors, ethnicities, genders (which I think events like today are going to do)."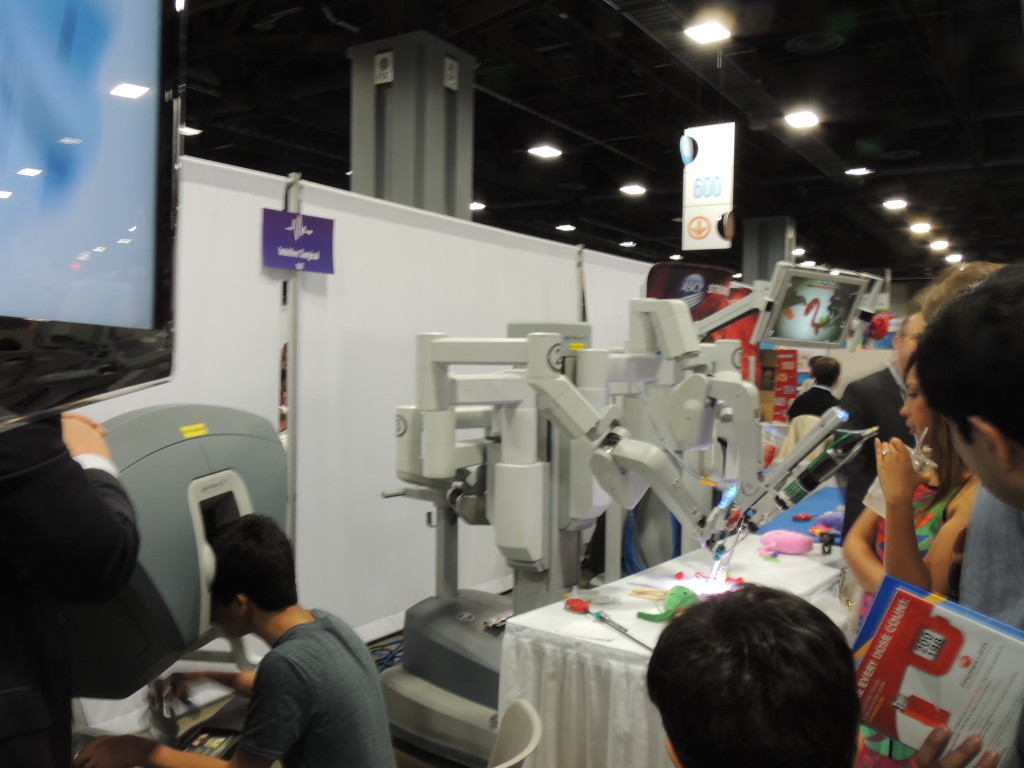 Weld makes an interesting point. It's not enough simply to get any kid interested in STEM, the goal is to get all kids interested in STEM. Diversity, whether ethnic, racial, or gender-based means different experiences, and thus, new insights into future innovations. Of course, not all kids around the country have the same opportunities to participate in strong STEM programs. What do we do about the inner-city kid whose school can't afford new math books? If STEM is going to work in the long run, we've got to figure our how to make it accessible to all people, regardless of socio-economic background.
Another major theme at the Festival was the connection between STEM and sustainability. The Environmental Protection Agency (EPA) co-sponsored this year's National Sustainable Design Expo with the USA Science and Engineering Festival. The EPA People, Prosperity, and the Planet (P3) Award Competition is an annual event for teams of graduate and undergraduate students to design solutions to global environmental and sustainability challenges. Here are some examples of the research projects. A team from Drexel University has developed a process to extract grease from wastewater and convert it into biodiesel. Cornell University's Textile Recycling team is a designing a zero-waste process for upcycling secondhand clothing. Texas A&M University's team has designed a lighting system that uses a horizontal solar light pipe to bring full-spectrum lighting from windows into multistory inner spaces 90% of the year.
The USA Science and Engineering Festival deals with really big ideas. How are we going to transition into renewable energy sources? How can we use technology to make the world a safer place? What lies beyond the stars and how can we learn more about our Universe? These questions are so big that we can't expect them to be completely solved in a year, ten years, or even a lifetime. Knowledge is a legacy that is passed between the generations. This is why it's so important to get kids excited about STEM; they are our future torchbearers.
Despite the importance of STEM in shaping the world we live in, the Festival makes one thing abundantly clear: science is fun! Let's teach our youth not to be intimidated, but excited by STEM. Kids are good at asking questions and good at learning, and they can have a blast in the process. Let us empower kids to explore and have fun with STEM; our future depends on it.