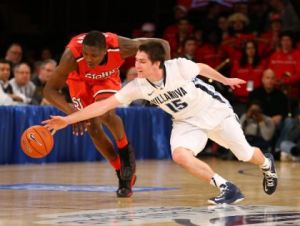 St John's slim NCAA tournament chances ended Wednesday night as they were defeated by Villanova 66-53. Although St John's went down, they did not go down without a fight.
At one point in the 1st half it seemed as if Villanova would turn the game into a blow out as they led 18-6. But St John's would battle back, led by Phil Greene who scored 7 points in the first half, as St John's would tie the game at 24 going into halftime.
Early in the second half, St John's would take a 31-28 lead following a Sir Dominic Pointer jump shot with 17:26 remaining in the game. But the Wildcats would go on a 12-4 run to take control of the game and the crowd, as there were more Villanova fans in Madison Square Garden than St John's fans. This was a surprise considering that MSG is St John's home court.
Villanova would extend their lead to 14 points with a 1:14 remaining in the game, which led to both teams taking out their starters.
Senior Mouphtaou Yarou led Villanova with 18 points on 9 out of 10 shooting and grabbed 7 rebounds. Ryan Arcidiacono added 15 points to help the seventh-seeded Wildcats (20-12) move into the quarterfinals where they will play the second seed Louisville.
Phil Greene led St John's with 16 points while playing 36 minutes. The Big East Rookie of the year JaKarr Sampson scored 13 points on 5-18 shooting, as he would sometimes have to battle being double teamed.
"I felt like I had a lot of heat on me," Sampson said after the game.
The loss to Villanova was St John's fifth consecutive loss as they will now hope to get a bid into the NIT tournament.
St John's young team has had to deal with a lot this season.
"From Feb. 3 forward, it's been really tough," said coach Steve Lavin, whose father died Feb. 10. "That's probably why I feel as close to this team as any in my coaching career and why I'm so grateful to work with them and looking forward to brighter days ahead."
In addition to Lavin's father passing, St John's had to also deal with the suspension of their leading scorer D'Angelo Harrison who was suspended on March 3rd for the remainder of the season.
The trials and tribulations that the Red Storm had to deal with this season, along with being more experienced will bode well for this team heading into next season, as they will look to make another run at the NCAA Tournament.