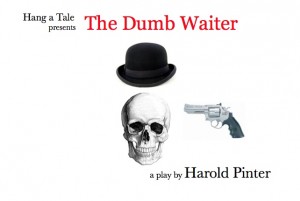 Laurel and Hardy meet Samuel Beckett!
Two men struggle to kill time as they sit in a basement awaiting instructions for their next job. Surprise deliveries from an unseen force begin to arrive. Chaos and absurdity ensue in this dark comedy by Harold Pinter.
Hang a Tale presents The Dumb Waiter by Harold Pinter. Directed by Kim Martin-Cotten. Featuring Paul Klementowicz,  Michael Arden Larson, appearing courtesy of Actors Equity association. An Actors Equity approved showcase.
Tickets can be purchased at Smarttix or you can call Smarttix at 212-868-4444.
March 15th – 18th & March 21st – 24th. The Medicine Show Theatre. 549 West 52nd Street, NYC.  Tickets – $15.
Length: 1 hr 15 mins
Intermission: None
Seating: General Admission
You choose your seats when you get to the theater.