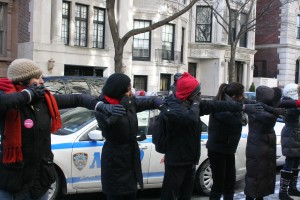 On Saturday, January 26, 2013, the women of SAWCC (South Asian Women's Creative Collective) organized a protest action in front of the New York City Indian consulate on Indian Republic Day, as a "response to the horrific violence wrought upon Jyoti Singh Pandey in India, and on women's bodies everyday around the world." Eighty people arrived in the below freezing temperatures, greeted by the sounds of the dhol (Punjabi drum), signs and chanting of "Freedom, Safety, Now!"
Jaishri Abichandani, SAWCC founder, and interdisciplinary artist, wanted to do an action specifically at the Indian Consulate in New York City to make the government of India see the effects of its actions (and inactions) toward rampant gender-based violence. "Freedom. Safety. NOW." was an artistic response that went beyond mourning to showing anger and demanding governmental actions, in response to the rape and death of Pandey—a young woman gang-raped on a Delhi bus in December 2012 who subsequently died from those injuries. Abichandani said, "As a survivor, I felt it was extremely important for women to use our bodies in the public space, as a way to have a claim to that space."
Abichandani has used her body in her work before in "Lamentation," a performance work, where she bowed her head to each name of a civilian casualty in of the Iraq War (2007, performed at P.S.1). Abichandani shared her experience of that performance with choreographer Parijat Desai, who herself had wanted to develop a movement response to the events in Delhi and to the pervasiveness of sexual violence. For the protest, Desai developed a movement sequence based on her own feelings and those expressed by women around her: pain, fear, silence, and the need for expression, power, joy in the face of that. Hearing the "precise, potent words" spoken by women around her, she developed the chant, "Freedom. Safety. NOW." These words were letterpress printed in big block letters onto red paper.
When Desai brought her movement and ideas to the first rehearsal, SAWCC members Jaishri Abichandani, Fariba Salma Alam, Roohi Choudhry and Alka Dev rejected some ideas, accepted others, and all shaping the creative process, and leading to the sequence ultimately performed. To Desai, "what is salient about this process is people planting creative seeds in each other's heads." Nine movers and two musicians came to the second rehearsal during a snowstorm.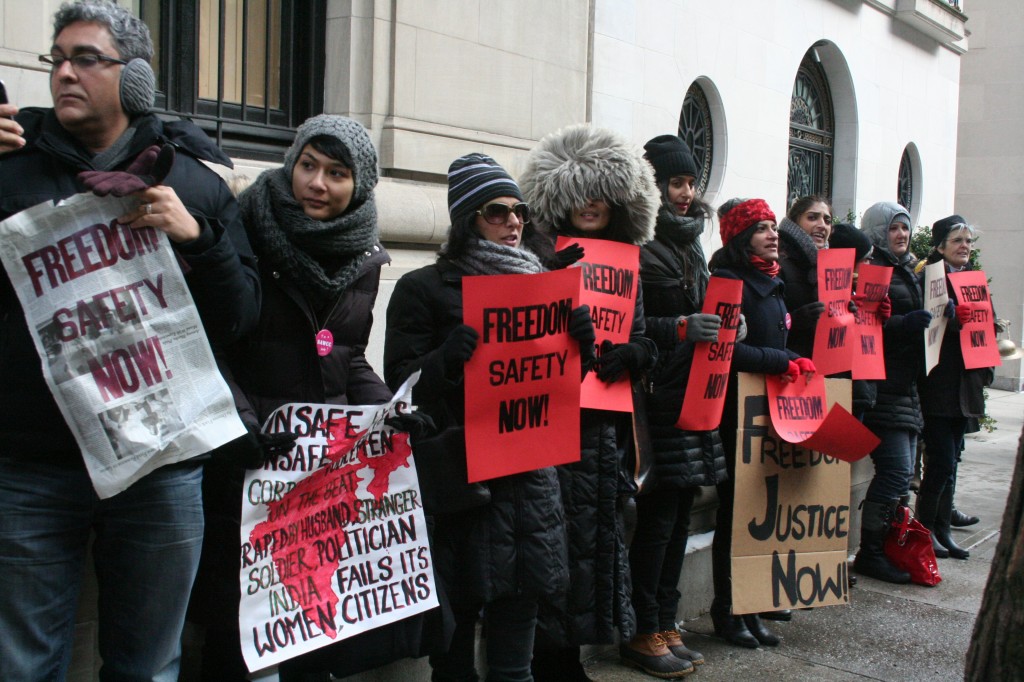 The date of the action could not have been more perfect: On January 26, 1950 India adopted its constitution. SAWCC chose the anniversary of Republic Day to reflect on the issues that women still face and need for government accountability in India regarding the safety of all people experience sexual or gender-based violence.
Abichandani gave a very moving speech at the protest, where she enumerated various gender-based acts of violence that Indian women face: "Female feticide, female infanticide, human trafficking, childhood sexual assault, eve-teasing, sexual assault, rape, bride burning, honor killings, sati. Incredible India!… Jyoti Pandey is not the only one who suffered. There are women who have been raped by Indian soldiers, Indian policemen. The government is complacent in this violence towards women. We want to hold them accountable for what they have done to women in this country."
Throughout the hourlong protest, SAWCC members and allies chanted and danced on the sidewalk and on either side of the consulate entrance. Though Abichandani had e-mailed the consulate about SAWCC's intention to protest outside its doors, the consulate staff claimed they had no knowledge of the protest. Their staff called the New York City Police Department, who brought a counter-terrorism unit. In response to police demands that protesters move away from the consulate entrance, attorney and SAWCC member Anjana Samant explained that the group had not blocked traffic, pedestrians, nor the entrance, that protesters were occupying public property, and had a right to be there. The protest continued, until an officer again insisted protesters could be removed on the grounds of disturbing tenants. SAWCC members took this threat as an opportunity to move to a more spacious part of the sidewalk to present their performance. As the counter-terrorism officers left, police remained to watch. The thunderous dhol and other percussion settled down to a murmur as the dance began.
Desai started the movement sequence with a solo, spinning until she stopped and threw her arms and head back. She brought her arms and gaze down slowly, then with wrists grasped behind her back, folded forward, hanging her torso and head down. Police cars summoned to contain the protest were parked ominously behind her. Just as she returned to standing, she whipped her head back, as if sensing something behind her, then regained composure. She looked back again lifting an arm, as if to protect or attack—it was unclear—as a group of a dozen women, wearing black and red, joined her in a line. Together they performed a series of gestures—reaching to the sky and covering their mouths, then punching out and raising their fists, demanding "Freedom! Safety! Now!" Accompanying the performance were percussionists Ravi Makhija, Shane Shanahan, Rashmi Vis and Ian Sims. As the protest ended, the sense of despair many women have experienced in facing the prevalence of sexual violence and rape in our lives had transformed into empowerment and hope. Abichandani put it best, "We must not only survive, but thrive!"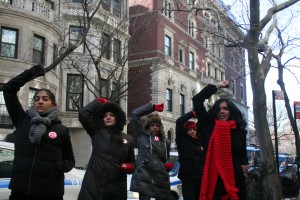 People of all backgrounds and abilities are invited to join SAWCC's other events and protests. The most recent action to follow was  "Freedom. Safety. NOW. 2.0," held at the United Nations, during the UN Commission on the Status of Women on Friday, March 8.
For more information: http://www.sawcc.org/freedom-safety-now-2-0/
Photographs courtesy of Jaishri Abichandani.