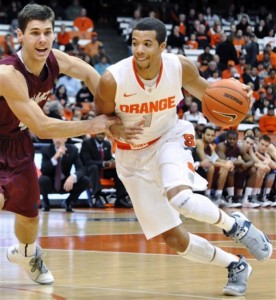 There are several teams that have made into the NCAA Tournament. Here's a look at who made the tournament and who they will be in their first matchup.
Syracuse (26-9) is the #4 seed in the East Region and they will play the 13th seed Montana Grizzles (25-6) Thursday night. The Orange had an impressive run in the Big East Tournament defeating Seton Hall, Pittsburgh and Georgetown before losing in the finals to Louisville 78-61. Syracuse has four players averaging double digits, and they are set to make a deep run into the tournament.
Iona (20-13) is the number 15th seed in the West Region and will play the 2nd seed Ohio State Buckeyes on Friday night. Iona is the 2nd highest scoring team in the nation. They are led by Harlem native Lamont Jones who is 3rd in scoring in the NCAA, averaging 23 points per game. Don't be surprised if Iona upsets the favored Buckeyes.
Albany (24-10) is the 15th seed in the Midwest Region and they will play the Duke Blue Devils Friday afternoon at 12:15 PM. Albany earned their trip to the NCAA tournament by defeating Vermont in the American East Championship 53-49. This will be Albany's first appearance in the NCAA tournament since 2007. Duke is one of the favorites to win the tournament so Albany will have their hands full Friday afternoon.
LIU (20-13) will play James Madison (20-14) in the 1st round of the East Region Wednesday evening. The winner of this game will be the 16th seed and will play the #1 seed Indian Hoosiers (27-6) on Friday night. A #16 seed has never defeated a #1 seed but hey anything is possible. LIU is currently 5th in the nation in scoring averaging 79.5 points per game.