by Derrel Jazz Johnson
With 2018 NBA All Star Kristaps Porzingis still out with injury, the season for the New York Knicks is all about growth and development of young players. While the development of rookie Kevin Knox may seem obvious, players like Noah Vonleh, Allonzo Trier, and Damyean Dotson are also making strides in a Knicks jersey and could be vital parts of the future.
I asked Knicks head coach David Fizdale about the development of rookie Kevin Knox, particularly his improved rebounding after a recent Knicks game.
"Yeah, he's getting better," Fizdale said of Knox. "We're watching his growth right before our eyes. Where he started struggling really early, he's starting to see more games now where he's putting together some solid performances. I've really been stressing to him rebounding and getting in the trench, and we do a lot of block out drills with him, just trying to get him used to the physicality of the league, trying to fast track him that way. So, he's taking it to heart and he's starting to get the ball."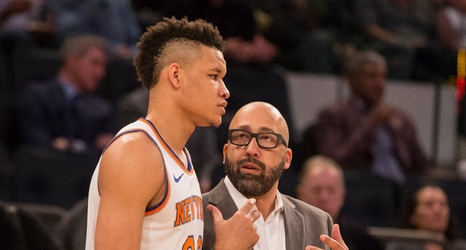 After the team's loss to the Milwaukee Bucks on Christmas, I asked Coach Fizdale about the play of Vonleh. "Oh man, did he battle," Fizdale said. "He really battled. I was extremely happy with his effort. He's going up against an MVP candidate for sure. One of the toughest covers in the league. Giannis plays like a guard and Noah his whole life has been a power forward/center. For him to be able to compete that way against Giannis, I was very happy with his effort."
Another impressive Knicks rookie is 22-year old Allonzo Trier, who had an NBA debut for the ages. Trier threw down a monster dunk at the end of the third quarter that landed at #4 on ESPN's SportsCenter's top 10 plays of the day, scored 15 points on 5-9 shooting, grabbed four rebounds and blocked two shots in the Knicks win over the Atlanta Hawks.
The cool, calm, and collected Knicks rookie, who is nicknamed "Iso Zo" for his ability to create havoc on opposing defensives, was under a two-way contract with the Knicks and their G-League affiliate that allowed for him to spend up to 45 days with the NBA team but the team recently signed him to a two-year deal with the Knicks.
"The rules go out the door with 'Zo," Fizdale said of his rules to make quick decisions with the ball on offense. "They call him 'Iso Zo.' I'm going to let the kid be who he is. Some kids are just naturals, and he's a natural scorer, and I'm smart enough to know when to stay out of the way."
Damyean Dotson is in his second year with the Knicks. When asked about the key to taking advantage of his playing time, Dotson told The Harlem Times "staying focused, playing hard, working on my game all summer, doing what the coaches want me to do, playing the right way. That means a lot when you can play the right way and be selfless and play for your teammates. Just play hard and compete."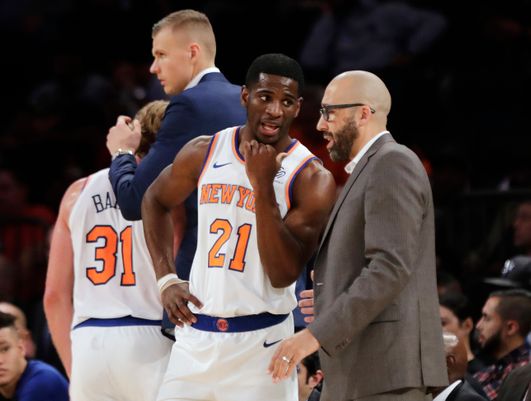 Dotson also talked about his relationship with Coach Fizdale. "He's a great coach," Dotson said. "Great players' coach. It's easy to relate to him, and he can relate to our game and the way the game is now. The different styles of the game, three-point shooting, small ball, all that, he can relate. It's easy to connect with him."
Knicks veteran Lance Thomas, who played with Dotson his rookie season as well, is not surprised by his performance. "He's a beast!" Thomas exclaimed. "Damyean has been working non-stop. I'm not surprised by any of the stuff that's happening to him right now. I think he knows that I'm not surprised by it, because I knew, one, that he's capable of it, and two, this is what he was doing in practice last year and it just took time to translate in the game and once you put together a crazy work ethic with confidence, sky's the limit."
At just 22, Trier could be a bench staple for the Knicks for years to come. At 24, Doton should still have plenty of good basketball ahead of him. At 19 years old, Knox is a big part of the team's youth moment. At only 23-years old, Vonleh could be a part of the future of the Knicks as a compliment to Kristaps Porzingis. Speaking of the injured all-star, the Knicks reiterated that Porzingis will not be back anytime soon, with February being the earliest. Without the 7'3" Latvian star, the team will continue to struggle. But the youth movement for the Knicks is showing promise.