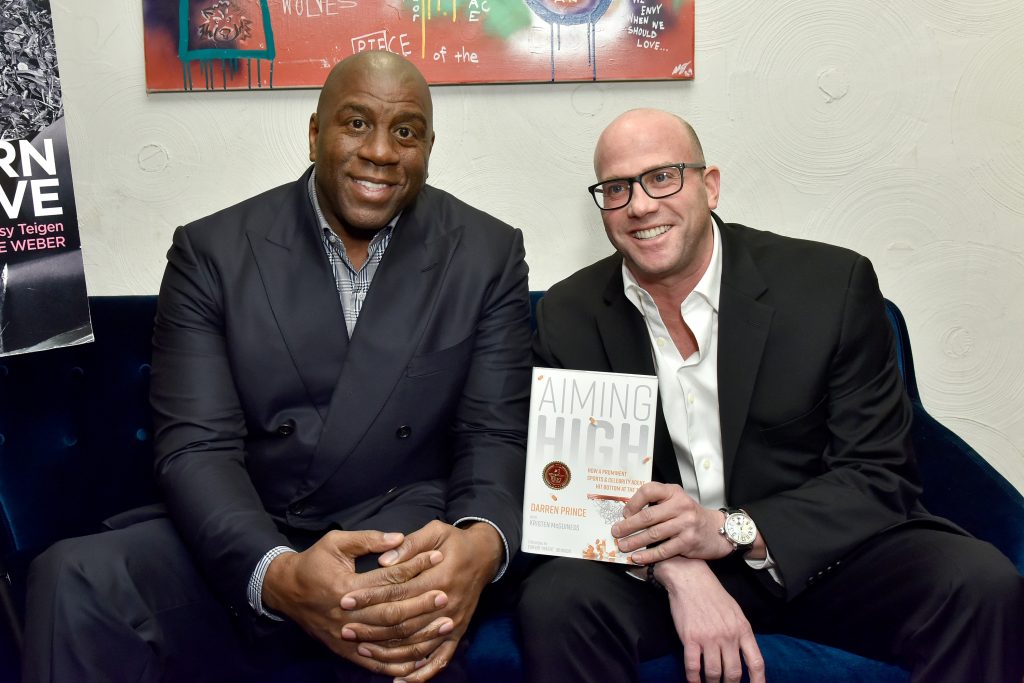 by Derrel Jazz Johnson
NBA legend and Los Angeles Lakers president Magic Johnson was in New York City late last year to celebrate the release of the book "Aiming High" by best-selling author and his good friend Darren Prince, hosted by DuJour Media's Jason Binn. Notables including former New York Knicks Charles Oakley, and television personalities Dr. Oz and Dr. Drew were among the many in attendance.
"Darren and I have been friends for over 20 years," the Basketball Hall of Famer said. "I'm really proud of the fact that he wrote this book…it's so amazing to see what he's been able to accomplish in his life. Every time something tough has happened he's been able to bounce back."
Johnson, who won three NBA MVP awards during his professional career, shared with The Harlem Times his most memorable moments on and off the court in New York City, tips to overcoming addiction, as well as the primary and secondary reasons why NBA superstar LeBron James signed with the Lakers.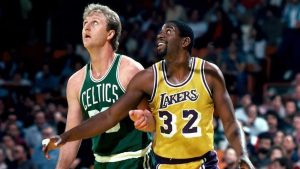 When discussing his playing days in New York City, Magic, who averaged an NBA-record 11.2 assists during his career, mentioned one of his former Lakers teammates, a six-time NBA MVP himself who is a native of the Big Apple and was on the receiving end of many of those assists.
"On the court was my first time playing in Madison Square Garden," Johnson told The Harlem Times. "Seeing how excited the fans were, and also Kareem (Abdul-Jabbar) was coming home to play. Every trip I made to New York to play in the Garden, I just wanted to win not only for the Lakers but for Kareem coming home. New York is special. It's the mecca."
Johnson, who has matched his on-court success as a businessman off the court, also discussed his off-the-court triumphs in New York City as well.
"Off the court is building Magic Johnson Theatre on 125th in Harlem, bringing the Starbucks to Harlem, all of the Starbucks in Brooklyn, buying the Williamsburgh (Savings Bank Tower) in Brooklyn, all those types of things I'm really proud of and will continue to be proud of," the iconic entrepreneur said.
Finally, the Magic man dished on the primary and secondary reasons LeBron James, a former four-time NBA MVP, signed with the Lakers in the off-season.
"Well first of all, I think it was the Lakers brand, and then he knew that we had some really good young players," Johnson shared. "That's probably first. Second of all, then I could help him, become a mentor to him for the things he wants to do on the court and off the court. He's doing a great job with his businesses. I'm proud of him. Any advice, anything he needs, I'm here for him."
Johnson discussed his personal success overcoming addition.
"It's a tough situation because you have to have first a lot individual will power," Johnson said. "Dealing with HIV and AIDs now for over now 27 years, I had to make sure that I get my rest, I eat healthy and then work out."
Johnson left us with some final words of wisdom to assist with overcoming addiction. "You have to take self-control and then seek the help that you need to get you through it."
Whether it's on the court or off, in Los Angeles or New York City, Magic Johnson continues to make winning plays.