by Tate Hutchinson
NEW YORK, NY — In front of a packed and energized home crowd at Madison Square Garden, the Knicks failed to secure a Game 1 win Sunday afternoon against the eighth-seeded Miami Heat. Strong defensive performances from the Heat and steady shooting in the second half propelled the South Beach squad to a 108-101 win.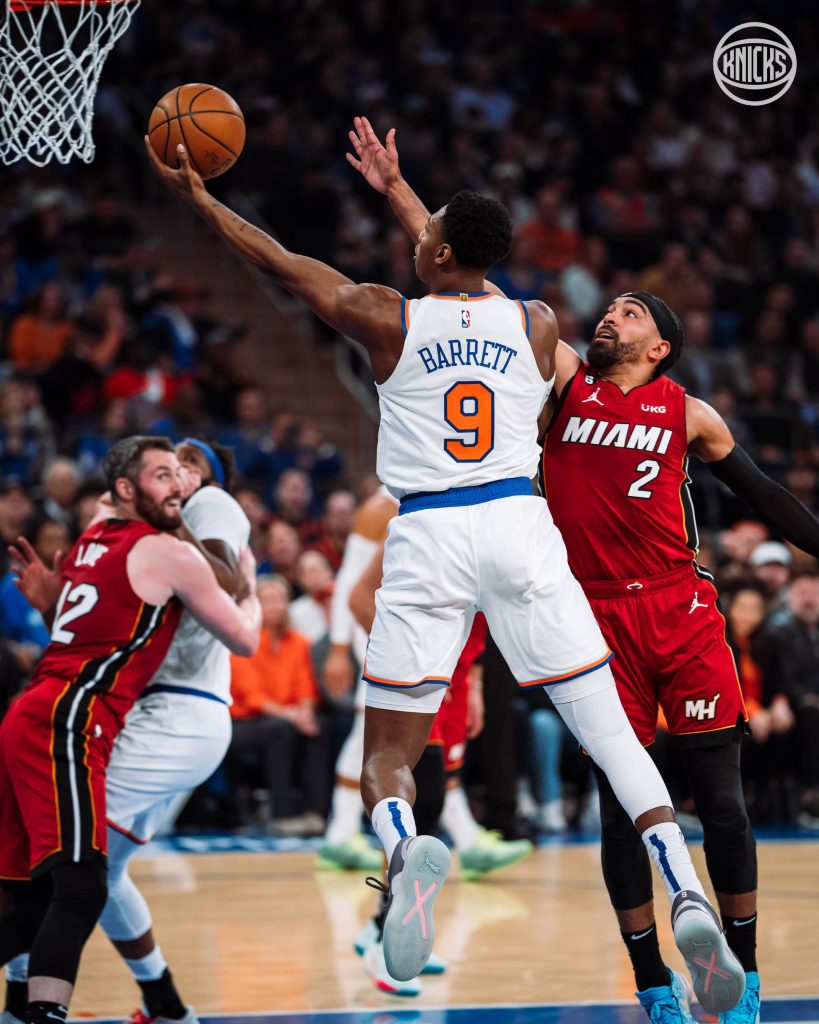 Jimmy Butler continued to build his case as a dominant playoff threat with 25/11/4 with a pair of steals in Game 1. Undrafted guard Gabe Vincent played well once again, with 20 points including five huge three-pointers. Most crucially, though, Kyle Lowry did it all on defense in the clutch, with a steal and three (!!!) blocks in the fourth quarter alone. This, in addition to his 5 rebounds, 6 assists, and 16 points in the game, was key to the Heat's strong performance. The Heat's pivotal 21-5 run in the third quarter flipped an eight-point deficit to an eight-point lead.
On the Knicks' side, fourth-year wing RJ Barrett led the way, shooting 10/20 with 26 points, 9 rebounds, and 7 assists. Jalen Brunson continued to produce with 25 points and Mitchell Robinson stayed dominant on the boards with 14 rebounds. New York's 7-of-34 shooting from beyond the arc, with Brunson and Josh Hart going 0-11 were key for the Heat to capitalize on for victory. Julius Randle's absence played a big role in this game, as the Knicks clearly missed his playmaking, scoring, and on-court leadership. When asked about his importance, RJ Barrett said that "any time you're down, especially an All-Star like him, you're going to miss him and we did tonight". He is currently listed as questionable to return from his left ankle sprain as of the 6:30pm injury report.
With five minutes left in the fourth quarter, the Miami Heat were only holding on to a 95-92 lead, and Jimmy Butler went down with an inversion right ankle sprain while driving against Josh Hart. Butler, the fierce competitor he is, stayed in the game while being visibly hobbled for the remainder of the game. Rather questionably, the Knicks did not take advantage of this mismatch on defense. After the 4:53 mark, the Knicks missed seven straight contested layups and threes, with three turnovers and shooting 1/4 from the free-throw line. After this rough run, the Heat had jumped out to an insurmountable 106-95 lead with just over a minute left. Butler has been ruled out due to this injury Tuesday night.
The Knicks look to bounce back at MSG on Tuesday night with a chance to tie up the series, 1-1, live on TNT at 7:30pm.