by Ryan Yablonski
Growing up in Brooklyn and Queens neighborhoods, Michael Johnson is a product of the New York City public schools and knows full well the gaps in the system. His mission as President & Chief Executive Officer of the Harlem Educational Activities Fund (HEAF) is informed by his own experience as a high school senior when a counselor advised him that attending the University of Virginia, the school he ultimately attended and graduated from, was out of reach. Michael went on to earn his Master in City Planning from the Massachusetts Institute of Technology and a Master of Arts in Political Science from the CUNY Graduate Center.
Following successful roles spanning corporate philanthropy, public service and nonprofit sectors, Michael joined HEAF in the leadership position in August 2022. HEAF has served thousands of students over the past 34 years, providing after school programming for students starting in 6th grade. HEAF helps bridge academic and opportunity gaps that are in many ways no different from what Michael observed during his own up-bringing.
In addition to academic enrichment, youth development and college preparation, Michael's main goal at HEAF is to attract and retain smart and talented team members. His staff are made up of professionals with experience in the education, social work and after-school spaces. Michael notes that HEAF's staff "believe in this mission and are eager to work in supporting young people during these challenging times. Now more than ever, we are focused on providing academic support as well as social and emotional wellness and mental health support, particularly following the pandemic." He adds that "The combination of incredibly energized and motivated young staff with experienced leadership is our path for creating a successful future in the lives of young people."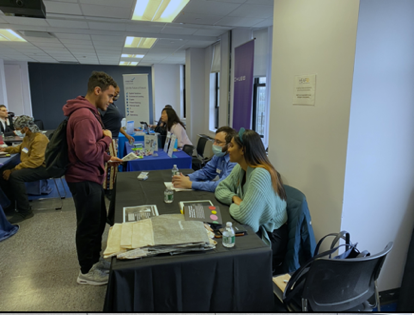 HEAF is a 100% tuition free program and the majority of HEAF students come from underserved communities. HEAF does not require students to have high English Language Arts (ELA) or Math scores, but rather selects students who are motivated to put in the time and effort to grow and succeed.
Michael notes, HEAF looks for "students who don't stand out as the top of the class and aren't getting the encouragement to dream big, or get the necessary support to achieve those dreams. Those students are often overlooked, and can lose motivation." He says the shift from "You are average" to "You can go to college and we can help you get there" is transformational. "HEAF is an organization that welcomes students to be who they are. We offer them a place to be themselves and give them opportunities to succeed beyond what they realize they are capable of doing."
A key part of the HEAF experience is the opportunity for travel, which can help students to envision different futures for themselves. The Learning for Social Global Impact (LSGI) program is one of HEAF's signature programs, allowing high schoolers to spend more than 20-weeks studying a country from its history to its current society, culminating with a 10-day trip to that country to experience the culture first-hand. And, to give back, each LSGI cohort engages in community service as part of the experience. HEAF's 2023 LSGI class just departed for Ecuador. 
HEAF also introduces students to careers through its Industry Immersion Program where young people engage and explore career paths with professionals in fields such as business, financing and technology. Volunteers from HEAF's corporate partners participate in sector-specific tracks that give the students real-life assignments, and access to role models and mentors who make the learning practical, not just "textbook."
Through HEAF, students gain confidence and experience with interviewing, public speaking, college campus residency, and life skills. Michael says "Making presentations becomes second-nature to our students as a planned outcome of our programming. . .that kind of socialization is key. You can be the smartest person in the world, but if you can't get in front of a person and have a meaningful exchange, it certainly doesn't help you succeed in society." Exposure to leadership and working professionals thereby changes HEAF's students as they grow into realizing a clear path for themselves, building their skills and potential to be an integral part of our global community.
HEAF has embraced diversity and been a welcoming and inclusive community for more than 30 years. Michael views the recent Supreme Court decision to remove consideration of race as a factor in college admissions to be unfair and an intrinsic threat to our global community. In response to the decision, he addressed HEAF's families, staff, leadership and partners, saying it is time to "double down on supporting our students who need to be prepared to face the unfortunate circumstances that are before them." He is committed to a new urgency to tightly focus on academic enrichment and project-based learning. "I get fired up on getting our young people prepared, and HEAF will find ways to innovate so that students can use their minds and hands to become productive in their own lives so that they do have a place in college."
One recent success story that Michael shared was accompanying a HEAF high school senior, who joined HEAF in the 6th grade and was just awarded a scholarship by the UNCF/Gray NYC Scholars program – $50,000 per year for four years to attend Clark Atlanta University to study business. He says providing that sort of bridge to achievement is why we are all here. "We are in an incredibly important moment in history. . . it is a call to action for organizations like ours to continue to focus on providing 100% tuition free programming. We can't do it without our NYC communities, particularly our Harlem community, which continues to be a center of culture, empowerment and innovation.
HEAF team members will be at numerous events throughout Harlem, including the upcoming Harlem Week. HEAF will also participate in National Night Out on August 1st in partnership with NYC's 28th Police Precinct. To learn more about the Harlem Educational Activities Fund, please visit www.heaf.org.