On Saturday, October 24th, Chase Bank is hosting Black Entrepreneurs Day, a celebration of black business and entrepreneurship. The event will be hosted by Shark Tank's Daymond John. During the event, Daymond John will lead discussions with Brian Lamb, JPMC's Head of Diversity and Inclusion, and black entrepreneurs from the worlds of business, sports, and entertainment, including Robert Johnson (founder of BET), Shaquille O'Neal, Magic Johnson, LL Cool J, Gabrielle Union, Chance the Rapper and more.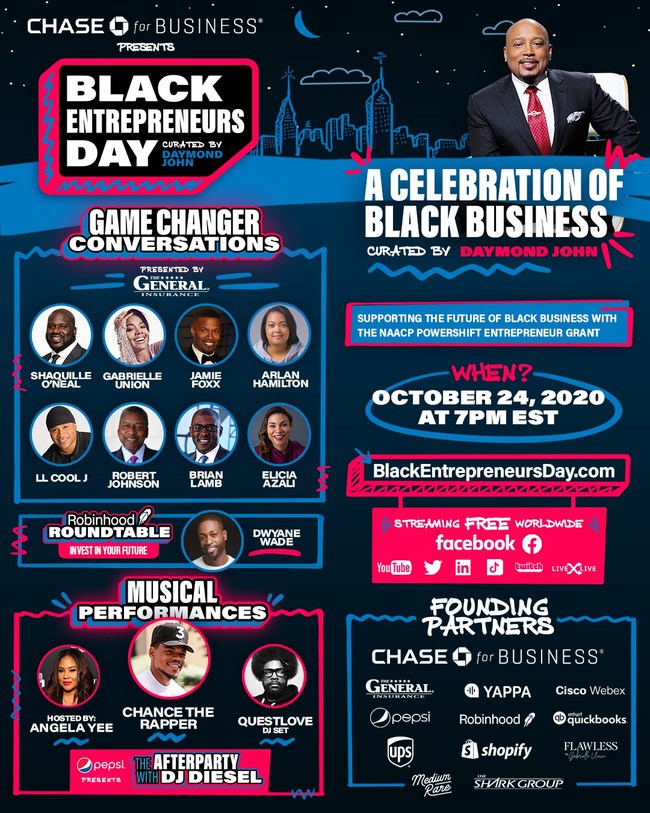 One of the speakers at the event is none other than Harlem's Leticia Young. She is the co-founder of LoLo's Seafood Shack along with her partner Raymond Mohan. Leticia will talk about how covid-19 has affected her as an African American entrepreneur and her plans for success in the future.
We got in touch with Leticia to learn more about LoLo's Seafood Shack and her experience as an entrepreneur.
1. Where did you get your inspiration?
My partner Raymond Mohan and I opened LoLo's Seafood Shack as a Cape Cod + Caribbean mash-up. Which was inspired by our Caribbean roots in Belize and Guyana respectively. The concept is also informed by our love of travel. Raymond and I have traveled to 50 countries together and lived abroad in the British West Indies, where we fell in love with seaside eateries.
At the restaurant, we serve everything from juicy snow crab legs and conch fritters, to crawfish, jerk chicken, and Rum Punch! The LoLo's experience is a Locally Owned, Locally Operated seaside eatery.
2. How is your company changing the landscape of Harlem?
I was born and raised in Harlem, thus serving our community has always been at the core of our existence, even before LoLo's was a concept. We signed the lease for LoLo's without a specific theme in mind. I liked the backyard and it was my intention to create an accessible and unique concept in the community.
The L-O-L-O in LoLo's stands for locally owned locally operated, which is our unofficial acronym. Being a black-owned and women-owned business means that I can inspire others to accomplish their own entrepreneurial dreams. Women are at the very core of the restaurant industry and it's great to see more of us in the spotlight.
We have been a part of Harlem Eat Up Festival from the inaugural event. This event, produced by Chef Marcus Samuelsson and Herb Karlitz is also a major fundraiser for various nonprofit organizations that service Harlem residents. I love how many of the business owners rally together to show off the deep culture and historic neighborhood that is Harlem, USA, and am so proud to be a part of the Harlem creative community.
3. How does entrepreneurship play a central to economic mobility?
Entrepreneurship is key to economic mobility just like homeownership is. Raymond and I took a huge risk and self-funded LoLo's Seafood Shack with the proceeds from selling our dream home in Williamsburg, Brooklyn, but we did this because when we create businesses in our neighborhood, we also create jobs and opportunity by mentoring young people.
4. How do you see your business growing and expanding over the next 5 years?
I would like to open another restaurant concept in Manhattan or Brooklyn next year. We are also bottling our signature LoLo's Sauces and plan to pivot sales towards e-commerce. Looking beyond the near future to five years from now I'd like to expand outside of New York City to other markets.
5. How has banking and access to capital affected your business?
Funding is always a challenge; especially for restaurants; so we self-funded our concept initially. When we were ready to expand the business, we needed more financial expertise and turned to Chase's Harlem Community Branch, which has a great community feel to it. There I fostered a wonderful relationship with Nichol King, the Branch Community Manager. Nichol worked with us for quite some time to develop our bankability; if you will. We were able to secure a line of credit to fund our expansion.
Although we are moving cautiously due to the pandemic, I'm positive that our relationship with Chase will move us towards our expansion goals and get us to where we need to be.
6. What advice would you give someone considering starting a business?
As far as tips for family-owned businesses go I would suggest that each person carves out a specialty. For instance, one person should focus on day to day operation whilst the other concentrates on long term strategy. It's certainly easier said than done; so flexibility is the key to success.
The restaurant industry is based on experience and passion. I invested a lot of time learning on the job working with global restaurant groups and alongside hoteliers, but I've also invested money in continuing my education to advance my skills that are specific to making my business successful.
One of my professors at a French Culinary institute I was enrolled in, suggested that one open as many restaurants as possible on someone else's dime, before opening your own. Experience is invaluable.
On the flip side of that, I'd also suggest taking advantage of community resources. I completed a two-year program at the Columbia Community Business Program. There is always something new to learn. And my personal mantra is 'Stay Inspired!'
To tune in to Leticia's talk, visit Daymond John's Facebook page at 7 PM EST on October 24th