by Derrel Jazz Johnson

New York Knicks All-Star Kristaps Porzingis returned to Madison Square Garden last week for the first time since his season-ending injury last month. Porzingis updated the media on how he is handling the injury, his rehabilitation, and his support system.
I've been having a positive mind this whole and just going day by day to doing whatever I need to,' Porzingis said. "I'm making progress every day. Just moving forward and getting better with my knee."
The 7'3 Latvian also discussed his rehabilitation. I am following protocol, but for everybody it's individual how you move forward," he said. "I don't want to force anything, so we're going day by day depending on how I'm feeling. Everyday we're adding more things that I can do, more mobility, and just going day by day.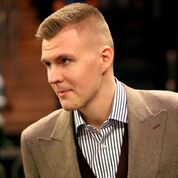 Porzingis also spoke about his support system. "My Latvian national team teammate, Dairis Bertans, tore his ACL twice so I've been in contact with him," he said.  "Jarrett (Jack) also had the ACL injury, and a few other guys that I've talked to."
Porzingis said there is no official timetable for a return. He also had a message for Knicks fans. "I just want to thank (the Knicks fans) for the support throughout the season," Porzingis said.  "All the messages on social media, these are the positive messages that keep me going and give me extra motivation to get better."
I spoke to Kyle O'Quinn after the game, who interrupted the media interview with Porzingis with genuine excitement to hug his teammate. "It was a great feeling just to see him with a smile on his face."
The Knicks aren't playing well right now, having lost 10 of 12. But Frank Ntilikina scored a career-high 15 points Monday in a win, and seems to be playing well with Trey Burke.
Knicks Head Coach Jeff Hornacek discussed the play of Ntilikina. "I thought he was great," Hornacek said. "He took the shots, he was confident with his moves, he didn't hesitate. When he plays off the ball and a guy threw it to him he shot. He has had games like that. That's what I like to see."
Tim Hardaway Jr, discussed the play of his former Michigan Wolverines teammate Trey Burke. "He's going back to those Michigan days," Hardaway said. "The isolations on the bigs and those 'Baby AI' moves, putting the defenders on skates. I was happy to see him play well. Him playing well means a lot, especially a Michigan counterpart next to you. It just shows the late nights, going into the gym, working when no one is watching, continuing to take care of his body, continuing to lock in on the defensive end, continuing to knock down open shots. I'm glad he's a part of this team and hopefully he'll stay around for a long time."
The Knicks play Minnesota at MSG Friday, then go on a three-game road-trip versus Washington, Charlotte and Philadelphia.