by Derrel Jazz Johnson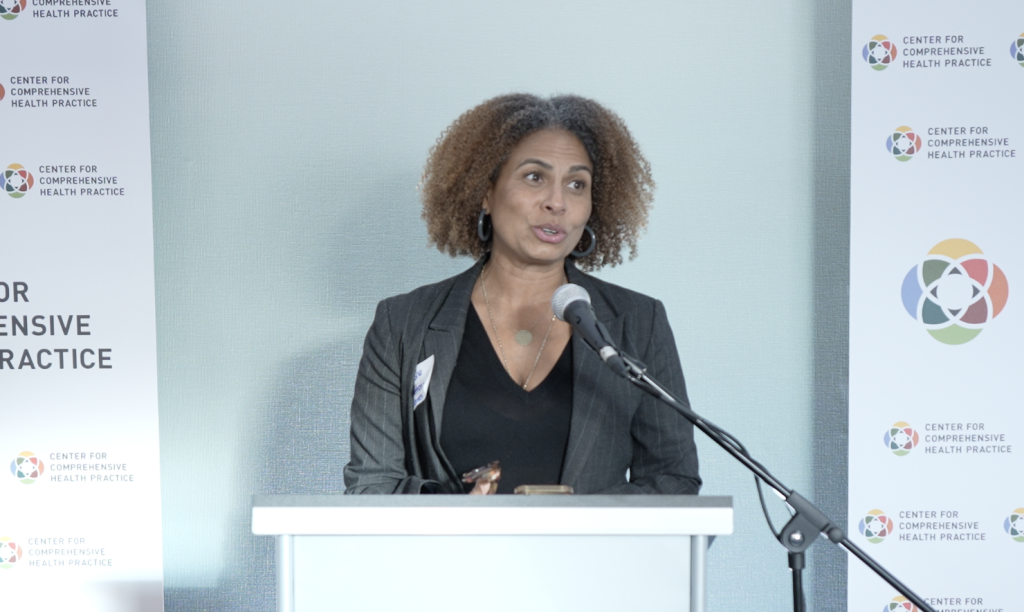 Politicians and other notables were on hand in East Harlem for the ribbon-cutting ceremony for the Center for Comprehensive Health Practice (CCHP). Gale Brewer, New York City Council member, who provided funds to furnish the facility when she was Borough President of Manhattan, attended and spoke at the event. CCHP Board President Barbara Paxton; Deputy Borough President of Manhattan Keisha Sutton James, and CCHP CEO Ann Mendelsohn spoke as well. Community Board 11 Xavier Santiago spoke passionately about the community that raised him, and CCHP Board member Andre Nelson shared a touching story about a conversation he had in the elevator with someone leaving the facility.
The Harlem Times spoke exclusively with CCHP CEO Ann Mendelsohn about her beginnings with the organization and the opening of the facility, which was coincidentally her birthday as well.
"I started working at CCHP in the spring of 2001," she recalled. "I was connected through my sister's mother-in-law, who was a social worker in our Medication Assisted Treatment program until her retirement in 1998. I interviewed for a counseling position and was hired on the spot. It was a good fit!"
Mendelsohn, LCSW, then discussed her rise within the organization.
"I have worn many hats in the past 22 years at CCHP," she said. "I have been a Counselor, Intake Coordinator, Program Manager, Site Administrator, Director of Behavioral Health, COO, Interim CEO, and now CEO. The truth is that no matter what title you hold here, we are 'all hands on deck'. Everyone here is so passionate about our mission that people jump in to help with whatever is needed."
"The event (last week) for me was extremely moving," she expressed. "I was so happy to hear so many of the attendees really get/feel/see who we are as a center. We are committed to breaking down barriers for folks to access high-quality health care in a caring environment where all are treated with dignity and respect. Our new beautiful space allows us to continue providing these services in a lovely, light-filled space with state-of-the-art medical equipment and greater opportunity to connect and partner with the community."
The Harlem Times spoke exclusively with the organization's Chief Medical Officer, Dr. Mariely Fernandez, who also shared her beginnings with CCHP.
"I began my career here in 2007 and it was actually fate that brought me here," she said. "I was working at an urgent care center and a colleague of mine told me that they were looking for a pediatrician at a community health center in East Harlem. She thought the job opportunity was amazing but couldn't apply because of the long commute for her. I applied and got called for an interview. When I walked in and saw the playroom, I knew that CCHP was the place for me and I have never looked back. I have dedicated the last 16 years of my career to CCHP and its community."
Dr. Fernandez then expressed her feelings about the new home for CCHP. "To have our own space, our own home, in this community that we love, for me brings a feeling of excitement because I am looking forward to the amazing things we can do together."
The Center for Comprehensive Health Practice is located at 35 E. 110th Street between Fifth and Madison Avenues. They can be reached at 212) 360-7893 or cchphealthcare.org. Warning: if you come with a small child, they will not want to leave, as the playroom is so impressive, I didn't want to leave the space!