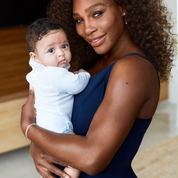 Serena Williams has returned to singles action in tennis, but is she capable of returning to the dominant form that won her 23 Grand Slam titles?
I was on hand for Serena's return to singles action at Madison Square Garden in New York City earlier this month in the Tie Break Tens tournament. Williams defeated Marion Bartoli in the opening round, but lost to Shuai Zhang in the second round of the non-traditional tennis tournament where the winner is the first to reach 10 points. The 36-year old Williams then faced a potential future superstar in 20-year old Naomi Osaka, who defeated Serena 6-3, 6-2.
At Madison Square Garden, Williams discussed coming back. "It feels different,"Serena said, "It feels good but I'm still getting there, obviously. But that was a lot of fun!"
Serena also talked about her 2017, that saw her give birth to a daughter named Alexis Olympia Ohanian Jr on September 1 and marry Alexis Ohanian on November 16."
Honestly, with everything I've been through my happiest is just being out here," she said. Ultimately, Serena plays because she loves the game and discussed that, "I'm just having fun tonight," she said, "it's just a great opportunity for me to play." But she also discussed the joys of motherhood. "I've been having so much fun being a mom, and having time off is good too,"
Serena said in an on-court interview. "I'm just excited to be back and playing here, in Madison Square Garden, you can't beat it." Williams said she is looking forward to her future on the tennis court." I think everyone should have high expectations, "Serena said."
"You should always believe in yourself even if no one else does. If someone tells you no you just keep going and don't let that stop you. That's how I feel and that's the message that I'm spreading on this journey back." The message that she is spreading is a positive one. If it were any other tennis player at the age of 36, a year off from the sport after giving birth to a first child, I would say it is impossible for her to return to top form. But this is the Queen of tennis, Serena Williams, and she is capable of the impossible. Remember last year when Grand Slam title #23 came while she was pregnant? If there is one thing I have learned, it is don't bet against Serena Williams.