by Karen Roberts
Jesse Daniels is one of those people that properly use perseverance and determination to get things done.
His vehicle for doing so is basketball in what he described as his only way out of inconvenient and dangerous circumstances.
His day starts with a vision board and words of encouragement for himself.  The 28-year-old professional Harlem athlete and entrepreneur is clear about being on a righteous path but mostly clear about the energy he brings to his life.
"Ironically I wrote on my vision board that I wanted to write a movie about my life," says Daniels.  "I set high standards for myself."
He is the subject of a new self-titled short documentary "The Jesse Daniels Story," a stark look at his life and challenges growing up in the Polo Grounds Towers Harlem housing projects.  The film has earned gold medals at the Independent Short Awards and been selected at DUMBO Film Festival in New York and TMFF in Glasgow, UK.
"Every day I wrote these goals and knew where I wanted to be," he remembers.
His story is a familiar one about poverty and growing up in challenging situations in New York City.  This is not the gentrified Harlem with cafes, money and White people moving into expensive Manhattan real estate but the Harlem that still exists where Black life is fragile and no programs or persons seem to be coming to help.
But Daniels used his talent and love of the sport to get noticed; first in a Nike poster and then for the movie.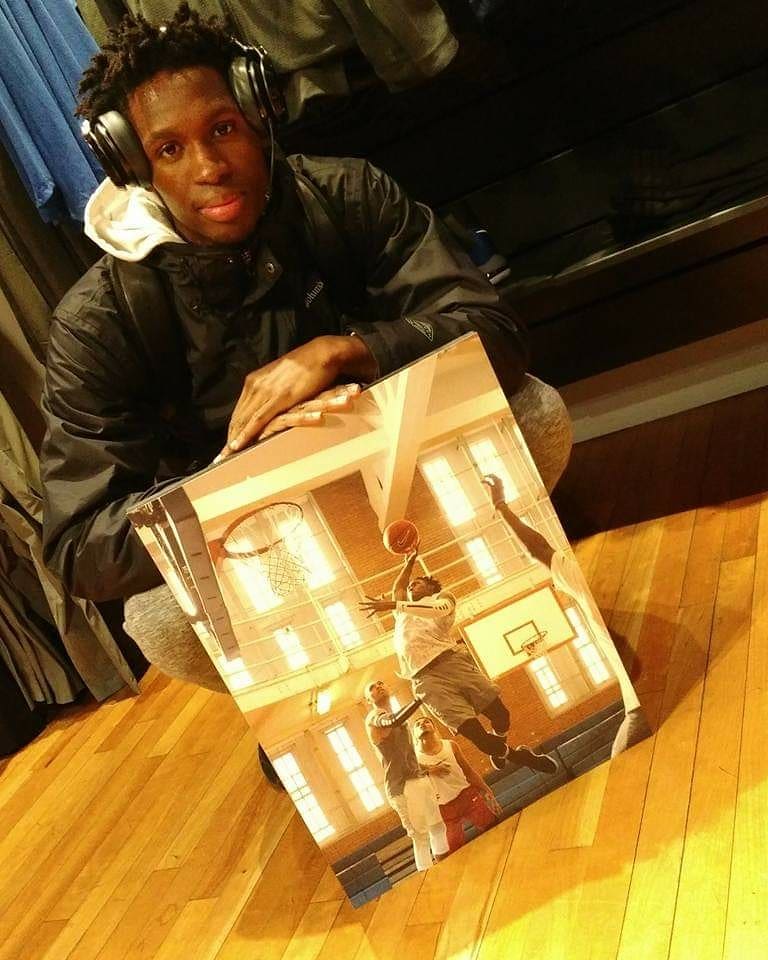 "Life is a journey, if you build up enough credibility being extraordinary anything can happen," he says.
The film directed by Peter Porta goes to the neighborhood and sites where Daniels grew up and basketball was the savior.  The trailer has a line uttered by the protagonist that succinctly explains the situation of the many 'Jesse Daniels' out there.
"When living in the projects my life is in danger every time I go home.  When you walk through that door you just pray to God you don't run into someone who was having a really bad day."
Outsiders know this truth and for the many people who have suffered because someone has had a bad day – most recently Nipsey Hussle – you wonder how they made it out alive and appear minimally damaged.
In the film Daniels tells viewers that the best thing to do when living in the projects is to mind your business, and to save yourself you pick up basketball which is what he did.
"My first love and first sport is basketball – it's the only thing kids can hang on to in this community."
Basketball has been in the center of many wins for this millennial.  He played at the well-known Holcombe Rucker Park, considered hallowed ground for basketball and the place where sports legend Dr.  J Julius Erving first thrilled fans on the court.
Daniels style of playing got him noticed and he played here until a summer shooting of two friends sent him downtown to another spot.
"I decided if I'm going to die I want to go downtown where it's really nice," he says.
He liked the view and looking at the water.  The change of scenery agreed with him and groups of spectators would gather at 5 p.m. to watch him play at the Chambers Street Park.
One day while playing he saw a cameraman with a guy that looked like him.
"I come from places where people don't smile.  And a guy was smiling – any good news is good news," says Daniels.  "It was an audition for Nike and I took that guy's spot.  I was drafted.  I was in the right place at the right time."
Again, he was banking in determination and optimism.
"I did the Nike shoot with small chest fracture that's why it's a one handed dunk."
The 2016 Nike placement got him noticed and within a year a job followed as a sports monitor at Equinox on East 61s Street.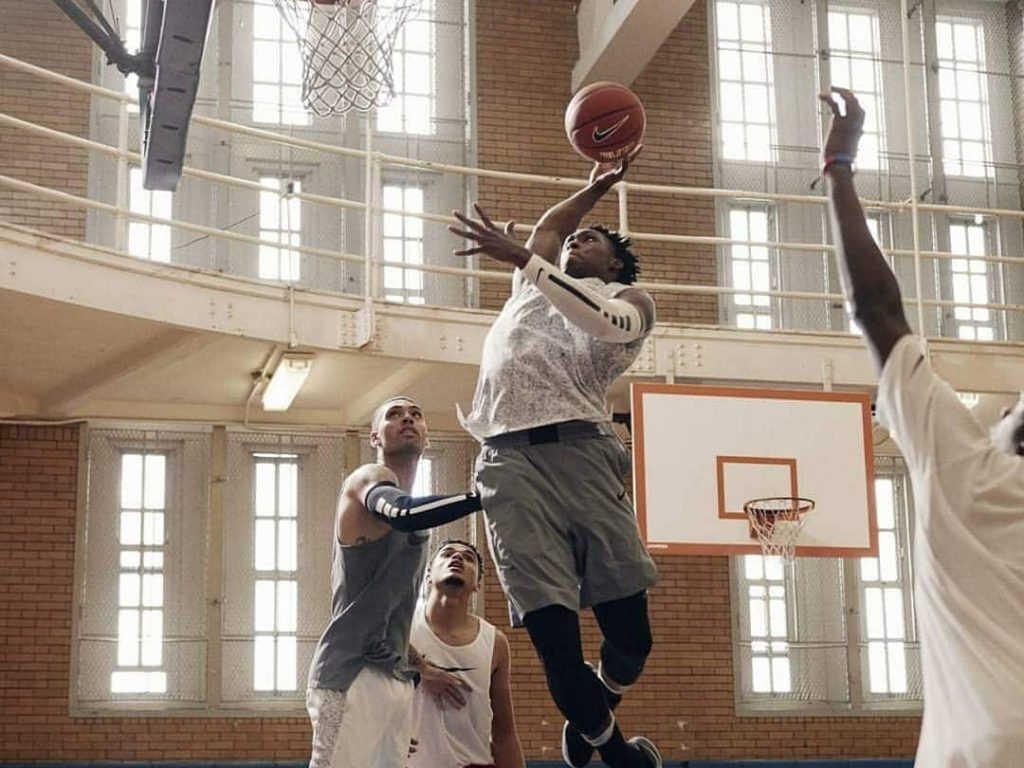 In 2018 Lifetime Athletic at Sky created a position for him.  "They hired me to be their basketball warrior they wanted me to give people a wakeup call," says Daniels.  He worked as a personal trainer, basketball coach and basketball coordinator/event for their Ultimate Hoops basketball program.
The diamond level club attracts celebrities and National Basketball Association (NBA) athletes.  Daniels would play pick-up games with the wealthy clientele.  In this space he met Floyd Mayweather and played with Travis Scott, Kevin Durant and LeBron James.  He also learned about corporate structure and mentorship with key people who gave him an inside track on business.
"Basically it is who you know," says Daniels.  "Coming from the projects you have zero contacts."
This personal trainer position launched his new experience with top level talent and business operations.  He started working with NBA organization Brooklyn Nets, attracting two celebrity based organizations and one international brand.  He worked with Lifetime's Ultimate Hoops basketball program and other V.I.P.  events garnering attention and traction for the events.
But he kept relationships with two sides of his life; continuing to volunteer at the Polo Grounds and hosting exclusive sporting events.  Playing basketball and widening his scope of contacts.
"I was able to play the game confidently.  People saw that and witnessed that," says Daniels.  "People would say I was too smart and not really from Harlem."
It was here that the film crew got connected with him and decided to make a film about his journey.
Daniels remembers when he was walking the filmmaker through his old building and the crew was coughing and couldn't breathe the inside air.  This was a team that had covered war zones in Afghanistan.  In fact, much of the exterior interviewing was because they couldn't handle it.
"I finally noticed for the first time I was living in a super-toxic environment," he says.
Daniels reminds what people in compromising situations know; they did not create the circumstances and they must look past it to succeed.
Now he's back at Equinox running his own basketball sports program.  He wants the success of the documentary to lead to his version of a "Rocky" movie.
"I stay positive.  Be a superhero every day.  I never go to sleep without having done something to set me up for success every day."
The Jesse Daniels Story from Peter Porta on Vimeo.
Film note: The film will be shown later this year in New York.