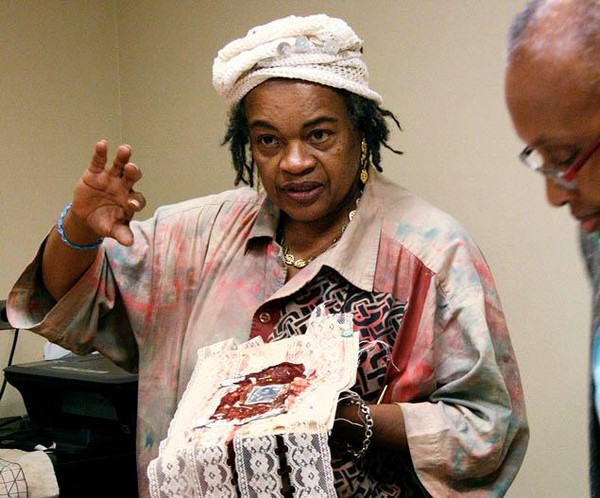 Here's a Women's History Month event that reflects our unifying mantra: "A woman's work is never done." A new Uptown visual art exhibition that celebrates women's fiber artwork especially quilting, is sure to inspire and bring back memories.
Harlem Memorabilia: Reflections in Fiber, is set for an opening reception Thursday, March 14, 5pm-7:30pm, Interchurch Center's Treasure Room Gallery, 475 Riverside Drive@120th Street, New York. An Art Talk & Walk with the artists is set for Tuesday, March 19, 1pm. The show runs through March 26. RSVP 212-459-1854.
Thanks to the guidance of master multimedia artist and Harlem native Dindga McCannonand a talented group of artists who completed a unique three-month workshop in collaboration with Community Works and Interchurch Center, women's traditional fiber art is front and center. Their exhibit is the culmination of an innovative artist-in-residency program conceived by McCannon, where each artist explored memorabilia found at home that they recast into beautiful artworks by adding newer items with artistic visioning and storytelling. The artists' process is also the subject of a short documentary by filmmaker Yohimbe Sampson, which will be screened throughout the run of the exhibit.
The show will feature a stunning collection of art quilts and hand-made cloth books. Congratulations to the featured artists: Angela Loftin-Blake, Phyllis Bowdwin, Jackie Burgess, Shirley Burton Cox, Lisa Curran, Valerie Deas, Shimoda, Izola Emanuel, Laura Gadson, Nancy Ivy, Shani Jamila, Arlene "Kweli" Jones, Nora Lee, Barbara Mims, Tanya Montgut, Rita Strictland, Olga Torrey and Dindga McCannon.
"If you inherit a bag of stuff—clothing, letters, coins, photos— think of those things as family memorabilia that can be preserved as art," said McCannon, who believes that one of the best things we can do for Women's History Month is to nurture girls as artists and teach them traditional women's needlework skills. "My early training came from my mother and grandmother. It is our duty to pass down our traditions. They need these skills to help them relax, counter peer pressure and computer buzz," said the artist who wrote her first book Peaches, as a teenager.
"I always had a vision for all the stuff that I inherited. Surely there must be others who have things in their closets that represent a moment or memory." She explained that these were the ideas that inspired her art series and that her workshop was also an extension of another art quilting class that she had presented at Dwyer Culture Center. McCannon proposed the fiber arts workshop and many responded. Participating artists, most of whom were already celebrated artists in other mediums and a few beginners, gathered weekly to work with different types of mixed media techniques for quilting and cloth book making that included use of metals, paper and New Age fabrics such as Angelina and Lutradur.
And what's McCannon's message to visitors about the display? "Just bring your curiosity and enjoy the show," said the artist who is co-founder of Black Women's art collective, Where We At (1971-1997) that included Faith Ringgold, Jerrilyn Crooks and others. McCannon also part of Harlem's famous Weusi Artist Collective and is featured in galleries around the world.
Original article posted at http://www.examiner.com/article/women-s-art-reflections-fiber-harlem-memorabilia-exhibit