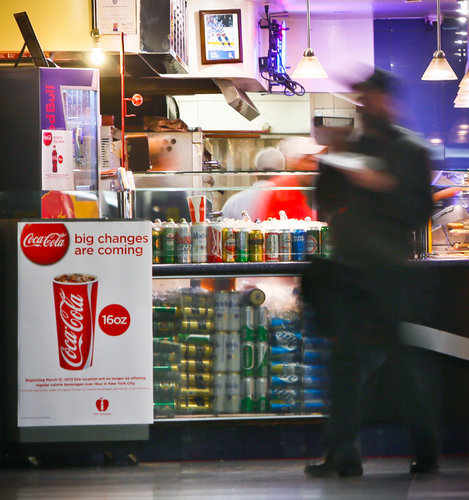 With one day to go before Mayor Michael R. Bloomberg's ban on large sugary drinks goes into effect across the city, some big-drink lovers, and the places that serve them, vowed defiance. Others accepted it with a shrug. Then there were people like Leonardo Scarpone, the owner of Sanpanino, an Italian sandwich shop in Greenwich Village, who wondered if the small amount of sugar he added to his fresh-squeezed lemonade would push it into forbidden territory.
"I'm kind of worried about it," he said. "It comes down to the inspector who's doing the inspection, or the person who answers the question."
JoAnn Mikulak, a waitress at the Manhattan Three Decker diner in Greenpoint, Brooklyn, said she intended to thoroughly enjoy the last few days of big soda before rules forbidding the sale of sugary drinks larger than 16 ounces begin Tuesday.
"I'm going to drink as many 20-ounce sodas as I can," just to irritate Mr. Bloomberg, she said.
"If someone wants it, they're going to get it," said Irene Prois, Manhattan Three Decker's manager, nodding in agreement. She mentioned her boyfriend as an example. "He doesn't care. He'll just get a double."
Michael Jackson, 47, who was having lunch at the Gray's Papaya in Greenwich Village, said there were few things dearer to his heart than a cold Sprite. "The big size, of course," he specified on Sunday. "I'm a big guy."
"I'll buy a dozen of these," said Mr. Jackson, 47, pointing to a regular cup. And as he saw it, there was no point in mourning the big sodas: "All I have to do is go to Jersey, or to 7-Eleven." (The 7-Eleven convenience stores, like supermarkets, are regulated by the state and will still be allowed to sell the Big Gulp and other large drinks.)
At least for the next few months, Mr. Jackson may not have to change his routine. Restaurants, movie theaters, stadiums and cafes are preparing revamped menus and stocking smaller cups in compliance with the new regulations. But with a legal challenge to the new rules pending in State Supreme Court in Manhattan, and a three-month grace period to allow businesses to adjust, some owners are taking a wait-and-see approach in the hope that the beverage industry will win out. Starbucks, for instance, said last week that it was holding off on retraining its baristas and printing new menus.
At Russ Pizza in Greenpoint, the manager, Thomas Mulvena, 56, said he planned to keep his customers happy, the possible fines notwithstanding. Deliveries make up more than 75 percent of Russ's business, and customers often order a 2-liter bottle of soda, or even two, with their pizza. Mr. Mulvena said he plans to take full advantage of the grace period, which ends June 12, by continuing to sell the 2-liter bottles. (City inspectors can issue violations without fines until then; violations incurred after carry a $200 penalty.)
"It might take us getting a ticket to really abide by it," he said.
The Dallas BBQ chain has neither ordered new glasses nor altered its menus while the company awaits the outcome of the beverage industry's lawsuit, according to Eric Levine, the chain's director of operations. Changing the menus, glassware and software and retraining personnel could cost tens of thousands of dollars, he said.
The restaurant's Texas drink size, its largest, is 20 ounces, and costs only 50 cents more than the smaller, 10-ounce sodas.
"That saves customers buying refills," Mr. Levine said. Without it, he added, "the customer loses."
Other businesses have chosen not to test the city's patience. Frames Bowling Lounge near Times Square, which sells soda to bowlers by the pitcher, will instead offer fresh fruit juices like carrot, beet and citrus-and-mint, a manager said. Pure fruit juices are left unaffected by the new regulations.
Cobble Hill Cinemas in Brooklyn has canceled its standing order of cups larger than 16 ounces, which will affect both soda servings (currently available up to 32 ounces) and those for frozen Ices (24 ounces), said Brandon Serrano, a manager.
"I guess we're just doing it," he said. "I guess there's no way of rebelling against the man."
Todd Frizzell, a singer and one of Mr. Scarpone's regulars, said he had reluctantly, though voluntarily, given up Sanpanino's lemonade and other sweets for Lent. Lemonade is excellent for the voice, he added, but on matters of health, he trusted the trim Mr. Bloomberg.
"He knows!" Mr. Frizzell said, indicating his stomach. "If I could only look like him."
Original article posted at http://www.nytimes.com/2013/03/11/nyregion/as-some-prepare-for-bloombergs-large-sugary-drink-ban-others-vow-defiance.html?_r=0&adxnnl=1&adxnnlx=1362985308-7G+O0BAahMNz5/5Hw6zWAw