After over a year of planning, Brooklyn's NYU Tandon School of Engineering launched the 2015 Diversity in STEM Summit: Bridging Engineering and Business for the Future. This was an event that Associate Dean of Student Affairs, Anita Farrington, said is relevant to the current racial tensions across universities. Additionally, it was statistically relevant. The 2015 U.S. News/Raytheon STEM Index reported on the bare progress toward reducing racial and gender disparities for interest and aptitude in STEM.
"The goal was that these conversations would deepen the sensitivity and understanding of what is needed in terms of race and inclusion at our school community," Farrington said.
The opening event featured a panel discussion on why a diverse workforce is needed in STEM, in which Karen Harper moderated. Harper is the Vice President and Executive Coordinator of BEST, an organization that prioritizes diversity in STEM by increasing participation from underrepresented groups.
"In high school, a guidance counselor told me 'you are not college material, you should work at a factory or nursing home,'" she recalled. "From that point forward, I never wanted to see another girl or woman be told what they couldn't do or couldn't be."
Like Harper, the panelists found this summit imperative for students. Among the speakers was Rick Thigpen, Vice President of State Government Affairs at Public Service Enterprise Group (PSEG), otherwise known as the "Con Edison of New Jersey." He maintained that diversity is needed because America will become increasingly multi-ethnic.
"It's about emerging from a past when many Americans believed that you could judge intelligence and skill based on the color of your skin and the demographic you represented, an old America that is no longer going to be viable in the future," he said.
Michael Garner, Chief Diversity Officer at New York's MTA, showed pride working at a company with an estimated 68% of minorities.
Although the speakers agreed that racial and gender diversity in the workforce is necessary for pursuing excellence, they stressed that work ethic is just as important. Attending and arriving early are the general rules, and then performing at one's highest level.
De Angela Duff, the campus's Co-Director & Industry Associate Professor of Integrated Digital Media, advised students to develop empathy for the workforce if they do not possess that trait already.
They also informed students about the many possibilities they have awaiting them in the STEM industry, such as robotics, genetic engineering, nanotechnology, bio, medical, and material sciences. Michael Jones-Bey, Director of the Con Edison Supplier Diversity Program, added that the energy and utility sectors are projected to produce 2 million jobs between now and 2018.
"It's not just about minority students getting jobs in STEM, but becoming leaders in the industry," Jones-Bey asserted.
His sentiments were echoed during the following Diversity Networking Reception and Corporate Dinner. The attendees were comprised of students, faculty, and 30 guests ranging from entrepreneurs to additional corporate executives, all of whom mingled throughout the evening. Gerald Dawes (Director, Business Ethics and Compliance, Con-Edison), Cedric Williams (Vice President, Complex Construction, National Grid) both discussed the need for more students to pursue a concentration and career in STEM. Borough President of Brooklyn, Eric Adams, kicked things off with a speech that many would describe as a testimony.
"You cannot diversify the STEM fields if you don't diversify the city that you are living in…we live in a segregated city and that is what I am at the heart of changing," Adams said, adding that people need to explore beyond their comfort zones and eliminate the fear of interacting with people who look and are different from each other. "You don't want to leave this great school and only think about how to create devices to make money for yourself, but to create devices that will make people better and solve global problems."
Also that night, student, Sederick Dawkins, was celebrated for his efforts of launching an energy challenge on campus.
The next day started with a Startups & Branding Workshop, which covered starting a tech-business, advertising and sales, landing a job, and the recruiting process. It was facilitated by Ariel Lopez, a career coach (General Assembly) and co-founder of 20/20 shift, a business committed to alerting millennials about careers in technology.
When asked about experiencing diversity, Lopez said she hasn't, and is usually the only African American and/or Latina in the room.
The Lightning Talks and Incubator Spotlight events focused on how to navigate through tech-entrepreneurship and the workforce in general. Friday was the Graduate and Fellowship Opportunities seminar, which guided students on how to pursue a graduate degree in engineering or business.
The conclusion to the summit was the K-12 Workshop: Design Thinking/Patent Pending. Approximately, 30 young, eager students participated in an "Egg Drop Challenge." In the last half, NYU student, Earl Co, assisted the aspiring engineers through programming using Arduino. The leading teams "Hello World" and "Cat-A-Lyst" won movie tickets.
Many students who attended the summit agreed with the recurring message about diversity. David Kanevsky, a mechanical engineering major, told the Harlem Times that diversity is imperative because it offers the broader viewpoints needed to enhance problem-solving for engineering.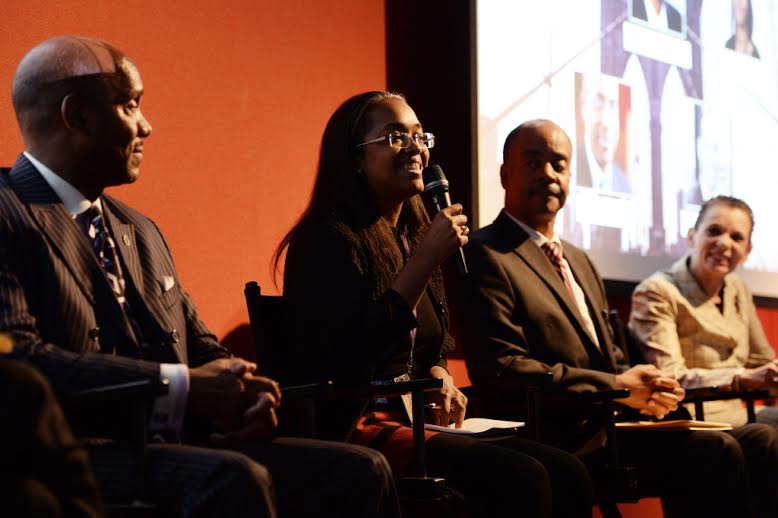 Farrington hadn't attended similar programs when she was a student, but her career path has always involved mentoring students. At the Stern School of Business, she hosted a program called "Making the Right Moves," which featured mid-level business professionals of color who became big-time CEOs.
"It was truly inspiring for our MBA students to witness these role models frankly addressing the challenges that they faced and sharing advice and strategies on moving up the corporate ladder," she recalled.
William Suggs (N.E. Regional Director and NY Chapter President, AABE), who supported the summit, contended that more programs need to be created to rectify the lack of diversity.
"As far as leadership goes in the energy industry, the level of diversity is not what it should be in 2015," he said. "The solution? Partnering with schools, educating the youth, and giving them the exposure to the energy industry."