Harlem Educational Activities Fund Honors Roger W. Ferguson at 11th Annual Gala
College Success Program Raises 1.2 Million for Underserved Students Eager to Succeed
NEW YORK, N.Y. – The Harlem Educational Activities Fund (HEAF) hosted its 11th Annual Gala on October 27th at the Mandarin Oriental in New York City, raising $1.2 million in support of its college access and success programs for young people in need. The Gala honored Roger W. Ferguson, Jr., President and CEO of TIAA-CREF, for his dedication and commitment to creating educational opportunities for underserved students.
More than 300 guests gathered at the event to commemorate HEAF's work and continued success. This year's Gala theme, "Opening Doors," celebrated the variety of opportunities HEAF creates for its young participants, while recognizing the generous individuals and institutions that support the organization's work. Dr. William Julius Wilson, Lewis P. and Linda L. Geyser University Professor of Harvard University served as the evening's keynote speaker.
"Making sure all of our students are prepared to succeed in the future is the critical focus of our work at HEAF," said Ruth Rathblott, HEAF President and CEO. "The tremendous contributions we've received give us an opportunity to continue providing access to world-class college success programs and innovative learning experiences in our community."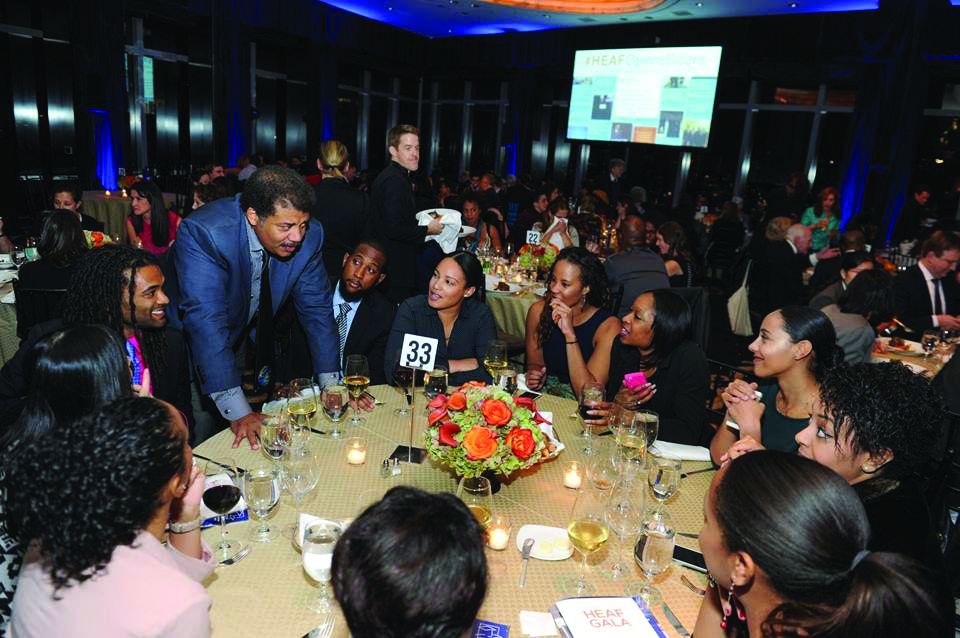 The evening's most powerful moment was inarguably HEAF graduate Dr. Crissaris Sarnelli's poignant speech about the influence the organization has had on her journey and life trajectory. Said Dr. Sarnelli, "HEAF opens doors, and in a spectacular way. At once, HEAF makes the doors themselves visible, the tools to open them with available, and the preparation to walk confidently through them attainable." An impactful reminder of the urgency of HEAF's work with young people, Dr. Sarnelli's story served as a deeply touching example of how the organization helps underserved youth dramatically change their lives for the better. She concluded, "Each HEAF student is privileged to develop the equivalent of a master key. One that is capable of opening any door we choose, at any stage of our lives. That is a truly powerful gift."
HEAF's track record of success is unparalleled. Highlights of the 2014-15 school year include the following:
100% of HEAF's high school seniors graduated from high school on time;
100% of HEAF's high school graduates gained admissions to college;
92% of HEAF's college seniors earned their bachelor's degrees in four years.
About HEAF
The Harlem Educational Activities Fund (HEAF) is a high-impact supplemental education and youth leadership nonprofit that turns motivated but underserved New York City public school students into high-achieving college graduates. HEAF enrolls eligible students in middle school and supports them until they are successfully admitted to―and graduate from―four-year colleges. HEAF offers a variety of after-school, Saturday and summer educational and youth development programs that enable students to develop the intellectual curiosity, academic ability, social values and personal resiliency they need to succeed in school, career and life. For more information about HEAF or to get involved, visit http://www.heaf.org.
Contact:
Malin Bergman
Director of Development and Communications
212-663-9732 ext. 315