By: Derrel Jazz Johnson
When good friends and Fordham University graduates Nodar Mosiashvili and Matthew Trebek thought about opening a restaurant, Harlem was their only choice. Though Central Harlem was considered, the pair settled on the Hamilton Heights section of West Harlem to open Oso.
Oso is a restaurant that was inspired by trips Matthew Trebek and his then-coworker and Oso executive chef Cassandra Rhoades took to Mexico City. The result is high-end, affordable and authentic Mexican-style street food combined with a love of fine spirits inside of an intimate setting.
Harlem Times visited the new Harlem hotspot, which opened in May to sample the cuisine, cocktails and atmosphere. One of the things that drew the owners, who are Hamilton Heights residents, to that location is the sense of community. "All of our employees are local residents," Trebeck said.
I sampled several items, many of which were suggested by Matthew himself and prepared by executive chef Cassandra and her team that consists exclusively of women of color. The Elote, which is corn on the cob was very savory and, honestly, nearly impossible to put down once I picked it up. It featured chipotle aioli, cotija, and chili. Perhaps my favorite dish was Pescado del Dia (fish taco) with cabbage slaw, chipotle aioli and crispy shallot. By far, it is the best taco I have ever tasted, (and I have traveled to Mexico City) and something I can see myself ordering while sitting at the bar watching a game while drinking one of their draft beers, Negra Modelo or Pacifico, both excellent choices.
The one item I didn't require a suggestion for from the team at Oso was the Chicharrones, which came with habanero salsa and came to the table sizzling and crackling. Though I didn't finish the plentiful amount, it is certainly a great appetizer for two or more patrons. For dessert, I had the Churros that came with two dipping sauces, churros buttersweet chocolate and my favorite, cinnamon caramel that were like heaven to my taste buds.
Oso is a great place to grab cocktails as well. With a focus on tequilas and mezcals, the bar houses over 20 small brands as well as a full bar with bottled and draft beer. I ordered a signature drink called Chupacabra, a drink Trebek described as "liquor forward" featuring 1738 Remy Martin, Old Overholt Rye, Cointreau, agave and Peychaud's. It was not only enjoyable, but let's say that it suppressed my desire to sample some of the mezcals. But if sampling fine tequilas or mezcals is what you fancy, there are flights that are offered. There are also upcoming tequila and mezcal tastings upcoming.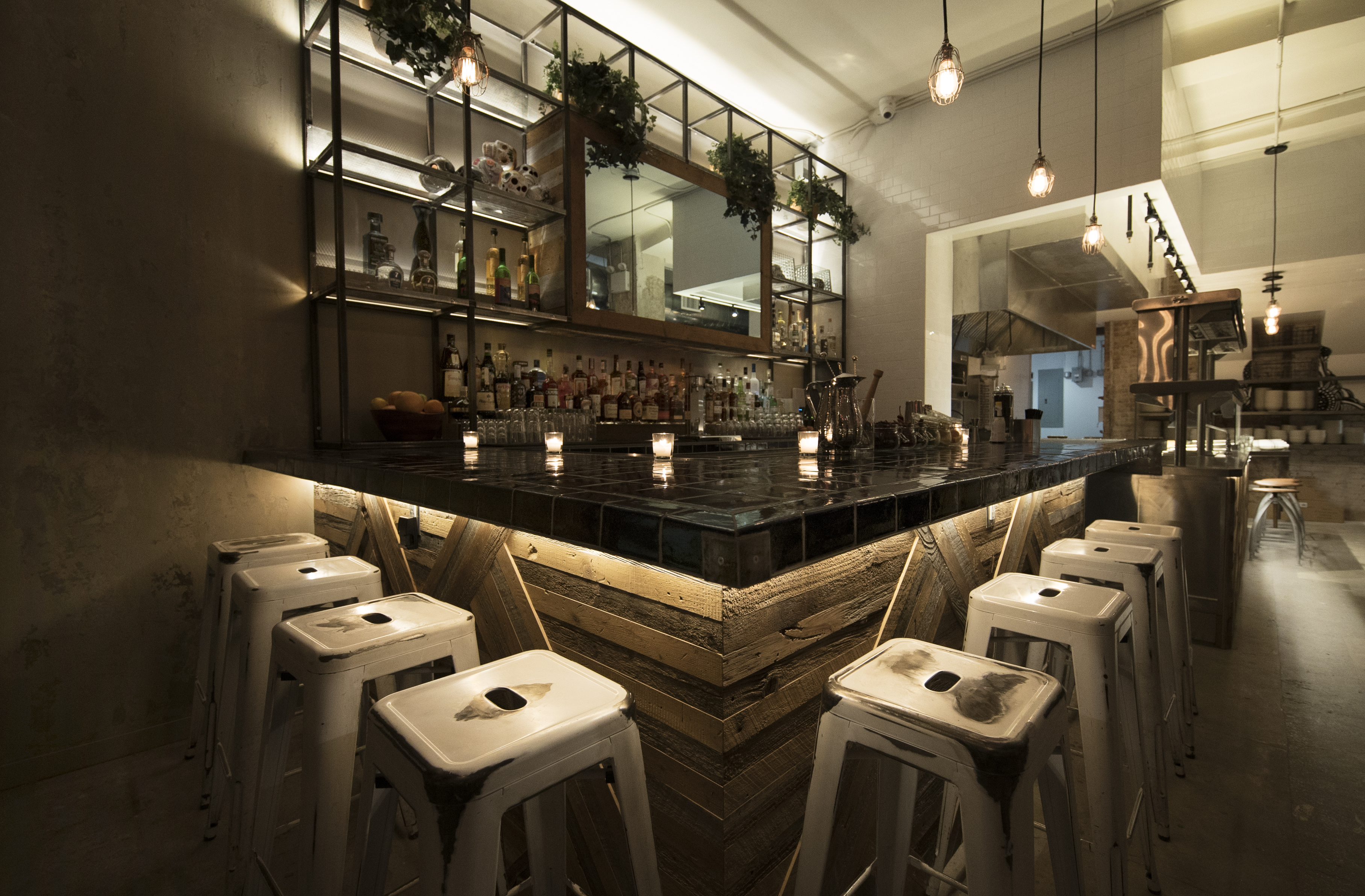 The atmosphere at Oso is very inviting, and the exposed brick walls, concrete floors and graffiti mural feel at home in this Harlem location. We a solid foundation, we asked Trebek where he saw the restaurant in the future. "In five years we envision Oso becoming a staple of the Hamilton Heights community. We aim to build a reputation for great cocktails, food, and friendship. It will be a place that friends and family gather knowing that they are not only experiencing drinking and dining at its finest, but that they will have an unforgettable experience with one another. We hope Oso will be a place where lasting memories are created for our guests." The restaurant is off to a great start.
Oso is located at 1618 Amsterdam Ave between 139th and 140th street in Harlem, and is open seven days a week, 5pm-2am Monday through Friday, and on weekends from 11am-3:30pm for Brunch and 5:30pm-midnight for dinner. Oso also features Happy Hour Monday through Friday from 4pm-7pm, Taco Tuesday. For additional information, visit http://www.osoharlem.com/ or call 646-858-3139.