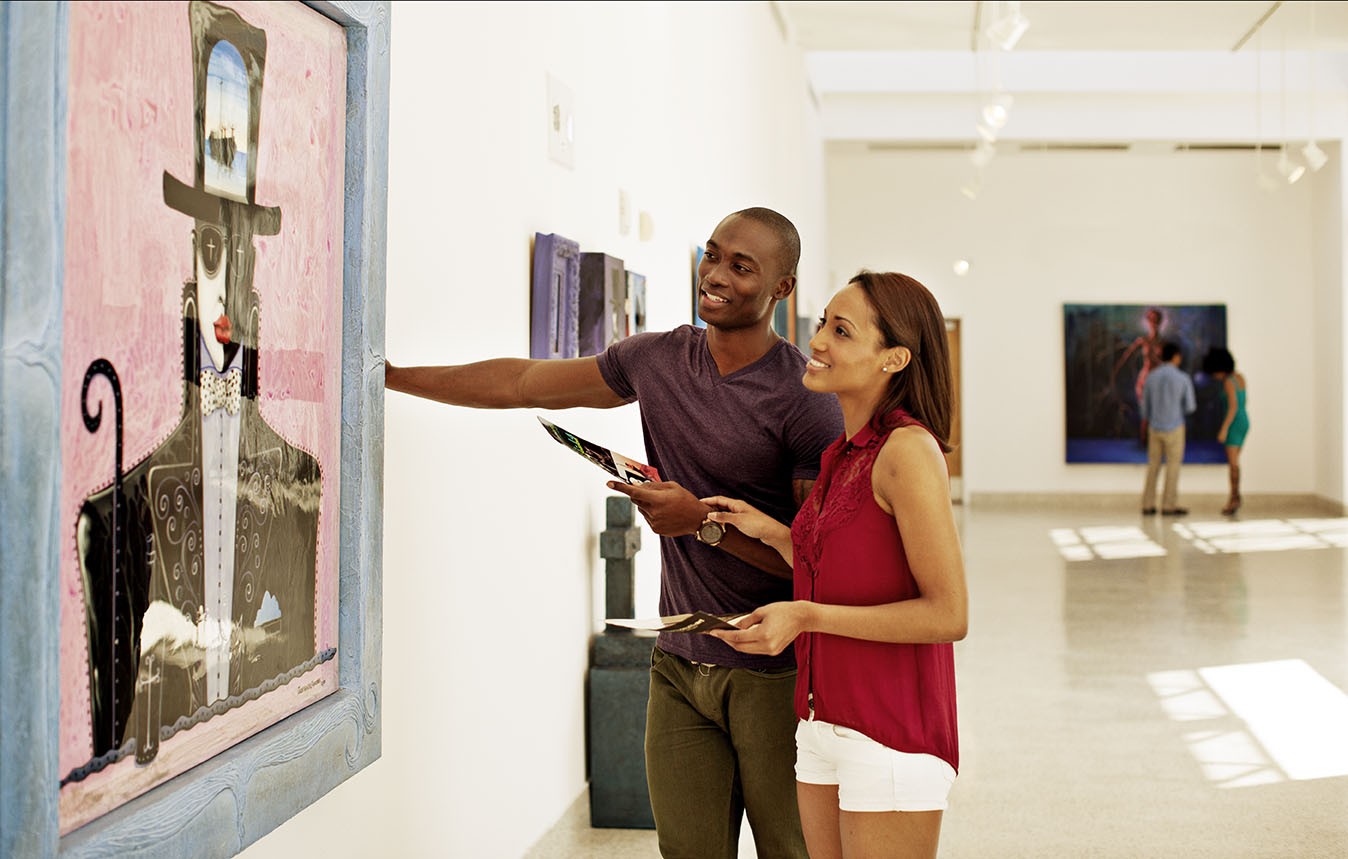 Flavorful music, people and food are the perfect side dishes to complement Miami's gorgeous beaches. And when it comes to flavor, it's worth getting an exotic taste of the neighborhood known as Little Haiti.
The heart of the Haitian cultural diaspora, Little Haiti (formerly known as Lemon City because of its lemon groves) is an ever-evolving neighborhood that boasts some of the best Haitian food this side of Cap-Haïtien. Authentic Haitian lifestyle markets, murals commemorating Haiti's heroes and history, hip, independent businesses and monthly block parties complete with spontaneous conga lines.
A Beacon Of Inspiration And Fun.
The Little Haiti Cultural Center is the epicenter of all things Haitian in Little Haiti. More than a museum, it's an incubator of ideas, art and dance. Visitors can take an Afro-Caribbean cultural dance class, see a Haitian folk-music legend perform in its 300-seat theatre, wander through the museum's exhibits or build something with their own hands in the ceramics studio. The Cultural Center is also host of one of, if not the best and most entertaining free night out in Miami: Big Night in Little Haiti. Every third Friday of the month, locals and visitors are invited to come and party Port-au-Prince style – with live music, Creole cooking, handcrafted art for sale and plenty of dancing.
Miami's emerging choreographers and modern dancers find themselves center stage at Dance NOW! Miami. In residence at the Cultural Center, the company was cofounded by Hannah Baumgarten and Diego Salterini, and nurtures new talent, artistic collaborations and makes the art of dance accessible to everyone.
The Architecture Is Gingerbread. The Mangoes Fresh-Picked.
Designed by Charles Harrison Pawley in the style of typical Haitian Gingerbread architecture, Little Haiti features the Caribbean Marketplace, a replica of the Iron Market in Port-au-Prince, located at NE 2nd Avenue, right next to the Cultural Center. Open every Thursday through Saturday from 9:30am – 8:00pm and Sundays 9:30am – 6:00pm, the marketplace is brimming with art, fresh produce and Creole cuisine. There's even a DJ and happy hour. The "Who's Who" of the Little Haiti scene can also be found hanging out at Libreri Mapou. Owned by local Jan Mapou, it's a Creole and French bookstore and hosts Creole classes, music and dance.
Cuisine That's As Delicious To Eat, As It Is To Pronounce.
A visit to Little Haiti can be a feast for the eyes as well as the taste buds. Haitian Creole is a combination of French, Spanish, African and indigenous recipes and cooking methods. More than that, it's a combination of fantastic spices and seasonings that make meats fall-off-the-bone tender and pickled vegetables a must-try. Family-owned, Leela's has been blending the best of American and Haitian cultures for more than 30 years. With each forkful of perfection, executive chef Lubin and chef Marthe take Haitian cooking to new levels. From the steamed snapper to the queue de boeuf – that's oxtail – a visit to Leela's means never leaving disappointed, or hungry.
Chez Le Bebe is another local great that has been in town since the first major wave of Haitians moved to Miami in the 1980s. Foodies Anthony Bourdain and Andrew Zimmern have even visited and featured Chez Le Bebe on their TV shows. Home of the self-proclaimed "best griot (fried pork) in town," guests will be hard pressed to find someone who disagrees.
An Indie Arts Haven.
In every corner of Little Haiti there's music. Live music. DJs. Drum circles. And vinyl. At Sweat Records, discover a curated treasure trove of musical what-not, such as CDs and magazines, as well as their superior knowledge of music, live events, vegan brunches, great coffee and of course, vinyl. Old school. Hip-hop. Rock. Experimental. Metal. Folk. Punk. They've got it all. Sweat Records is located NE 2nd Avenue and NE 55th Street right next to Churchill's Pub – 'the place to be' for live indie music.
Churchill's has been promoting Miami's local bands since 1979. The music is diverse; the food, classic British pub; the crowd sometimes raucous and rowdy – especially when there's a soccer match on, or its nearing closing time.
Another place to catch live music is the Moksha Family Artist Collective, a mixed-use psychedelic space that brings together musicians, artists, technicians and visionaries on the "quest for universal oneness." They host a variety of events from tribal and electronic music, to live painting, video art and international folk art.
Sundays Are For Strolling.
Every other month, local businesses join forces for the Little Haiti Sunday Stroll. This family-friendly daytime event shows off the best of Little Haiti. Created by Yo Space – a communal arts space where artists can exhibit, work and collaborate under one roof – the Stroll features the works of many local artists and goes on from noon to 6pm with hotspots at NW 54th, 59th, and 62nd Streets.
Little Haiti Gets A Green Thumbs-Up
Little Haiti has proved to be fertile ground not only for music and art, but also gardening. Anyone interested in urban gardening is more than welcome at Earth 'N' Us, a one-acre farm with chickens and emus, located at 7630 NE 1st Avenue. Described by a local paper as an "Inner-city Shangri-La," families can meet local homesteaders that tend the grounds, stay overnight, attend a potluck every Thursday, volleyball every Sunday and drum circles honoring the full moon every month.
Another parcel of paradise is the Little Haiti Community Garden at 5804 NE 2nd Avenue. This local non-profit transformed a once derelict vacant lot into a lush garden that creates student educational opportunities, community volunteerism and contributes to the local food system. The garden is open to the public Monday-Friday, from noon to 5pm.Its colorful buildings, fabulous food and independent spirit make this eclectic gem of Miami well worth heading off the beaten path. And with plenty of parking and new bike lanes, it's more accessible than ever.
Take a video tour of Little Haiti and Miami's other unique neighborhoods at ItSoMiami.com