By Theresa Racine
What a difference 20 years makes! Originally planned for construction in a predominately white and upper-middle class neighborhood, the North River Sewage Treatment Plant eventually found its' home in West Harlem.  The Plant stretches eight blocks along the Hudson River from 137th street to 145th street.   In 1985, concerned over the odors emerging from the plant in their backyards, residents initiated a court case to prevent the building of the Treatment Plant. As a concession to the community, the City promised a 28-acre state park to be built on top of the sewage plant. Seven years after the sewage plant opened, the $129 million facility, officially known as Riverbank State Park opened to the public.  It was the first of its kind in the United States to be built on top of a sewage plant, as well as the first State Park to be built in Manhattan (the fifth for New York City).
Now, celebrating its 20th Anniversary, Riverbank State Park is a 28-acre-park unlike any other.  The park includes an Olympic-size swimming pool  a covered skating rink for roller skating in the summer and ice-skating in the winter, an 800-seat cultural theater, a newly renovated 2,500-seat athletic complex, gym, tennis courts, handball courts, and a restaurant with romantic views of the Hudson River and beyond.  Did I mention they even have a merry-go-round?  Plant officials claim the state-of-the-art facility emits no odors, though frequent visitors to the park would disagree.   Agree or disagree, no other park in New York State can compare to this neighborhood wonderland.  When the park first opened its doors, then Governor Mario Cuomo cut the ribbon.  As residents and park officials gathered to celebrate its 20th Anniversary recently, son and now Governor Andrew Cuomo joined his dad for a day of rediscovery and fun.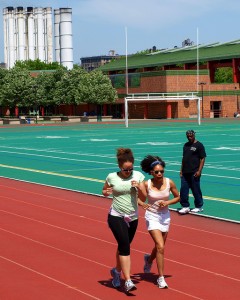 This city jewel not only offers outdoor and indoor pools, runners from all across New York hit its renovated 440m track to relieve the stress of New York City hustle and bustle.  Not known to many, however, are the numerous fitness classes offered at this facility.  Riverbank State Park offers fitness classes for the entire family.  Most classes for seniors are free.  They can chose from yoga, cardio fitness and numerous swimming programs all free with Park registration.  Not to leave out adults, the park offers evening fitness classes such as Zumba, Pilates, Cardio Kick box, Boot Camp and Yoga, for a small value packed fee for adults 18 and over.  In fact, no other fitness program in the city can beat their prices for keeping fit.  Children also benefit from the parks outdoor and fitness programs.  Ice skating, cheerleading and baseball camps are conducted on the facility.   Locker rooms are available on site, as is a snack bar in addition to an upscale full-service restaurant.
If you haven't visited Riverbank State Park before or simply forgot about this beautiful facility take a walk to New York's West Side and fall under its magical spell.  You can also get door to door service via the MTA Bus #19 & 11 which stop at its front door.  Or take in the view if you hop on the #1 subway and get off at West 145th Street, walk one block to the park.   The view walking into the park is awesome.  Register for one or more of its fall and winter classes (beginning October 2013) and take advantage of 'your park'.  To view a full line-up of classes go to www.nysparks.com.  Riverbank State Park.   Or call 212-694-3600 for information on class schedules and fees.