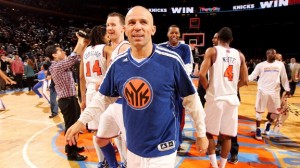 Twenty four hours after the Knicks defeated the Raptors in Toronto, they defeated them again on Saturday night at Madison Square Garden 110-84. The victory was the Knicks fourth win in a row, and with the Brooklyn Nets losing to the Clippers Saturday night, they now have a 2 ½ game lead in the division.
Carmelo Anthony had a game high 28 points and was perfect from the free throw line making all 10 of his attempts. As a team, the Knicks made 21 out of 23 free throw attempts
 Kenyon Martin had his second big game in a row scoring 18 points while grabbing 7 rebounds in just 27 minutes. JR Smith scored 25 points coming off the bench.
Not only were the Knicks affective on the offense end, but their swarming defense held the Raptors to just 44.7 percent from the field.
The victory was a nice birthday present for future Hall of Famer Jason Kidd who turned 40 on Saturday.
"With a win, it doesn't get any better than that," said Kidd, who finished with three points, three rebounds, two assists and a steal in 23 minutes off the bench.
Prior to the game, Chris Copeland, as part of his rookie hazing, approached half court and sang "Happy Birthday" to Kidd in front of all the fans. While Carmelo Anthony laughed about it afterward, calling it  "awful"
"It was very nice of the Knicks to do that," he said. "That just shows the class of the organization." Kidd said afterwards.
The Knicks will now travel to Boston to take on the Celtics Tuesday night. This will be the first of two meetings with the Celtics over the next week. With the Celtics 6 ½ games behind the Knicks in the Atlantic division, the Knicks can all but eliminate the Celtics from division contention.