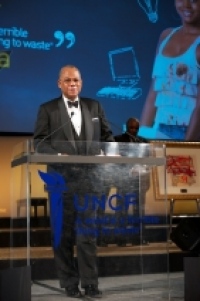 Group highlights Thurgood Marshall Academy for Learning and Social Change as an example of his commitment to improving education in the community.
One of Harlem's most influential pastors was recently celebrated by the United Negro College Fund for his commitment to education.
The Rev. Dr. Calvin Butts, pastor of Abyssinian Baptist Church, received the UNCF Shirley Chisholm Community Service Award at the organization's annual gala last week.
"He was selected because of the work he's done improving education in Harlem," said Fred Mitchell, vice president of development for the midwest and northeast division of UNCF, told the Daily News.
Mitchell highlighted the Thurgood Marshall Academy for Learning and Social Change as an example of Butts' commitment to improving education in the community. The Harlem high school and the Thurgood Marshall Academy Lower School, a K-5 school, are both sponsored and supported by Butts' Abyssinian Development Corp.
"His programs have made a difference for the children that attend those schools," he said, adding many students have gone on to prestigious colleges. "It's really more about his commitment to the community and education."
Mitchell said UNCF — an organization committed to supporting minority students with scholarships and programs — was also proud to honor Butts because he graduated from one of the organization's member colleges, Morehouse College in Atlanta.
"If you look at his background, [education] is what he's all about," Mitchell said.
Butts, also the president of SUNY College at Old Westbury, told the Daily News he was honored to receive the award at the Hilton New York on Thursday night.
"I've gotten a lot of awards, but this one was very special," he said. Russell Short, a member of his church who currently attends Butts' alma mater, presented him with the award. Butts noted that he has known Short since he was born.
"I felt very good," he said of receiving the honor named for the former New York congresswoman and the first major-party presidential candidate.
"My mantra is, education and faith are the Tigress and the Euphrates of our liberation," he said. "Twin rivers at the source of our redemption," he said.
mfeeney@nydailynews.com
Article from New York Daily News.