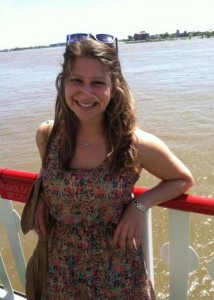 When did you know you wanted to be a teacher?
I've always enjoyed working with kids. I decided that I wanted to be a teacher when I was 15, when I had my first job as a camp counselor. I was a counselor for 7 years, and continued to tutor, which sealed my decision to teach.
At which school do you teach?
I work at North Star Academy Vailsburg Middle School, a Charter School in Newark, NJ. The student body is predominantly African American students from low income families.
What is it like working in a Charter School?
I love working in a Charter School. I love meeting people who all have the same goals as I do, and who are really driven and enjoy a structured environment. Everyone at my school, kids included, works really hard to maintain the structure which leads to our success.
What is your favorite aspect of teaching?
My favorite part about my job is working with the teachers and staff. Everyone is brilliant and driven! We work 13 hour days but we have a lot of fun. What I like most about teaching is being with the students and helping them. It is very rewarding to be able to help them understand something that was difficult. It is especially rewarding with the kids who are historically uninvested. When they become interested and excited, it's my favorite part.
How do you hope to help your students in the long run?
My school and I hold this goal: getting 100% of our students to go to college. Most of my kids will be the first in their families to go to college. That's what we want.