by Derrel Jazz Johnson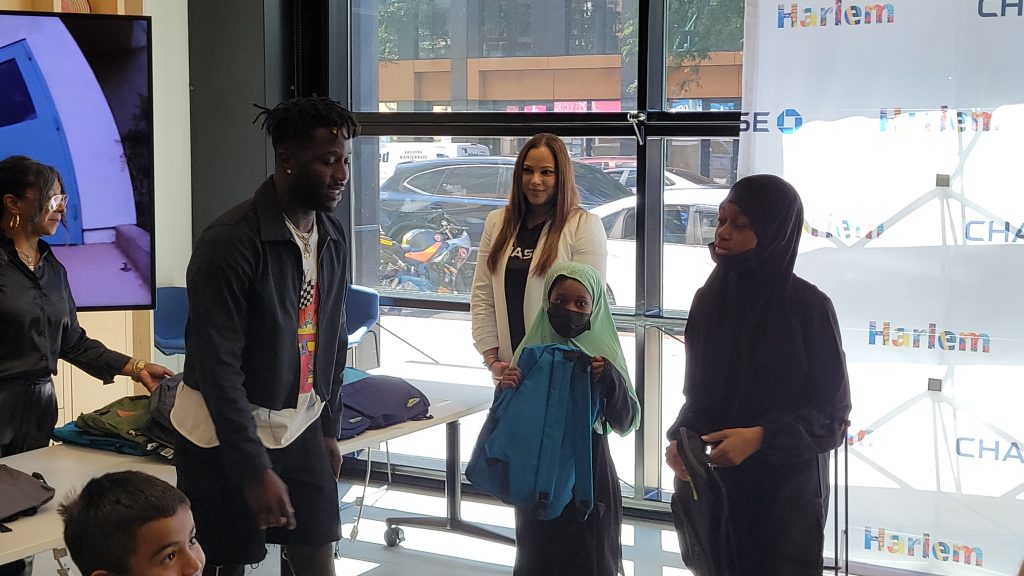 JPMorgan Chase, BMX athlete Nigel Sylvester, and his Nigel Sylvester Foundation teamed up for their fifth financial health event in New York City recently at the Chase Harlem Community Center in the heart of Harlem on 125th Street. Several dozen children of various ages attended and answered questions from Sylvester and various JPMorgan Chase employees during an interactive panel discussion. The kids, who ranged in age from 6 to 13 and were from various organizations, were asked questions about finances, such as spending money on weekly treats, as opposed to saving the money for a new pair of sneakers or a video game, and what chores they did to earn money. They were also asked about their dreams, with the most interesting answer coming from a kid who said he wanted to be an NFL player and a doctor. The children, mostly boys, watched a video of Sylvester and his BMX bike tricks, to the amazement of his newly earned fans. Sylvester, who started the Nigel Sylvester Foundation to give back to youth, handed out book bags with school supplies so the children could get a head start on preparation for the new school year.
The Harlem Times spoke exclusively with Jason Patton, Managing Director, and Head of Community and Business Development, Northeast Division at JPMorgan Chase about the partnership with Sylvester.
"(Nigel Sylvester) is deeply tied to a lot of programs here locally. And he works a lot with children, and we have a mutual interest because we're trying to make an impact in terms of giving kids education around personal finances, money management, and we're trying to do it in a fun way," He said. "Nigel believes in the same thing, not just in financial education, but having fun while doing it. So these kids are here today, not just to meet him, but to learn about money."
Patton also discussed the ongoing relationship with Sylvester.
"We've done five workshops already with Nigel and kids from his foundation, which has been awesome, so we want to continue with that."
Patton then discussed the $30 Billion Racial Equity Commitment that JPMorgan Chase has pledged, and how it ties into what the company is doing with the Nigel Sylvester Foundation.
"It's a game changer," he said. "It's a big number too. We like to talk about that in a few different ways. A lot of it is around incremental lending, around affordable housing. Incremental lending with regards to small businesses and mortgages, both purchase and refi. Then a lot of it is around financial literacy. And so we've created new job families. One of those new job families is called a community manager. Those community managers, they are untethered from the branch. They spend most of their time in the communities building trust locally with partner organizations like the Nigel Sylvester Foundation. So we can actually take the credibility of JPMorgan Chase and our expertise around financial health and bring that to where you are as a community in the form of workshops, on how to budget, how to save, and how to manage credit responsibly. We made a $30 billion commitment three years ago."
BMX athlete Nigel Sylvester also spoke exclusively with the Harlem Times about teaming up with JPMorgan Chase.
"I'm here on behalf of my foundation, the Nigel Sylvester Foundation alongside JPMorgan Chase and we did a workshop today with local kids and wanted to explain to them the importance of financial health and empower them with the tools that they need as they embark on their financial journeys," he said.
Sylvester also reflected on JPMorgan Chase doing an event at Springfield High School in Laurelton, Queens, the area he is from.
"We focused that workshop around traditional banking accounts, checking, and saving," he said. "We did a course on cybersecurity and also the importance of credit. The kids had a great time and we're looking to expand that program into more schools around New York City."
JPMorgan Chase and Nigel Sylvester are performing a great service for those in the underserved communities of New York City. It is never too early nor too late to learn the tools of good financial habits and strategies.