By George Haigler, III for the Harlem Times
Sponsored by Carver Federal Savings Bank and the Greater Harlem Chamber of Commerce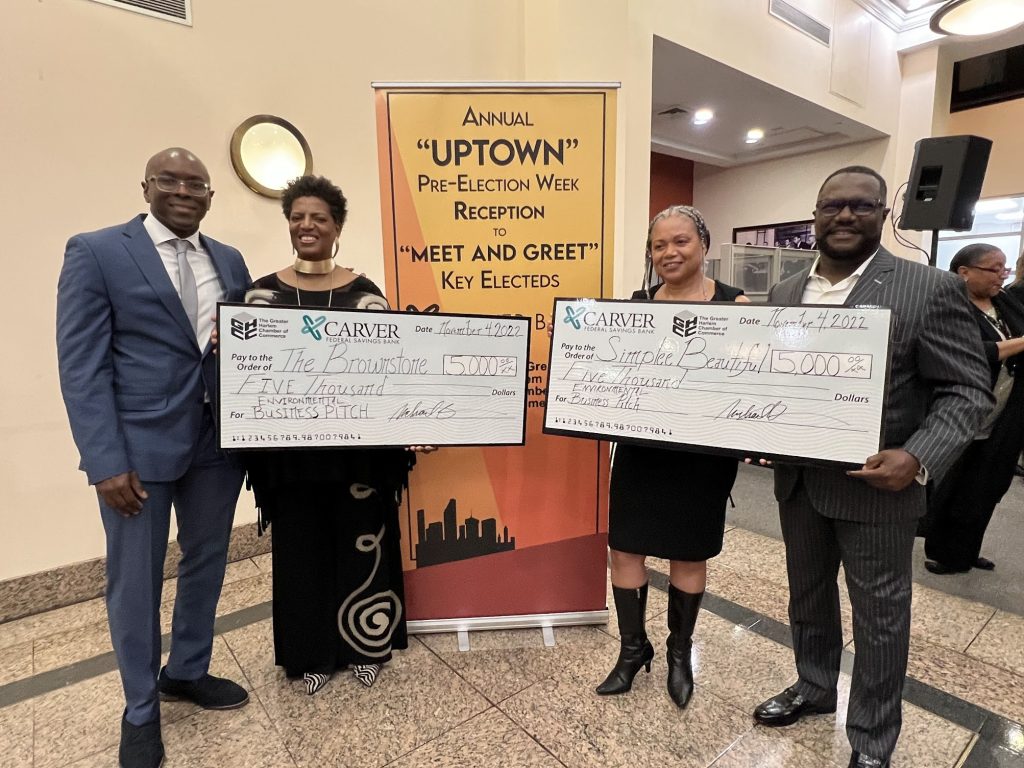 Just recently, I had the honor and privilege of sitting down and interviewing Mr. Michael Pugh, the CEO and President of Carver Federal Savings Bank, at the 125th Street Branch, located in Harlem, New York. Mr. Pugh's story as a seasoned banker and businessman cuts a wide swath of knowledge of the economic brilliance it takes to be a CEO and President. He shared his insight with local Harlem residents, small and large business owners, and burgeoning entrepreneurs alike who wish to grow their brand in Harlem and beyond:
GH/HT: Mr. Pugh, thank you for taking time out of your bustling schedule, especially wedged between the holidays and this busy time of the year, to sit down and speak with The Harlem Times. Please tell me about this contest for minority women business owners.
Mr. Pugh: Certainly. The 2022 Minority Women-Owned Green Business Pitch Competition is the first annual competition and is a collaborative sponsorship between Carver Federal Savings Bank and The Harlem Chamber of Commerce. The competition is designed to spur impetus amongst minority women business owners and their entities to address the need in our world and especially our community to reduce carbon footprints and encourage energy conservation. The Greater Harlem Chamber of Commerce tracks major economic changes among people of color living in the greater Harlem community. We, along with The Greater Harlem Chamber of Commerce, show a concern and seek to positively impact small entrepreneurs of minority businesses and buoy their sustainability, especially for minority women of color and women as a whole.
This competition coincided with Harlem Week which transpired in 2022 between September 1 and September 21. Harlem Week was a great centerpiece for our collaboration because the event garnered participants, presenters and patrons from around the city, especially the community of Harlem, the United States of America and visitors from around the world. In our digital postmodern world, we here at Carver Bank have learned about businesses navigating through a post-pandemic reality whose survival and resiliency is tantamount to overcoming the odds against their favor. To underscore this great event during Harlem Week, it comprises the best elements of the participants in the areas of Health and Wellness, Entertainment, Internships and Apprenticeships, Sponsorships and Entrepreneurial Input. Carver Bank is integral in affecting small business owners in our market and all others throughout the city as well as our local residents.
GH/HT: Mr. Pugh, what are Carver Bank's plans for the winners in the utilization of the financial grants to help our global environment and its betterment?
Mr. Pugh: Many of the applicants knew they would use capital for improvement of the environment and alleviate our society of the multifaceted carbon footprints unnecessarily used to negatively affect our collective ecosystem. Our competition attracted over 48 amazing applicants who are our minority women of color business owners, some of the best and brightest our community offers! The interview panel then pared them down to seven to ten of the strongest applications based on our stringent competition rules and contest parameters. We then conducted in-person, video, and phone interviews, narrowing them down and finding our two winners: Ms. Jenkins and Ms. Da Costa! The two ladies were deemed to have done the best research out of the field of 48 candidates, who all did awesome papers as well. The finalists ascertained through the diligent research that the best route was to segue from paper cataloging to digital cataloging to cut down on our collective and universal carbon footprints, which lowers the cost of production and helps the ecosystem. The most amazing thing about these companies is that they have adapted their productions to not only reduce dangerous emissions and cut down costs, but they have also managed to move towards digital advertising which reduces their carbon footprint and can also reach a much larger audience for a small company.
GH/HT: What do you perceive as major changes in reaching local residents and small businesses in the Village of Harlem in the 21st Century?
Mr. Pugh: In the face of all the changes in the Village of Harlem, is the pre-pandemic versus post-pandemic realities of our customer base, and the economic downturn of our times. What makes Carver Federal Bank successful is the access and convenience for our local community residents and small businesses and our perceived technology services. Pre-pandemic figures hold a very stark contrast to what is our present-day reality. During the pandemic, 40% of Black and Brown businesses failed. This is as a direct result of lack of monetary capital and social capital. On the positive side, our Harlem Branch has been able to preserve and create at least 5,000 jobs and make provisions for $55 million in loans. We have in place a Paycheck Protection Program and have paved the way for financial first responders. We here at Carver realize that banking is about relationships and accessibility. We realize that empowering people to reach their financial goals for us is job one.
GH/HT: Mr. Pugh, there are many "callings" which people are compelled to fulfill in life: some people are "called" to ministry; others find fulfillment in law, medicine, teaching, trades, and a plethora of other career and entrepreneurial endeavors. What was the genesis of your banking career? You seem to have the genius of a Prince or an Alex Haley when it comes to your financial acumen and brilliance. How did you know that you would be knowledgeable enough of your field to reach the esteemed heights of bank presidency?
Mr. Pugh: I come from a family of healthcare providers and in my formative years, this was the dinner table banter and conversations. We often discussed client and patient care and ways to support families. My social paradigm from a very young age due to my family structure and impetus of their callings, I knew I wanted to help people! I actually dreamt once of becoming a lawyer. I secured a part-time certificate as a physical therapist as a college student in my home state of Michigan, and would soon apprentice as an assistant. My challenge was, as a 19-year-old student, the sadness of growing close to geriatric patients who would often not get better and who would eventually die in spite of their therapy (in retrospect, many of the seniors living in these conditions were unable to qualify for independent living in the health care sector). I then gravitated towards another career option which suddenly crystallized for me — I became a part time teller in a bank!
For me, once I experienced overseeing mortgage approvals for first time home buyers and entrepreneurs starting or maintaining a business, I knew that this is what I wanted to do as a career. It was akin to seeing a patient experience recovery from bad health and then move towards independent living. I was able to provide banking resources such as debt consolidation and a relief plan and make customers understand the flow of money.
Before coming to Carver Federal Savings Bank, I served as Senior Vice President in two of our nation's largest banking institutions, for fourteen years and five years, respectively. In coming to Carver Bank, I moved closer to personal banking within a closer proximity to minority people and gained access to knowledge of their local stories on a smaller scale. Although our marketing budget is not as large as some of the larger banks, we have been able to do incredible work with the local market and they have been able to thrive with our very efficient model of banking.
GH/HT: Mr. Pugh, one final question — what would you say to local minority youth, Black and Latino and others, about money, economics, and capital, as well as the importance of creating generational wealth?
Mr. Pugh: One should learn and lend oneself to the knowledge of how money flows when they are in their youth. Holistically approaching and understanding the meaning of money is crucial. For instance, instead of always pining after "drip" (inner city slang term for material things, i.e., expensive vintage sneakers, gold chains, etc.), one should place one's priorities in saving their money in smart sensible investments, which include education, real estate, and the like. For our high schoolers, college students, and young people alike, we recommend programs out of some cooperating HBCUs (Historically Black Colleges and Universities) which facilitate The Society of Financial Education and Professional Development. These programs are currently facilitated by Medgar Evers College (Brooklyn, New York, CUNY), University of the District of Columbia and Howard University, both in Washington, DC. They encourage peer-to-peer learning and are taught by certified financial planners. The key to success for young people is better financial education — learning about the flow of money, the meaning of money, and how money works.
GH/HT: Thank you, Mr. Pugh. Congratulations again!
Mr. Pugh: Thank you and likewise.