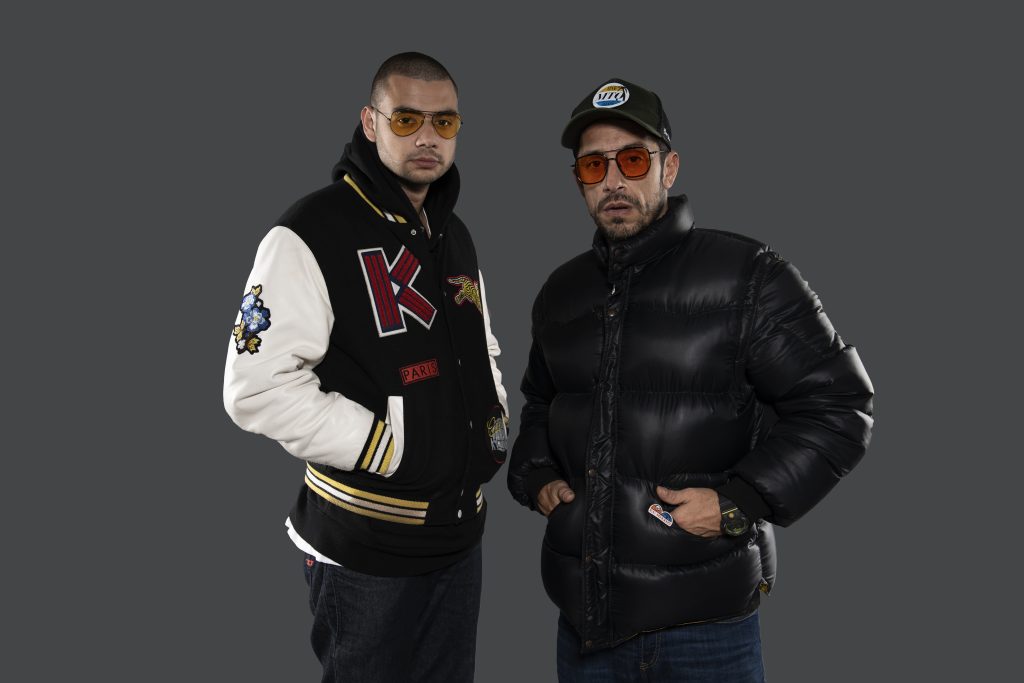 Interview by Apostolos Basiakouras
One of the hottest names in the Latin-Afro house music scene today is undoubtedly Sparrow & Barbossa. I had the opportunity to meet Brian Coletta in Miami and it was the perfect timing to have this talk.
Apostolos Basiakouras: Please introduce yourselves to the people who don't know you.
Brian Coletta: We are a duo, we are half Swiss (me, Brian-Sparrow) and half Uruguayan (Emiliano-Barbossa) and we met 7 years ago. Barbossa was working for 20 years in Club Space Ibiza and I was working very closely with Luciano in Cadenza. He basically brought us together. When I arrived in Madrid 7 years ago, I was a little bit lost and I wanted to make something new so Luciano met us. He said, "meet this guy and you will do great things," so here we are!
AB: How was the first meeting, the first contact?
BC: The first day we met something very funny happened! We went out for some beers and then we went to my place and listened to 28 hours of music! So we said, "let's do our music." We mixed our vibes. Barbossa is Latin, and I (Sparrow) have Moroccan roots from my mother. Before doing this we were both musicians. Barbossa was a percussionist 22 years ago. He recorded a famous song with Joeski & Chus called "El amor". Funny enough Chus is our manager, and he found us because of our music! He listened to our first single "Yeke", he texted us and after he realized that Barbossa was the same guy he worked with years ago. I'm the son of Francis Coletta, a very famous jazzman who played with Frank Sinatra, Elton John, Whitney Houston, and more, and my grandfather was a violinist in classical music.
AB: So you started producing… Describe to us how you get the ideas for producing your tracks.
BC: We hate being classified. We started from Afro with "Yeke" from Mory Kante because we had an idea, but we didn't say, "let's make an Afro house track." We like to take cultures that are not yet part of electronic music, like old traditions and cultures and mix them through the vehicle of electronic music to democratize it. This is the best way to describe what we do. We love the fact that it gathers people together. We think people know now that electronic music is not underground. It's alegria, it's happiness. So we mix salsa, neo latin, even reggaeton…we call it Carribean house! We have our label Tortuga Tribes, a sub label of Stereo Productions from Chus. We also had support from Keinemusik in the Zamna Tulum festival playing music from the label. We hope soon to see this genre, Caribbean House, on all music platforms.
AB: What were you doing before forming Sparrow & Barbossa?
BC: I was a progressive house producer, the pre-EDM era. Barbossa was a percussionist and a drummer with many collaborations. So meeting each other was the key to do something else, to follow another line.
AB: How do you make your productions? Do you lock in the studio until you have something or you are more the guys who have an idea, write that down and then eventually complete it?
BC: We are very spontaneous and when we produce we produce on airplanes, on trains, on beaches, in pools…we had more than 300 flights in 2022, so studio time is not exactly what we do most even if we'd like to. When we have an idea, we call each other, we sing it, and we put the right keys to finish it later. We have a home studio in Madrid and also we go to another huge studio with 3 rooms, 3 blocks from our house, where we spend most of our time.
AB: Do you use natural instruments or only electronic instrumentation?
BC: Our music is a lot about this. About the fusion between organic instruments and electronic music components and analog synths. Barbossa is taking care of the rhythmic session and me more about the melodic session.
AB: What or who were your early passions and influences?
BC: Barbossa has his influence in salsa music Hector Lavoe, Ruben Blades, Willie Colon, Tito Puente as a percussionist that was really what inspired him and my dad. I was going on tour with him all the time sleeping in his guitar case many times! So my influence is jazz music. I studied piano for more than 10 years. Electronic music in early stages also. Early stages of &Me, Rampa, Frankey & Sandrino, Super Flu, David Mayer. That was the German side of melodic Afro that inspired me because I was in Switzerland these times. And then with Emiliano I discovered more on the Latin side, Neo-Latino, Pablo Fierro and those guys, also old school Louie Vega etc. The last few years we shared Marco Carola, Joseph Capriati and we even have these influences if we do more powerful & personal remixes.
AB: You have signed for many music labels. How important is the music label for an artist?
BC: In our case, for example, in Afro House, there are more than 500 different labels. Pretty much every artist now has his own label. Everybody does the same sound. If you check out the top 100 Afro House on Beatport, 99% of the tracks just sound the same. So we said no, that's not what we want to do. First, we wanted to do something with purpose.
Second, we wanted to be different and in our image, not do the same thing. Nothing about just to have some success. We don't do things, with the idea of making money or anything like this, we do things with the purpose. So, having that in mind, we traveled so much in the Caribbean, Venezuela, Colombia, Mexico, even Martinique. We have one sole purpose: to give the same possibility to the Caribbean House producers to be known by the whole world and have some decent distribution channels. They did not have access to the good channels, most of them were gifting their music on YouTube. But we found some true talent over there, so we've decided to found Tortuga Tribes, a sub-label of Stereo Productions from Chus, with the first purpose to give them a voice. And it's going great. We're getting a lot of attention even before he's considering creating the track and having us as ambassadors. So we're very happy about what we have achieved with the label so far. We're getting amazing support from Keinemusik and other leading DJs.
And then the second purpose of the label is also to be a community. That's why it's called tribes. We're building a structure right now of immigration lawyers and booking agents to not only give them the voice, but also give them the opportunity to play. Come with us as supporting acts and play around the world again having the same possibilities to be an international DJ as a European guy or American guy would be. So it's important to say that 100% of what we do within this label goes back into the project. It is not lucrative. We're not making any money with it, so it has really the sole purpose to help good producers out. Also, based on our own experience, I personally never had any gift from anyone when I started. I've been begging labels to send my music for years. Until now, they've been begging us right and I think this is completely wrong, the whole process about getting your music known nowadays is completely rigged. If you're a wealthy person, you can have absolutely no talent sometimes, and you can be Rey, the King of Mambo. And then if you're not super healthy and you can invest in huge beer campaigns, then sometimes you're one of the best. But nobody will ever know. Well, Tortuga Tribes has the purpose to go against this. So I'm really happy about it because I get up in the morning, and I'm really proud about what I do. And this is what gives us the energy to do it. Very important news is that we're going to have a Tortuga Tribes showcase, on March 24th, the very first in Miami Music Week in Boho Miami.
AB: You have performed in many places all over the world. Which one do you still remember and which one was your favorite?
BC: No 1: Caracas, Venezuela. Unforgettable! Our favorite place on earth to play! Those vibes are unbeatable. Those are the closest to Caribbean House, to our music, to what we're trying to achieve. This is where we get many of our inspirations. We like the weather, we like the vibe, the most beautiful women in the world. Everything is great. No 2: There was a very, very big surprise for us. It was the French speaking part of Canada, Québec and Montreal. We have some unforgettable vibes from there. No 3: I would say the place we most feel home when we play is definitely Miami. Miami is where we have our biggest fan base. And it definitely has a place in our hearts. And who knows, maybe in the next interview I will tell you that we live here!
AB: At the moment you live in Madrid?
BC: Yes we are based in Madrid, where we spend about 4-5 days per month because we travel a lot. Change the suitcase, do some laundry, and then go back to work!
AB: What are your future plans?
BC: We have great stuff coming on the way. We have our second album coming on the way. It's called "Réciprocité," which means reciprocity in French. We call it like that because we traveled so much around the seven seas. "7 Seas" is our first album name. We received so much from the people that we decided to call it reciprocity because it's our way of giving back. All this energy people give to us, we will give back through this album. We took amazing stuff from all around the world. The album features, amongst others, Gipsy Kings, Maria de Moraes, Vinicius de Moraes's daughter. He's basically the inventor of Bossa Nova and Ex-Minister of Culture in Brazil. It also features Amapiano, and many more huge collaborations. And my dad collaborates on every single track. It's a big family thing. We have G. Zamora. We have also a huge set of remixes of the album. Amongst other we have Boddhi Satva, Manoo, Bedouin, Chus, Monkey Safari, Amine K. It's a huge thing coming out. It's coming out on Sony music, on their electronic music sub label called Orianna. And it will be gradually released. The first single of the album "Condenao", will release towards the end of March. The second single of the album will be released at the end of April. It's called "After Saturday Night". And the third single of the album will be released one month later, end of May, and then full album in June. It's a 14-track album ending with a very special bonus track of our own revisitation of the "Bolero" from Ravel, a classical music piece in six four, made in electronic music and we're really excited about this because it's really more than ever for us. It's a complete journey across cultures. It has some Turkish influences, it has some African influences, it has some Amapiano tracks. There are some tempo modulations over the tracks and it's full of colors. And yeah, we can't wait to have you guys listen to it. Also important, this album is also the base of our new live performance that we will be recording in a cenote in Tulum at the end of February and this will also be available for streaming and of course we will live perform on the side as well of the DJ set for the upcoming year.