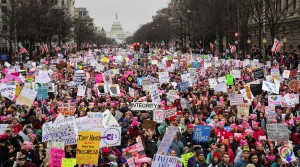 Harlem Times spoke exclusively with women who attended the Women's March on Washington. Here is what they shared.
Anahi Angelone, owner of Corner Social and Angel of Harlem organized a group called Harlem Heelz to make the trip. "We organized it. Tren'ness Woods-Black (owner of Sylvia's Restaurant), Nikoa Evans-Hendricks, and myself. We organized buses to go from Harlem. We left early Saturday morning and got back very late Saturday evening."
Angelone returned inspired and focused to take the next steps, including getting more involved in local politics. At the forefront, she mentioned, was the Valentine's Day election to fill the seat vacated by Inez Dickens.
Harlem resident Meredith Barnes discussed her inspiration to make the trip. "I've been waking up every morning and wondering if it's really true that someone so self-centered, thin-skinned, and casually vile about everyone that's not him (including his own daughter) could possibly be our president. That genuinely good people with whom I've always differed on politics could surprise me by also differing so drastically with me on what qualifies on basic humanity…the march offered an opportunity to go and be with people who felt this way too. It doesn't fix the shock, but it was a balm to be reminded that there are so many who are equally appalled by (the President's) behavior, and who are not fooled by calls to "see what happens." After all, isn't a campaign literally telling the people what you're going to do? It shouldn't be a complete surprise, right? Call a spade a spade; we know what he's going to do. Lie, insult, and tweet recklessly about sensitive international matters."
Barnes discussed her journey to the march. "My boyfriend, an immigrant from Egypt, drove us down. He's as (upset) as I am about this whole situation, so it was a fun trip. The larger vehicles have to be in lanes separately from the cars in certain areas, so the charter buses that lots of people had arranged for groups in NYC and points north kept driving by and he was teasing me for staring at them, just smiling. There were so many."
Barnes shared her thoughts after the march. "I was struck by the joy. It took us 45 minutes just to get out of the subway station: even with all four escalators running upwards. But no one minded. We just chanted and complimented each other's signs and everyone, everyone was smiling. The crowd was diverse, we chanted in English and Spanish, and we laughed. And we knew that if this is what the subway looked like, it (could not be ignored) once we got up to the surface. So there was this burbling excitement. It was the same on the Avenue. Just people, everywhere, smiling at each other, holding incredibly clever and biting and true signs. So. Many. People. It was so exciting. It's hard to describe what it felt like to see it in person. I think all of us had been feeling similarly: sad, defeated, and betrayed. And just by being there, we saw some hope. I don't think I could've gotten that any other way."
Harlem resident Marcela Barrientos shared her reasons for heading to DC. "As a Latina, I know the importance of representation in progressive movements/spaces and I wanted to make sure that my narrative as an immigrant/someone who was once undocumented and a labor activist were present and part of this collective action."
Barrientos told us about her experience traveling to the march."I was very fortunate to travel in a mini-van full of organizers, labor activists, educators and artists who were also processing our new reality under the current administration. While there was a degree of excitement to be able to physically and verbally express our discontent by attending the march, we know that the real work takes place day to day at our worksites, neighborhoods, schools, etc. So as we sat in the car lifted by the spirit of solidarity we were also grounded by the reality of the fight that we are up against."
She shared her thoughts following the march. "I think it's important to process its significance but also remember that there is a lot of work to be done and that prior to the march there were already communities doing it, from Black Lives Matter to the Dreamers. I say this because we should not define our political radicalism as one march but instead take on the responsibility of acting in solidarity every day. It is these small acts of solidarity that add up and it is these acts that could have prevented us from witnessing and experiencing this administration."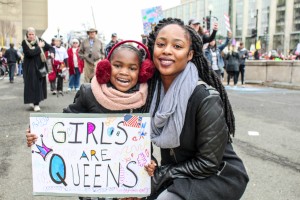 Finally, we spoke to one man, Harlem resident Stanley Fritz, who is a Communications Associate at Citizen Action of New York, which is located in Harlem. "I attended the march because Donald Trump's rhetoric has been dangerous, hurtful and divisive. This country has consistently gone out of its way to bash women of color, particularly black women. I was at the march to stand up for all women, but specifically black and Latina women."
Fritz traveled with a group called Harlem Heelz. "They were amazing. The organizers of Harlem Heels to Washington were: Tren'ness Woods-Black, LLC, Corner Social, Harlem Spirituals, Harlem Park to Park, Harlem Heels to Washington, and Alacrity Associates. I had a blast marching with these amazing women!"
Fritz discussed the aftermath of the march. "Now that the march is over, I feel like I'm ready to take the passion and energy from the event and put it to work. The first 100 days of the President's administration are going to be an all-out attack on women's reproductive rights, as well as our Latin and Muslim allies. I'm ready to fight."