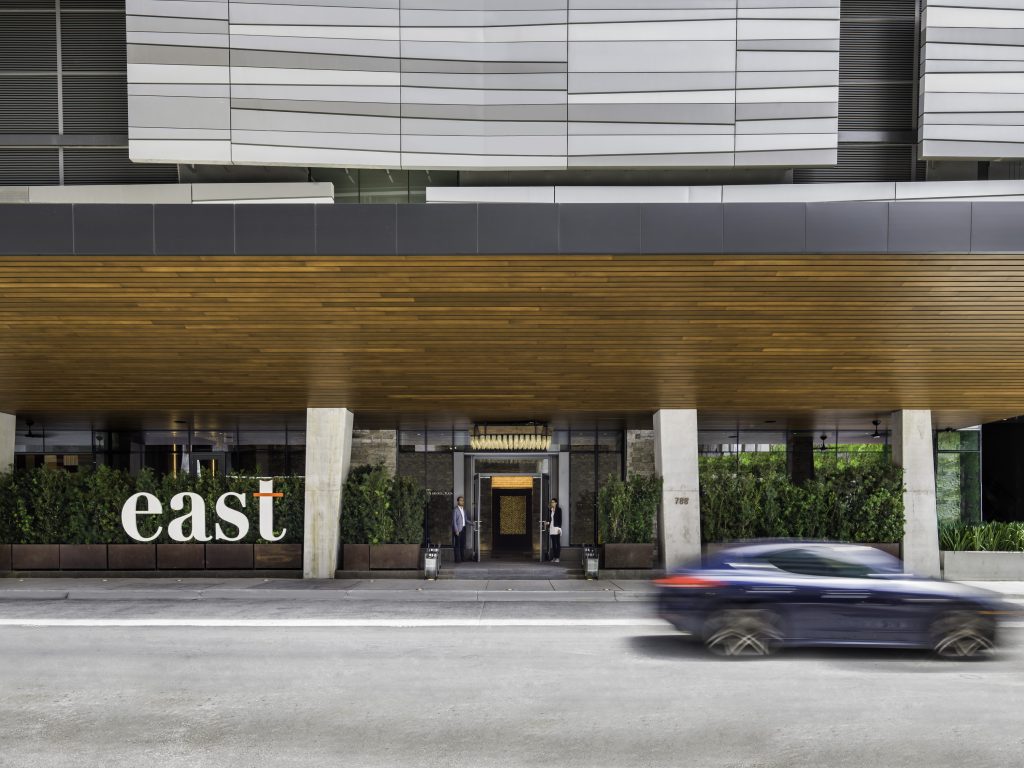 Miami, November 22, 2022 – In time for Art Basel, EAST Miami will become home to a selection of historic 1980s graffiti works curated by Museum of Graffiti. Set to be unveiled in the hotel's lobby on November 29th and displayed until December 31st, the exclusive collection features works by 1980s street legends who were at the forefront of shaping this movement such as Fab 5 Freddy, Delta 2, Blade, Quik, Kel and more.
With pieces created by exclusively BIPOC artists, the collection will transport visitors to the era when Keith Haring and Jean-Michel Basquiat ruled the streets of Manhattan's Lower East Side creating an urban movement that continues to heavily impact art and culture today. Fab 5 Freddy's sprawling paintings are from the time when the graffiti artist was truly emerging as a world renown rapper, a video and TV-commercial director, a screenwriter, a film scorer, actor, lecturer, and MTV television personality. His works including "Canjun Lady" and "Multiple Tasks" will be displayed at the exhibition.
Adding to the exhibition will be a resin sculpture named "Love Gloves" by OG Slick. He became a defining force in the West Coast's contribution to graffiti worldwide when he infused his childhood fascination with American and Japanese popular culture with lettering and street art to create giant, larger-than-life sculptures. Moreover, Blade, known as the King of Graffiti, is one of the pioneers who painted over 5,000 New York City subway cars between 1972 and 1980 with his very own style as there were few people doing this before him to provide any guidance or inspiration. The art piece "Superstarz" exhibited at the hotel is one of his iconic creations.
"Graffiti is the fastest growing art movement of our times. These works form the foundation for the genre as we know it today and we are thrilled to present this rare exhibition of graffiti art pioneers at the EAST, a modern lifestyle oasis located in Miami's Brickell City Centre," said Allison Freidin, co-founder of Museum of Graffiti.
"Art has always been part of Swire Hotels and EAST. Since the opening of our hotel in 2016, we have been collaborating with various international artists to have exhibition at our hotel as well as create permanent art works in our public spaces. We are so delighted to partner with Museum of Graffiti this year and activate our art program again ahead of Art Basel, one of the most anticipated events in our city'" said Andres Garcia, General Manager of EAST Miami.
The exhibition will be unveiled on November 29th during Museum of Graffiti's exclusive Artists Dinner in EAST Miami's Tea Room on the 40th floor where today's leading graffiti and street artists will come together to view these rare works that have significant historic impact.
Guests staying at the hotel while the exhibition is open will be given complimentary access to the Museum of Graffiti when presenting their room key.
For more information, please visit http://www.easthotels.com/ and https://museumofgraffiti.com/