New York, NY – Commemorating Black August, specifically Aug. 21 which marks 50 years since the assassination of revolutionary leader George Jackson, the Caribbean Cultural Center African Diaspora Institute (CCCADI) is hosting their third annual AFRIBEMBÉ FESTIVAL: Black Solidarity = Black Freedom. The free event will be held Saturday, Aug. 21, 2021 from 11 a.m. to 8 p.m. at the Harlem Art Park located on E 120th Street between Lexington and Third Avenues.
Held virtually in 2020, the AFRIBEMBÉ FESTIVAL returns to the physical space, in partnership with the Friends of Art Park Alliance (FAPA), with a full day of live artist performances and DJs featuring: Tabou Combo, Afro Dominicano, DJ Reborn, Durieux, Rue Brown, Boricua Legends, DJ Sabine, and Nkumu Katalay and The Life Long Project Band.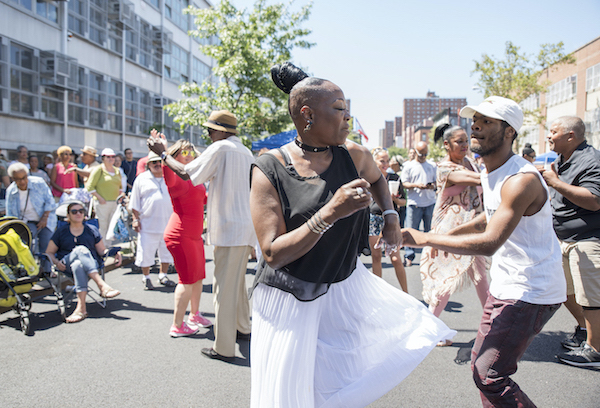 While the musical sounds of various African and African Diasporic cultures such as Haitian, American, Puerto Rican and Congolese, draw festival goers into motion, the smell of comfort food from the SoulFull Food Plaza will entice them to enjoy the savory, sweet and spicy flavors of Diasporic dishes.
"AFRIBEMBÉ is more than just a day out for our families. It's a celebration of the Black genius of emerging and renowned African descendant creatives with roots throughout all the Diaspora. It's a day to honor our strides in self-determination and resistance against systemic racism around the world made by our ancestors and revolutionaries. It is a day to encourage the new generation of activists to further this legacy of unity," says Melody Capote, executive director of CCCADI.
The festival will include the Children's Village where families can enjoy movement and artmaking together, the Afribembé Marketplace of merchandise, arts and crafts by local vendors, and the Critically Black Dialogue Series: a panel discussion on Black Solidarity.
Coined in the 1970s after the Black Panther George Jackson was assassinated during an alleged prison break, CCCADI commemorates Black August through AFRIBEMBÉ and other programs. The organization honors the contributions of Black people across the globe who have historically punctuated this month with resistance and movements of liberation.
Capacity is limited. All attendees will be required to wear masks and have their temperature checked. Guaranteed entry will be offered to registrants between 11 a.m. – 2 p.m. All other access will be first-come, first-serve. Registration available at: www.afribembe.com
ABOUT CCCADI
The Caribbean Cultural Center African Diaspora Institute (CCCADI), is an arts, culture, education and media organization that advances cultural equity, racial and social justice for African descendant communities. CCCADI's programs serve children/youth, families, young professionals, elders, local and international artists, and practitioners of African-based spiritual traditions. Through our work CCCADI offers a collective space where African descendants honor the contributions of the global African Diaspora through exhibitions, performances, conferences, educational programs and international exchanges. Learn more at www.cccadi.org