by Tate Hutchinson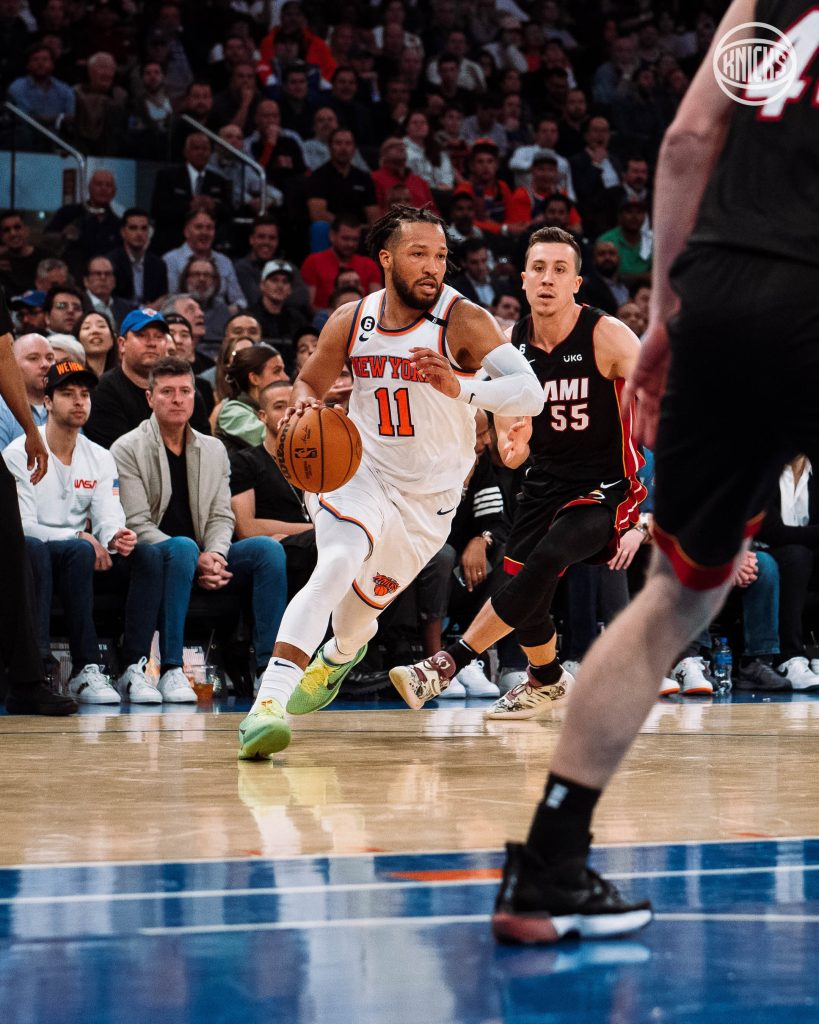 After the Knicks were eliminated by the eventual finalist Miami Heat in the Eastern Conference Semifinals, fans hoping for their first Eastern Conference Finals appearance since 2000 were left disappointed. But this season for the Knicks showed great potential, and will hopefully draw key free agents or trade targets to NYC to bring the team to another level.
After an underwhelming 37-45 finish in 2022, President Leon Rose was tasked with returning New York to a playoff contender. Extensions to RJ Barrett and Mitchell Robinson helped to keep their starting lineup intact, and the signings of Jalen Brunson and Isaiah Hartenstein filled the needs of a starting guard and a backup center.
Although they failed to land star guard Donovan Mitchell in a trade, Rose used the 12th overall pick wisely to acquire three future draft picks for 2024. These picks can be used in a package to acquire talented players this off-season. The team made great improvements under the coaching of Tom Thibodeau, with jumps in offensive and defensive efficiency across the board in their 47-win, second round playoff team.
Julius Randle's resurgence was massive for the Knicks. The 2021 Most Improved Player regressed in 2022, but his performance this year was his best of his career. Randle averaged 25.1 points, 10.0 rebounds, and 4.1 assists on a much more talented 2023 squad.
The addition of Jalen Brunson was perhaps the best of the off-season, as his front-loaded 4 year / $104,000,000 contract is a bargain for his star-level production at the age of only 26. His 24.0 points and 6.2 assists per game on incredible efficiency earned him finalist honors for the Most Improved Player award.
Leon Rose's sole mid-season trade was the splash the team hoped to make to push them over the edge. Sending Svi Mykhailiuk, Cam Reddish, Ryan Arcidiacono, and the eventual 23rd pick in 2023 to acquire two-way shooting guard Josh Hart proved to be significant. Hart ended up starting for five playoff games and averaged 10.4 points and 7.4 rebounds.
Knicks draftees RJ Barrett and Mitchell Robinson continued their strong impacts as longtime starters. Although their scoring decreased, they shared the ball more, improving their contributions on defense and shooting efficiency. Additionally, off the bench, young guards Immanuel Quickley and Quentin Grimes played outstanding in their roles, with rookie Miles McBride making meaningful contributions on defense. The Knicks will hope to see their roles expand as the young reserves continue to develop.
With talented players on mid-valued contracts and excellent draft capital, the Knicks are seemingly perfectly set up to make a superstar trade in the off-season. Who might be available? For one, Raptors all-around skilled wing OG Anunoby is rumored to be available as the Raptors move to rebuild. He fits the Knicks' mold as an All-Defensive-caliber player with an ability to score at all levels, and is on a bargain contract until 2025. Acquiring him would likely require multiple of the Knicks' abundant first-round picks and one of their younger guards.
A similar player, Nets forward Mikal Bridges, might also be available to acquire in a cross-borough exchange. The rebuilding Nets are looking to add many picks to a young roster, and leading scorer Bridges could command that type of package. Averaging 26.1 points in his breakout role in Brooklyn, "The Warden" could add some necessary star power to the Knicks' roster.
For an upgrade at center, the Timberwolves' Karl-Anthony Towns could be a massive offensive upgrade. The Edison, NJ native has three All-Star selections and is one of the most talented shooters in the history of the center position. His questionable fit with Rudy Gobert has led to speculation in his trade availability, as the Timberwolves' lack of depth could be filled by moving Towns. The Knicks' roster includes plenty of depth that could entice Minnesota to look to trade him to New York.
Lastly, one looming superstar trade could possibly come from Portland's Damian Lillard. On a team rumored to enter a rebuild, the seven-time All-Star could headline a supercharged New York team with a chance to turn them into favorites in the Eastern Conference. To land the 32.2 point per game scorer, the Knicks would need to cash in on their massive draft capital and young talent. This record-breaking package could possibly include Barrett, Obi Toppin, Evan Fournier, and three or four first-round picks.
Regardless of these potential upgrades, the Knicks are armed with a $12 million non-taxpayer mid-level exception and a $4.5 million biannual exception to acquire talent. Forwards Dario Saric and Josh Richardson are potential names to watch for, as they fit the Knicks' timeline and depth needs. Without a draft pick this year, the Knicks can improve their roster through trades and smart uses of their limited cap space. Hopes are high that Leon Rose will continue to make decisions that improve the roster to keep up with a competitive Eastern Conference.