The empty auditorium slowly filled with an eclectic mix of people that extended across the usual racial, generational, and social confines that bind society into neat divisions. As the National Museum of American History's amphitheater became packed with jazz aficionados, members of the State Department, and multiple living legends, the imperceptible buzz of white noise soon compounded into a roar of fervent anticipation; the spirit of the Smithsonian's 13th annual Jazz Appreciation Month was palpable.
The event began with formal rigidity, which, juxtaposed with the fluid subject at hand, offered a satisfactory note of irony to those in the audience. It has been fifty years since the National Museum of American History was founded, museum director John Gray explained, "…so we looked back to 1964 for a subject for this year's theme, which was the same year John Coltrane wrote 'A Love Supreme'." The iconic album that helped define a legend was certainly a fitting theme; the passion, devotion, and love for the art and science that is jazz oozed from every participant in the event.
The Smithsonian Jazz Masterworks Orchestra (SJMO) took the stage. The quartet played a few Coltrane songs, with conductor and lead alto sax Charlie Young adding parenthetical footnotes about the styles, techniques, and theories employed by Coltrane throughout his path from an amateur trumpeter in the Navy to virtuoso exploring complex mathematics and matrices with jazz.
Then legendary jazz photographer, Chuck Stewart, continued the celebration with a charismatic speech. The prolific photographer's work has graced over 2000 album and CD covers throughout his career. Stewart recently came across a few rolls of undeveloped film from 1964, featuring Coltrane among others. "Photography was a lifeline, opened and closed doors, allowed me to see the world as I saw," Stewart said in a brief speech.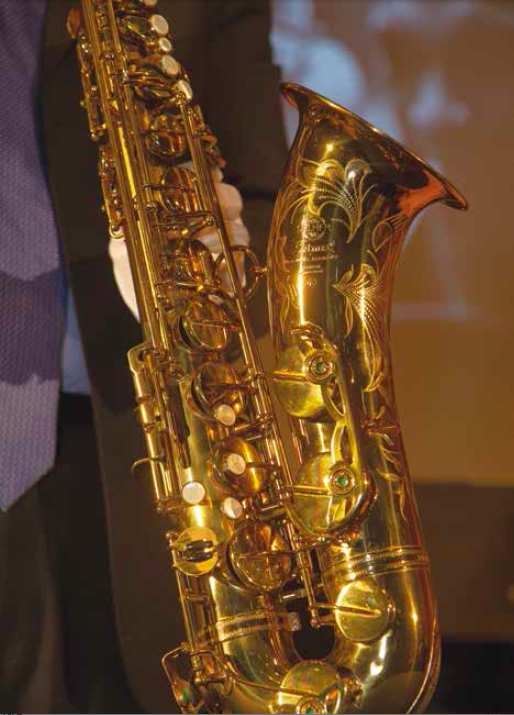 Stewart was able to capture the essence of passion and soul artists put into their music with a prescient discernment. Apprehension, pain, longing, and desire shine through the artists' faces, placing the viewer in the recording studio or at the foot of the stage at pivotal moments in jazz history. An irreplaceable authenticity marks each photograph. When asked how he was able to capture such vivid realness in his subjects, Stewart responded with a story:
While shooting an album cover for Duke Ellington, Stewart was setting up his equipment, apologizing for keeping Ellington waiting. Once he was ready, Stewart told Ellington it was time for the photo shoot, "and [Ellington] leaned back like this (Stewart craned his neck to the side and flashed a toothy, cockeyed grin), and I said, 'No, no, no; that's not you, let me see you.'" Stewart proceeded to guide Ellington to pose in the authentic manner he was used to seeing Ellington have at house parties or while recording, when not in front of the scrutinizing public eye. "That's when I realized — I control them, these big stars will listen to me," Stewart marveled.
The same general principles of authenticity guided Stewart while capturing iconic live photographs as well. "There could be 100 other cameras there, I don't know if they're looking for the same thing, but I was looking for how they looked good to me. None of this snapsnapsnapsnapsnap, 'Oh you're famous!' As soon as I hit the button I knew [the photograph] looked good because I photograph them in the way they looked and meant to me." Stewart's ability to immerse himself within an artist and capture their reflections upon him creates a breathtaking quality of personalization to each photograph, which ultimately complements each subject's own jazz styling.
The second major donation to the Smithsonian Institute was the gift of John Coltrane's Selmer Mark VI tenor saxophone, made in Paris about 1965, from his son, Ravi Coltrane. The ornate beauty of the saxophone electrified the amphitheater. While SJMO lead alto saxophonist Charlie Young helped display the instrument, the museum's curator implored, "You'll be the last human hands to touch this without white gloves, so don't drop it."
"How's it feel?" asked director John Gray.
Without a second thought Young responded, "Like sex."
The second act of the JAM kickoff event was a workshop, free and open to the public, led by NYC schoolteacher Christine Passarella, featuring the legendary Dr. Cornel West. By then, most of the press was gone, many attendees had returned to their offices, and the fanfare was reduced to a buzz of humming fluorescent lights. The workshop about Passarella's in-school jazz club, "Kids for Coltrane" was some of the most inspiring, interesting, and enlightening dialogue of the day.
"Children care about their souls, their heart, the truth — not about standardized tests," Passarella noted. "[Coltrane] frees [kids] from being locked in a form of psychic spiritual bondage of dominant society. We need to unshackle from hedonism, narrow individualism, materialism. Coltrane frees us in some sense, and people are hungry, thirsty for it," said Dr. West. "Kids are taught to be echoes, copies — not inventions or originals."
Dr. West also noted, "Rich kids get art, poor kids get tested…markets value money, not creativity. The structural institution of dilapidated school systems in chocolate schools (and that of any race, vanilla, strawberry), are the greatest crimes against humanity."
When asked for concrete steps to bring art back, to unlock the Coltrane in everyone, to rebel against the status quo, to become original voices rather than echoes, Passarella answered with a question: "Who's teaching your children?" If kids are taught by a system, one must be responsible as an adult. She urged those in attendance to find out what is being taught by and in their current systems, and to try and change it — those who act foment change from within. Passarella is a prime example of fomenting change from within; she started an extracurricular jazz club in the NYC public school system for her students, mainly with her own funds and motivation. Passarella concluded her thoughts with another question: "What kind of country do you want to live in?"
Smithsonian's Jazz Appreciation Month concluded with a concert at George Washington University, featuring GWU's Tuesday night jazz combo and Ravi Coltrane's quartet. The students and faculty comprising the Tuesday Night Combo lavished the audience of nearly 1,000 with delightful scatting, soothing grooves, and skillful solos.  Ravi Coltrane and his jazz quartet had a tough act to follow, but were able to step up to the challenge.
Coltrane spoke softly, candidly, and charismatically to the audience between sets, noting, "Seems like there's a lot of Coltrane pieces tonight." Coltrane dazzled, ripping monstrous solos that caused him to leave the stage multiple times afterwards to catch his breath. He was melded to the saxophone, and was exactly the living incarnation of greatness the audience had hoped to hear. His quartet was no less impressive; each player's solo elicited a range of emotions from the crowd. The bassist had a funky twang of originality, inspiring awestruck guffaws from members of the crowd. The pianist delicately scampered across the keyboard, ensuring nothing was left unexplored. The drummer's arms became a whir of imperceptible motions, and would humorously lure the crowd into clapping for his solo before descending back into the cacophony of bass kicks, snare hits, and cymbal snaps. The conclusion of the show was an arrangement of John Coltrane's iconic "Giant Steps," which is a fitting beginning to the start of Jazz Appreciation Month; re-instilling the love, passion, and truth of jazz into American culture is certainly a large task, but achievable.
By the end of the night one thing was certain: every participant in Smithsonian's JAM kickoff event embodied the "supreme love" John Coltrane was striving to give voice to 50 years ago.