Keynotes Harlem Civil Court Judge J. Machelle Sweeting and Geoffrey Eaton, NAACP Exec and Touro Director of Community Affairs and Diversity, Inspire Graduates
38 Graduates Offered Seats in Medical School for Fall
New York, N.Y. – May 20, 2019 – About 60 Touro College of Osteopathic Medicine (TouroCOM) Harlem Class of 2019 master's students participated in commencement exercises May 6 at the historic Alhambra Ballroom in Harlem. Thirty-eight of the top graduates have been offered spots in next year's medical school class that begins in August.
The graduates earned their M.S. in Interdisciplinary Studies in Biological and Physical Sciences, a demanding program for students pursuing careers in the health sciences and that serves as a pipeline to TouroCOM's highly competitive DO program.
Keynote speakers were the Honorable Judge J. Machelle Sweeting, Civil Court Judge, 10th Municipal Court District in Harlem, and TouroCOM's new Director of Community Affairs and Diversity Geoffrey Eaton and co-chair and co-founder of the TouroCOM-Harlem Community Advisory Board.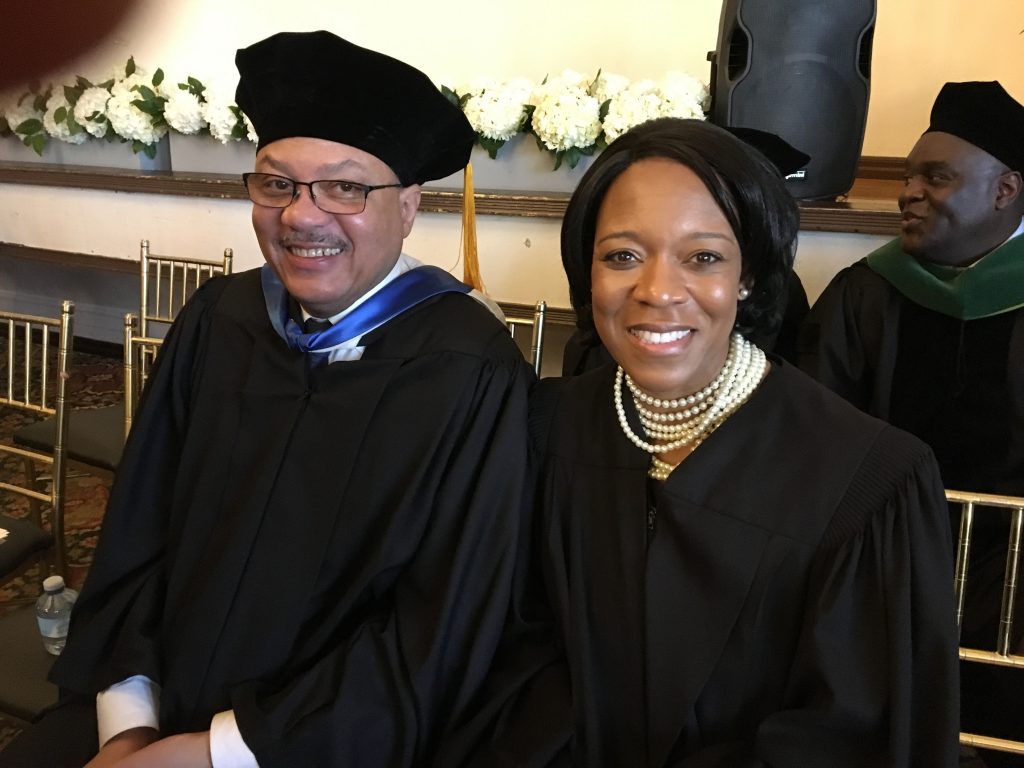 In welcoming and congratulating the students and their families, Dean David Forstein, DO, told the graduates, "You have survived a rigorous course of study, earned good grades and made a difference at TouroCOM and in our community. Many of you will be staying on for medical school, and some of you will be finding a new home to further your education or join or return to the workforce. Whether you are staying or not, TouroCOM will always be proud of your accomplishments and a place you can call home."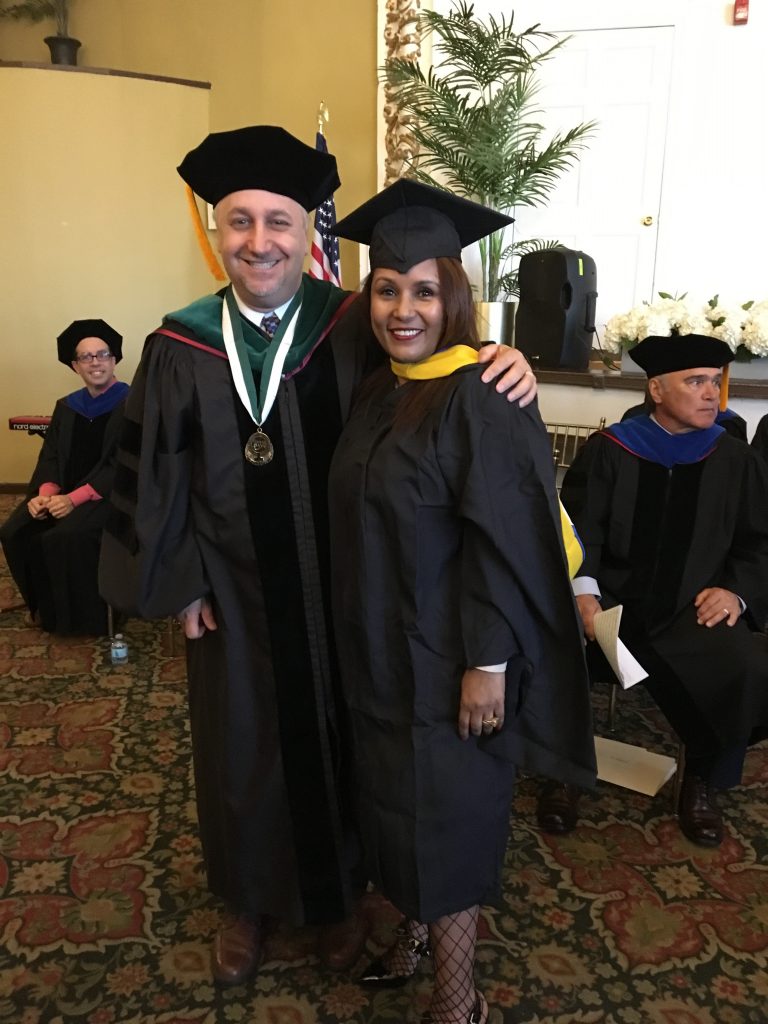 Master's a Pipeline to DO Program
The master's program has been especially effective in helping underrepresented minorities gain a foothold in medical school, a cornerstone of the school's mission, along with training doctors to help the underserved.  M.S. students who finish with a 3.45 GPA and pass a comprehensive exam are eligible to enter TouroCOM's DO program. The master's program has enrolled over 720 students including 325 underrepresented minorities since its inception ten years ago.  The Class of 2019 has 29 underrepresented minorities.
In her keynote address, Judge Sweeting congratulated the students and urged them to think of her experience as an example of what can be accomplished. "This is your opportunity to think outside the body to attain all you can achieve," she said, recounting that doctors predicted when she was born that she would never walk, but by the time she was nine, she had set national records in 400 and 800 meter runs and learned she could overcome the odds. Through education and an athletic scholarship she worked her way up from the housing projects in Harlem to college and law school.
Geoffrey Eaton urged the graduates to become doctors and to "learn about yourselves and go to the next level of improving life in the community." He said African Americans make up 12 percent of the nation's population but only five percent of physicians. "We need more doctors, researchers and scientists, and Touro is open to all whether they are brown, yellow, green or purple. Health is one of the six game-changers. If you don't have health you can't learn…We have a sick community, with HIV, AIDS, obesity, diabetes and child abuse, that keep kids from learning. Don't be afraid. Touro brings the kids here, they put on stethoscopes and learn how important it is not to take a life but to save a life."
Many of the graduates said they have their sights set on entering the DO program. "It was quite challenging but fun," said Hardeep Singh, of the master's experience. Sing said he hopes to become a cardiologist, and eventually open a DO school in India. Singh emigrated from India to Queens at age two. A graduate of Long Island University with a degree in biology, he said the master's program was "a good opportunity to see if I was ready for the medical program. DOs have the opportunity to heal without medication. If you just use OMM (osteopathic manipulative medicine) in underdeveloped countries you can make a difference."
Said Janell Wright, another DO aspirant who came to the United States at 19 from Jamaica: "It's a wonderful program. I wanted to get into medical school and [the master's] provides a wonderful opportunity for students who have something lacking like great MCAT scores," she said.  Wright earned her undergraduate degree in biological sciences at Mount Holyoke College and did research and worked as an EMT before applying to TouroCOM. "All the professors were extremely helpful and I love[d] the 'flipped classroom' where we watch[ed] our lectures on videos and then came to school and [were] quizzed. It was a great ride and I am extremely grateful."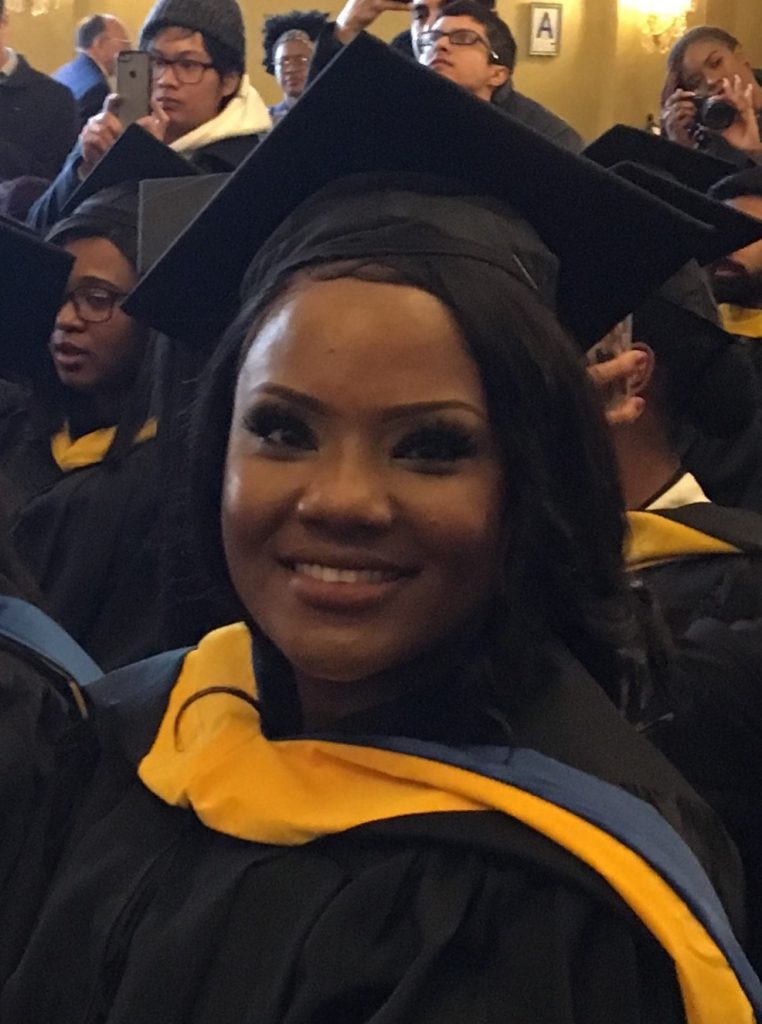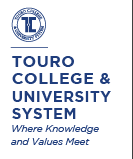 About the Touro College and University System
Touro is a system of non-profit institutions of higher and professional education. Touro College was chartered in 1970 primarily to enrich the Jewish heritage, and to serve the larger American and global community. Approximately 19,200 students are currently enrolled in its various schools and divisions. Touro College has 30 campuses and locations in New York, California, Nevada, Berlin, Jerusalem and Moscow. New York Medical College; Touro University California and Touro University Nevada; Touro University Worldwide and its Touro College Los Angeles division; as well as Hebrew Theological College in Skokie, Ill. are separately accredited institutions within the Touro College and University System. For further information on Touro College, please go to: www.touro.edu/news