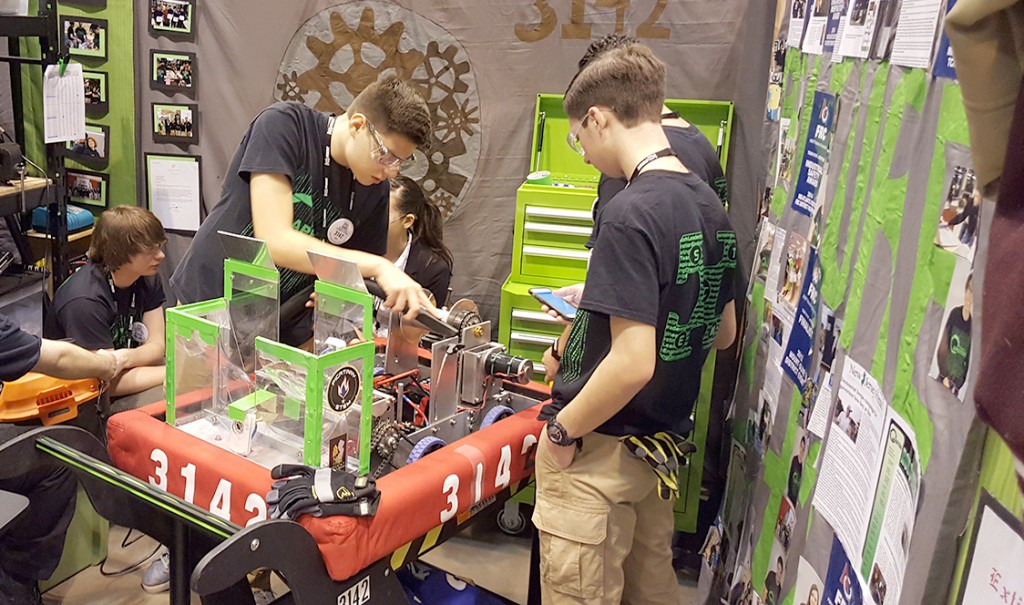 By Frank Misurelli
Picatinny Arsenal Public Affairs
Teams supported by Picatinny Arsenal 's Science, Technology, Engineering and Mathematics (STEM) program competed in the annual FIRST (For Inspiration and Recognition of Science and Technology) Robotics Championship held recently in St Louis, Missouri.
More than 15,000 students ranging in ages from 6-18 participated from around the world in this four- day event. "Picatinny supported teams had 11 teams that made it to the finals. Unfortunately, none of the 11 teams took top honors," said Shah Dabiri, Director of STEM outreach program at Picatinny Arsenal.
"Picatinny is the premiere supporter and sponsor of FIRST robotics on the East Coast," Dabiri added. "We currently sponsor 40 FIRST Teams, 10 FIRST Tech Teams and 15 FIRST Lego League teams. "We lead the way in providing mentors and assistance to local schools for the establishment and running of highly competitive teams. Of the 22 teams that made it to the global finals in 2017, 11 are supported and mentored by Picatinny."
Picatinny sponsored teams that made it to the FIRST finals:
Schools Picatinny Mentor
Bridgewater Raritan High School Michael Scott
Mount Olive High School Dan Steinmark
Mount Olive High School Yusif Yafai
Hillsborough High School Neil Julian
Middlesex High School Dave Hansen
Paskack Pi-oneers
Parsippany Hills High School Thomas Shadis
Newton High School Stacey Yauch
North Brunswick Township High School Delfin Quijano
West Windsor Plainsboro Girl Scouts Steven McDonald
Clifton Ronak Trivedi
"Our team is entirely comprised of freshman students, and they fought hard to qualify for the World Championship," said Jessica Dennis, head mentor, Mount Olive High School. "These Freshman put up quite a show and were selected to compete in elimination in their division. They fought all the way to the division finals, and were two matches away from winning the division. This is an extremely difficult achievement."
The four-day event, attended by more than 30,000 people, reached a conclusion on Saturday, April 29, when these 11 teams competed for the title. At the start of the competition, 6,771 were registered.
FIRST Robotics Competition is an international high school robotics competition. Each year, teams of high school students and mentors work during a six week period to build game–playing robots that weigh up to 120 pounds. Teams earned honors for design excellence, competitive play, research, business plan, website design and teamwork.
A non-profit organization founded in 1989 by inventor Dean Kamen, FIRST inspires young people's interest and participation in science and technology. More than $50 million in college scholarships are awarded to top finishers.