Paula Jackson, President and CEO of AABE (left), Dan Packer, member of Board of Directors, Jamilah Gladney, David Moody, Premier AABE Scholarship Winner along with Dr. Evelyn Gladney.
There is a revolution in Energy, galloping across the globe and creating careers in its wake. The Harlem Times was warmly welcomed to the 37th Annual Conference of the American Association of Blacks in Energy (AABE). Their theme was, "Global Energy: Resources, Solutions, & Sustainability."
Drawing a staggering 500 to 600 industry practitioners to its annual conference, this year's national AABE convention featured 50 speakers representing every major energy company from around the country. They spoke with poignant words, as if to reach right through the crowd, grab you by the collar, and lift you up onto your feet. Those standing within hearing distance were most certainly compelled to pay homage to these phenomenal leading minds.
AABE is a national, nonprofit membership based association of energy professionals, devoted to ensuring that African Americans and minorities have a voice in the discourse and developments of energy policies regulations, technologies, and environmental issues.
Energy, at its core, sets the stage and acts as a catalyst for most of whatever goes on in life. The AABE conference provided the trajectory on how some of the nation's brilliant leading minds can responsibly utilize energy/power to govern many aspects of our lives. Among others, the Honorable Ladoris Harris, Director of Office of Economic Impact and Diversity at the U.S. Department of Energy was a Keynote speaker. Discussions were focused on the impact of globalization. With so many different nationalities and cultures increasingly interfacing with each other, what energy challenges and solutions lay ahead?
As the energy and technology renaissance continues to explode, minorities are projected to fill an unprecedented number of jobs in the oil, natural gas, and petrochemical industries — increasing from one-quarter of total jobs in 2010 to one-third by 2030 — according to a new IHS report that was sponsored by API, an energy entity. "The oil and natural gas industry pays wages significantly higher than the national average and can provide tremendous career opportunities for women and minorities," said Jack Gerard, API President and CEO.
AABE President and CEO Paula Jackson reflected, "As the study highlights job opportunities, it signals the tremendous need to prepare African Americans, Hispanics, and women to be ready to fill the workforce gap. These jobs in the oil and natural gas industry don't just put people to work, they help to transform communities."  Given the fact that such a short time ago people of color were so absent from the field of energy, it is remarkable to see the booming proportional rate this population will weigh in on…
"Of up to 1.3 million new job opportunities in the oil, natural gas and petrochemical industries predicted by 2030, almost 408,000 positions —32 percent of the total — are projected to be held by African American and Hispanic workers, according to the report. Women are estimated to fill 185,000 of those jobs, and 63 percent of new job opportunities will be in blue-collar professions.
"We have the natural resources and the technology to be a global energy superpower with all the economic and national security benefits that entails," Gerard said.  "Smart energy policy will create tremendous opportunity for hundreds of thousands of workers."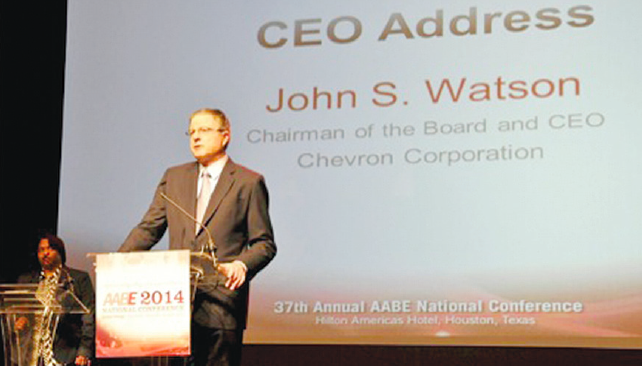 Indeed, true to form, illustrating its own signature holistic approach, AABE best equips its members and energy professionals with the necessary tools to lead the industry into new dimensions. AABE is mounting an "Address of CEO's," engaging esteemed forces in the field such as John Watson, Chairman & CEO of Chevron Corporation; Warner Williams, VP of Chevron North; and Bob Powers, Executive VP & COO of American Electric Power to lead in the four day summit.
A defining and equally moving moment came during the AABE award ceremony. The James E. Stewart Award is the association's highest level of recognition. Presenting this year's award was Mr. Ralph Cleveland, former AABE Board Chair and global head of customer operations and business transformation at AIG Property and Casualty Insurance. The delivery of sentiments he expressed to recipient, Frank Stewart, were to the full measure of the awardee's superb character. Earlier that evening Mr. Cleveland passed his post as Board Chair onto his new successor George A. Williams, CEO, PMI Energy Solutions.
Absolutely intoxicated with the great talks, interviews, and sessions that the attendees had the benefit of joining; AABE sweetened the deal with lavish, semi-formal dinners with exquisitely prepared delicious food and impeccable service. Furthermore, as if that didn't take the cake, guests were invited nightly to a VIP after-party on the rooftop of the charming Hilton Hotel housing the affair. Another game-changer leading the path was one of the nation's best public speakers, Patricia Russell-McCloud, J.D. Ms. McCloud speaks as a motivator to over 200.000 people per year, among which are Xerox, General Motors, AT&T, McDonald's, Sloan Kettering Cancer Center, and the United States Postal Service. She is known as one of the country's top five motivational speakers, and was a driving inspiration when she brought the house to its feet in a standing ovation, where she was noted saying: "You're the one we've been waiting for," "Even when you've come to the end of your rope, tie a knot and just hang on," and "The future started yesterday and you're already late — so never, never, never, never give up!"
It is rare to see such a collection of folks utterly committed to their professional community, so well accomplished, and yet eager to share and accept an outsider into the fold. Among many professionals was Bill Suggs, VP, Con Edison. Suggs helped connect all of the dots seemingly effortlessly. There is also Alice Gordon, owner, CEO & Executive Problem Solver of Skye Connect, Inc. Ms. Gordon puts you in the mindset of an action hero — not unlike "Pepper" in Ironman. There was never a task that Ms. Gordon couldn't spin under her control. It was atmospheric. Paula Jackson and Tracey Woods (from the AABE National Headquarters in D.C.) together generated a collective force that embodied many of the nation's forward-thinking and innovative minds. Together with the AABE family, this year's AABE conference hummed the sweet tune of a well-oiled machine.
­­­