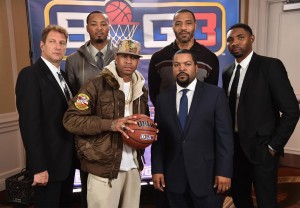 By: Derrel Jazz Johnson
Hip-Hop legend, actor and producer Ice Cube was joined by NBA legend and former NBA MVP Allen
Iverson in New York City Wednesday to launch the BIG3, a brand-new three-on- three basketball league
that launches this summer. Entertainment executive Jeff Kwatinetz, Ice Cube's business partner in this
venture, and former NBA players Roger Mason, Jr., (will serve as the Commissioner and President) along
with Kenyon Martin and Rashard Lewis were also on hand.
"This started off as a dream. It sucks to see your favorite players retire. It's just nothing good about it. Especially when you know they still got game," the former NWA rapper said during his opening remarks
about the BIG3. "It's a great business opportunity, but as a fan, I'm just excited to see the guys that I
know who can still strap it up play at a high competitive level."
"We're bringing some of the baddest names to ever play the game, and giving them a platform to not
only showcase their skills, but to entertain their fans in a high-energy, physical and competitive
environment.  As a diehard basketball fan, I personally can't wait to see my favorite players back in
action," Ice Cube added.
 "Three-on- three basketball is the most played sport in the world.  It is a universally beloved form of
basketball that truly highlights a player's technical skill set," said BIG3 founder Kwatinetz. "The BIG3 will bring our favorite basketball stars to one of the most popular forms of the sport. The league promises to deliver fun, exciting and fast-paced basketball played by some of the game's most talented players."
 Ice Cube announced what his dream three-man team would be from the entertainment world. "Give
me Snoop…he a beast in the paint." He then mentioned a former co-star and comedian that received a
great reaction from those in attendance. "I'd even take Kevin Hart," Ice Cube said that inspired much
laughter from the crowd, as if he were performing at a comedy club like his "Ride Along" "The Game got
game."
The NBA players were asked about dream three-on- three teams as well from the NBA world. Iverson
said "Shaq and Kobe." Iverson playing alongside Shaquille O'Neal and Kobe Bryant would be amazing to
watch. Not wanting to copy, Lewis said "T-Mac (Tracy McGrady) and Tim Duncan." Finally, Martin said "J
Kidd (current Milwaukee Bucks coach Jason Kidd) and KG (current host of Area 21 on Inside the NBA
Kevin Garnett.)
Each team will feature five players, three on the court and two bench players. The game will be won by
the first team to reach 60 points, with halftime coming once a team scores 30. The league will feature
eight teams with four games taking place in one day. The goal is to create a festive environment in that
city similar to the Final Four or All Star weekends.
The most non-traditional element is the four-point shot, which will be several feet behind the NBA
three-point shot. The exact distance hasn't been finalized but the league is simulating games to
determine what will work best.
Fan favorites and former greats like Allen Iverson may be retired from the NBA, but thanks to the
creativity of Ice Cube, their playing days will continue on, giving us a chance to see some of the best in action in the BIG3 basketball league.