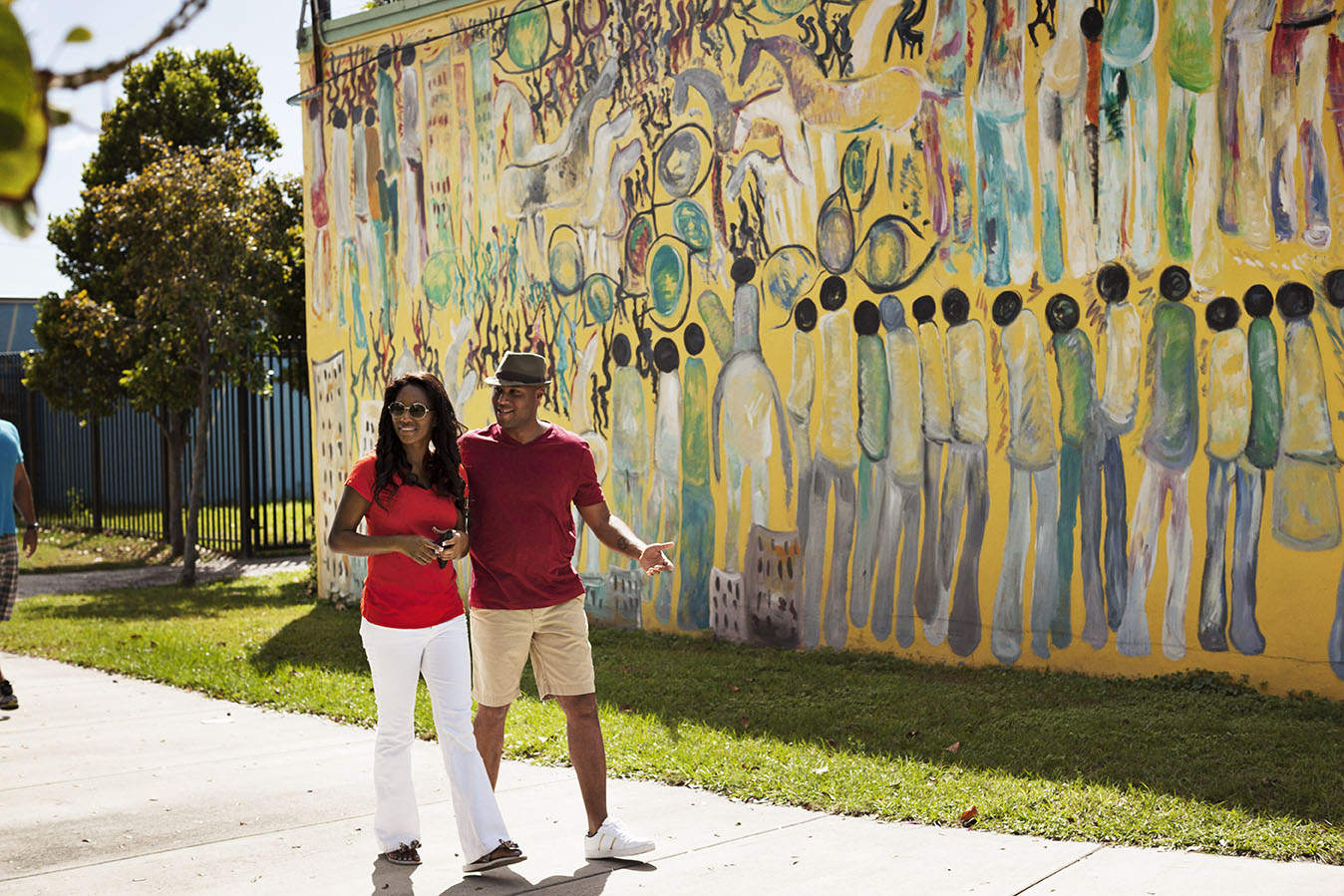 In Miami's Historic Overtown, Every Month Is Black History Month.
Miami is known to millions for its sun, surf and sizzling nightlife. But it's also got soul. At every turn in Historic Overtown, there's a piece of the past waiting to be explored. One of Miami's earliest black communities, Historic Overtown is known for its rich history, cultural and civic pride. Colorful murals of African-American heroes, the annual Dr. Martin Luther King Jr. Parade and the Historic Lyric Theater attract locals and visitors from around the globe. One thing is for certain – here Black History Month lasts 365 days a year.
What Makes Historic Overtown So Historic?
Though having been responsible for building the railroads and hotels throughout the city, pre-civil rights segregation was more than present in the Miami of the past. Many African-Americans settled in an area that took on the disparaging name "Colored Town." Its name eventually changed to Overtown, because it was "over town" from Miami Beach. It bustled with hotels, restaurants, late-night lounges and theatres. In all of the Southeastern United States, Historic Overtown was the only black neighborhood with its own black police precinct, courthouse, clerk and judge now known as the Black Police Precinct and Courthouse Museum. The precinct was closed in 1963, but today the Black Police Precinct and Museum welcomes parents and children to learn more about a rarely told history.
• The museum is unique in that it is the only one of a kind in the nation.
• This is the original building built in 1949 during segregation in the United States.
• Inside you get to visit the prisoner booking area, the actual jail, the courtroom  and much more.
• The first Negro judge Lawson E. Thomas in the state of Florida was appointed to serve in the courtroom in this building.
• This museum is open Tuesday – Saturday – 10:00am – 4:00pm.
• This museum has a courtroom, an activity room with a gift shop that caters to weddings, varies meetings, and celebrations.
It Was a Big Time on Little Broadway.
Many moons ago, Historic Overtown was known as "Little Broadway." Rivaling the nightlife of Harlem, iconic African-American performers like Billie Holiday, Count Basie, Ella Fitzgerald, Aretha Franklin and Sammy Davis Jr. stayed in Historic Overtown after performing gigs at the resorts on Miami Beach. Entertainers did more than spend the night, they lit up the stage of the Historic Lyric Theatre. The epicenter for culture in black Miami, the theatre thrived between 1913 and the 1960s.
Today, it's been returned back to its original glory, preserving golden memories. This Lyric theater building is now the home of the Black Archives Historic Lyric Theatre and Welcome Center Complex. Visitors can wander through the museum learning about the history of black Miami and catch concerts, theatre performances as well as variety acts. On the first Friday of the month, there's Lyric Live – a variety show modeled after Amateur Night at the famed, Apollo Theatre in New York City.
Feeding the Soul in More Ways Than One.
Historic Overtown is full of churches and on Sunday, sermons pour out their halls like rich gravy on a biscuit. Placed on the National Register of Historic Places in 1992, the Greater Bethel A.M.E church was founded in 1896 (predating the city's incorporation) and is home to one of Miami's oldest African-American congregations. Founded only a few months after Greater Bethel A.M.E, the Historic Mt Zion Missionary Baptist Church was one of the first meeting places for the Boys and Girls Scouts as well as civil rights movement leaders like Dr. Martin Luther King Jr. While Sunday's might begin with the gospel, many people insist that brunch is where they find their soul. Restaurants like People's BBQ and Jackson Soul Food feature fresh-fried catfish, smothered pork, mac and cheese and locally sourced greens. Throughout Historic Overtown, visitors can find real down-home cooking, even if they hail from the North.
The Ward Rooming House: A Safe Haven.
Built back in 1925 by Victoria and Shaddrack Ward, the Ward Rooming House was once a safe haven for Native Americans and blacks that stayed there. Today, through the efforts of The Black Archives History and Research Foundation, the Ward Rooming House has been restored and designated a Historic Site by the City of Miami. With its gallery and exhibition space, it hosts monthly cultural events featuring music, poetry and other entertainment. It's also home of the annual Historic Overtown Rhythm and Arts Festival, an all-day free summer festival featuring music, art, food and an interactive children's village.
Works from a Prolific Urban Artist which Captured the Struggles of Street Life Around Him.
A self-taught muralist, Purvis Young became fascinated with art when he was a teenager – incarcerated in a Florida penitentiary. His Chagall-like urban works have helped elevate the social and urban expressionist movement. Young's art reflects his passionate views on social and racial issues, speaking to the African-American experience in the south. Though his masterpieces adorn the walls of world-famous museums like the Smithsonian in Washington, D.C., The Philadelphia Museum of Art, The National Museum of African American History and Culture and several others, he passed away in 2010, destitute. His love for his hometown of Historic Overtown can be felt everywhere. His public murals are on display for free at the overpass wall at NW 11th  Street and NW 3rd Avenue. They can also be seen at the Public Library branch at NW 13th Street and outside the Northside Metrorail Station.
History is Literally Around the Corner.
The African-themed Ninth Street Pedestrian Mall by artist Gary Moore is a prime example of how Historic Overtown is best experienced up close and in person. Along with local culture and history, the arts and humanities of the Harlem Renaissance, the Caribbean and West Africa can be observed at the Historic Overtown Folklife Village. The Village center offers leisurely walking tours that take in some of the 18 historically designated sites in Historic Overtown, as well as new sites that will one day tell their own story. Visitors can also hop on and off the Big Bus Tours Uptown Loop.
Bring an Appetite for History, Culture and Amazing Food.
The church doors are open. The restaurants are making their secret sauce. And acts like the Deep Fried Funk Band are doing sound checks. Experience the soul of Miami before you even get here. Watch the video about Historic Overtown and Miami's other unique neighborhoods at ItSoMiami.com