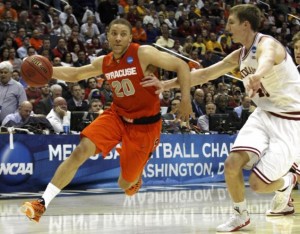 Syracuse is back in the Elite Eight after a convincing 61-50 victory over the #1 seed in the East Region, the Indian Hoosiers. The victory was head coach Jim Boeheim's 50th win in the NCAA tournament which is 4th most in the history of the tournament.
After the Hoosiers took an early 3-2 lead, the Orange zone defense would frustrate them allowing Syracuse to go on a 32-19 run to close out the first half and led at halftime 34-22.
Syracuse's defense was so effective, forcing 17 turnovers while blocking 11 shots and coming up with 11 steals. On top of that, the Orange held Indiana to just 33 percent shooting for the game, and held Indiana's leading scoring Cody Zeller to just 10 points.
"Not too many teams are used to our zone," Brandon Triche said after the game.
The Hoosiers would cut the Orange lead to 7 in the second half at 34-27, but they would not get any closer as the Orange defense would be too much to overcome.
They never really succeeded in getting the ball in the right places," Boeheim said about the Hoosiers. "And it's not that easy, but it can be done. But they didn't know how to do that."
Michael Carter Williams easily the best player on the court Thursday night as he scored 24 points, grabbed 5 rebounds, and had 4 steals. Carter-Williams was also affective from the three point line as he made 3 out 6 attempts. His backcourt mate Brandon Triche also had a solid game scoring 14 points and grabbed 4 rebounds.
The victory by Syracuse sets up a Big East showdown against the number 3 seed Marquette on Saturday at 4:30 PM EST. It almost seems fitting that Syracuse in their last year of the Big East, will have to beat a Big East foe in order to make it to the Final Four. These two teams played once this season on February 25th with Marquette winning 74-71.