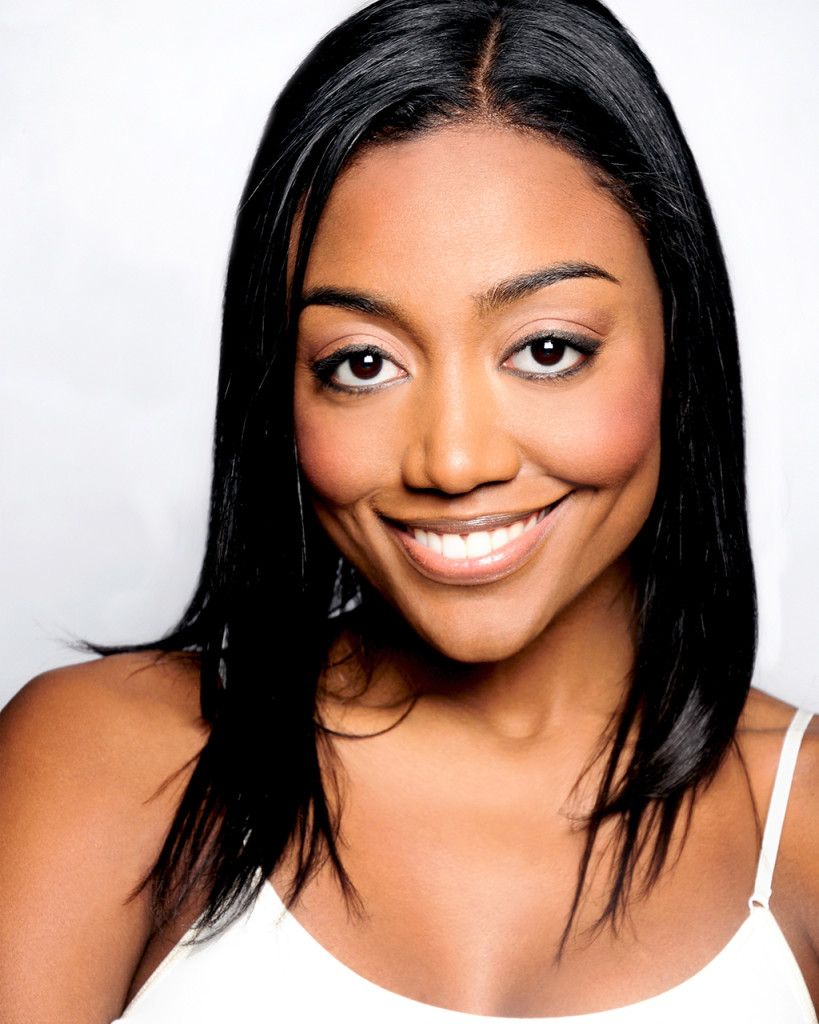 | Alicia Schaeffer (aliciaontheweb.com) |
Patina Miller is the singing, dancing, take-life's-adventures-as-they-come actress you'll be seeing everywhere. And you want to.
"I love working hard. I love when a project makes me scared. That feeling of not really knowing if it's the right thing or not. I want to continue on a path with projects that mean something to me and allow me to be a role model for younger artists like myself," says Patina, during our phone chat.
Hard work and fear won Patina a Tony Award for her role as Leading Player in 'Pippin', the same part that won Ben Vereen a Tony back in 1973. An  accomplished singer and actress, she didn't shy away from the audition, even after realizing the role required her to perform on a trapeze. With practice and her excitement to face a challenge, she now leads the musical circus in eight shows per week on Broadway.
From Beyonce to Mayor de Blasio
Patina finds inspiration in the many strong women around her. She was raised by a single mother, who has been a sturdy tree of support and encouragement. Her mother has since remarried, bringing into Patina's life a loving stepfather who contributes to their tight-knit family.
Also, the talented women who Patina admires from afar are a constant source of motivation. With hopes to record an album sometime in the future, Patina looks to renaissance women of today such as Beyonce as emblems of power.
"That's inspiring," she tells me when asked about Beyoncé's unstoppable commitment to craft and eye for reinvention. "I love Beyonce. And you can see that she wants to be as good as she can possibly be."
It's fitting that Patina sang John Lennon's classic 'Imagine' to welcome Mayor de Blasio at this year's inauguration ceremony. She explains, "It's one of my favorite songs and the message in it is so current – as it was when it was written – the message that the world can live as one."
The Road from South Carolina to Lincoln Center is Paved with Dreams
It takes a certain amount of courage to allow oneself to imagine. Having dreams is a big part of Patina's journey, which started in Pageland, South Carolina. In some ways, she's that same little girl singing into a hairbrush in front of her mirror (yes, even those with rocking vocal talent do that as a child!). She never wants to get too comfortable, and still practices in front of a mirror in her apartment in New York City today.
Right out of college, Patina was a professional. It makes sense; she received a full scholarship to study Musical Theater at Carnegie Mellon University. After graduating, she landed stage work in New York and London, as well as on TV in the daytime drama All My Children. But eventually her starring role in 'Sister Act: A Divine Musical Comedy' came to an end, and she found herself without a next step.
"There is always a fear. It's getting better for black females in this business, but there's still a ways to go. I remember thinking, 'What if they only see me as a black girl who can belt – is there going to be another role on Broadway for me?'"
That's when the love and guidance of her family and fiance led her out of a slight depression, until she received the call to audition for 'Pippin'.
You May Now Kiss the Rebel Commander
This January, Patina has the stage to herself in American Songbook, presented by Lincoln Center and housed in the jaw-dropping venue at New York City's Time Warner Center. With glorious views of Central Park and Columbus Circle, the Allen Room is Jazz! at Lincoln Center's cabaret-style space.
The night is going to be an electric and intimate hang for audience members and Patina. The song arrangements will hold particular meaning for her in respect to the journey she has taken, both professional and personal.
Patina describes the show as a celebration of life and happiness. "I want to share what it was like growing up a little Southern girl in a small town, and how I made it my mission to make my dreams come true."
Tickets are available now for the two performances, which will take place on one night, Friday, January 31st – http://americansongbook.org/events/patina-miller.
She sings, acts, struts her dance moves, and is brighter than a shooting star. But that's not all. You can see Patina make her film debut as Commander Paylor in the next Hunger Games movies, Mockingjay Parts 1 and 2.
She continues to grow in love and life. Her wedding will take place the week after she finishes shooting Part 1 of Mockingjay. The love and partnership she shares with her fiance giggles out of her when she talks about one of her most important and exciting next roles, wife.
Patina is fierce. And she's not without weakness. That's a reality of human nature to which we all can relate. It's only when we're scared, do we realize our confidence; only when circumstance presents a struggle, do we find our strength. Maybe that's the yin and yang of success. If someone is laughing through the low times in life, and makes achievement look easy, the reality is that they've put in all the hours and effort of hard work. And that brings us to Patina Miller.
See Patina Miller perform live:
Friday, January 31, 2014, 7:30 pm and 9:30 pm
Future Tony Award winners are often spotted early on, from their first or second appearances on the Broadway stage. Liza Minnelli in Flora the Red Menace and Barbra Streisand in I Can Get It for You Wholesale – each gave incandescent performances that audiences and critics loved from the beginning. Patina Miller is in the same storied company. Her first Broadway show, Sister Act, earned her nominations for both a Tony Award and an Olivier Award, and Variety called her "a nonstop dynamo discovery." In her second Broadway show, Pippin, she won the Tony for Best Performance by a Leading Actress in a Musical. Her voice is a powerhouse of sound, equal parts dazzle and warmth.
http://americansongbook.org/events/patina-miller
Tickets for the 7:30 pm show start at $50
Tickets for the 9:30 pm show start at $35