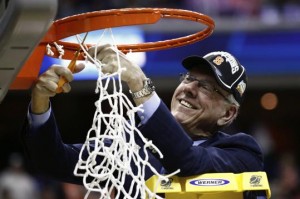 Whether it was diving for loose balls or out leaping their opponents for rebounds, Syracuse was clearly the better team Saturday afternoon as they defeated Marquette 55-39 to advance to the Final Four. It seemed fitting with some of the greatest players in the school's history on hand such as Derrick Coleman and Earl "the Pearl" Monroe, that the Orange had one of their biggest victories in the school's history.
Jim Boeheim called this year's Syracuse team his best defensive group he ever coached. On Saturday Syracuse defense lived up to their coaches' expectation as they harassed Marquette all game long, holding them to 22.6% shooting and forcing 14 turnovers. The 39 points that Marquette scored was the lowest ever in a Regional Final in the shot clock era of the tournament.
"They beat us from start to finish. We collectively tried everything we knew to try," Marquette coach Buzz Williams said. "It is the zone, and it is the players in the zone."
Syracuse's Michael Carter-Williams had a solid all-around game has he scored 12 points, grabbed 8 rebounds, dished out 6 assist, and had 5 steals. James Southerland had a game high 16 points and made three 3-pointers. C.J. Fair added 13 points and grabbed 6 rebounds. Fair's put back after a Carter-Williams miss with 4:44 remaining in the game put the Orange ahead 47-32 to all but seal the victory.
Syracuse will be making their fifth Final Four appearance in school history and the first since 2003 when they won it all. They will take on winners of the South Region the Michigan Wolverines (30-7) on Saturday.