By Shea Zephir  |  @sheazephir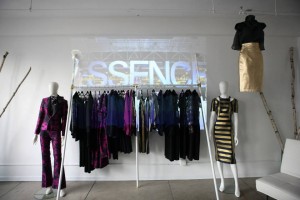 As the old school Hip-Hop beats of Slick Rick played on the stereo courtesy of female DJ C. Devon the intimate atmosphere bellowed young fashionistas, writers, photographers and fans of Kimberly Goldson for the private launch of her Fall/Winter 2013 collection.  Ambitious, vibrant, and back on the fore front of fashion designer, Kimberly Goldson is much more than a rising star. At the launch Goldson revealed her spread in Essence Magazine as one of the new hot designers in the industry.
Her designs are for the bold working woman who loves glamour and feminine silhouettes. This Brooklyn native was named one of the top African-American designers First Lady Michelle Obama should wear. Since her appearance on Season 9 of Project Runway and making it to the final showcase her brand is becoming a true powerhouse. You may remember the Project Runway finalist presenting her Fall/Winter 2013 collection at Harlem's famous Apollo Theater for Harlem Fashion Row's 6th Annual Fashion Presentation. We caught up with Goldson at her invite only launch of her Fall/Winter 2013 collection at Top of the Garden in NYC.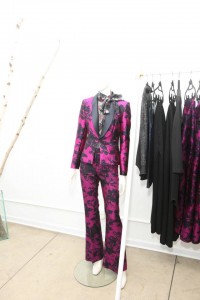 The collection exudes the essence of simple silhouettes crafted with lux fabrics of bold palettes of metallic fuchsia, gold, and indigo. Goldson infuses the decadence traditional 50's tailoring that is ageless for all women from peplum tops to show stopping stripped skirts. "This collection was inspired by our First Lady's 2nd term. She is a friend in my head so the process was really about dressing her at church, having a cocktail, etc… I was inspired by her and all things that are lux and glamorous," Goldson explained. Separates such as the embroidered blazers and high waisted pants were figure flattery perfection. Her use of mixed media with her vibrant palette choices is quite refreshing.
I will be bringing you the latest scoop of her Spring 2014 collection this September with Harlem Fashion Row at Jazz at Lincoln Center, so stay tuned.