The style sphere of fashion is evolving and has begun to utilize technology in some truly fascinating ways. Wearable technology is emerging as a sleek and smart gadget obsession. This year's technology trend is all about the technology you can wear. In the world of wearable technology where smart watches act like smart phones, tiny devices calculate calories, step, and heartbeat, and high-tech eyewear allows for nonstop access to the digital world — the latest production of electronics is way more chic than geek. The U.S. was first introduced to wearable technology in fast fashion in 2011 with Japanese retailer Uniqlo and their HEATTECH and AIRism collections. Both collections generate heat or cool air throughspecial fibers and air pockets that maintain and produce warm air or trap cool air as your body needs.  Uniqlo has sold 100 million HEATTECH items globally since sales began in 2003. The company started with basic tops and tights, but has expanded to leggings, mufflers, hats and, yes, even skinny jeans. Soon after Uniqlo's tech fashion debut Brookstone offered its own line of "Cold Weather Gear," including jackets and fleeces with "built-in heating" a thin, battery-powered heat bundle that can reach up to 113 degrees and last up to five hours, according to the company website.
Since 2010 wearable technology has expanded in to fashionable accessories and electronic accoutrements to compliment your personal style and enhance your lifestyle, especially for the fashionista who's part gadget geek. Designers dove into the digital age fearlessly last season with chic-tech accessory collaborations.At this season's New York Fashion Week, designer Alexander Wang introduced heat-sensitive fabric that changed colors during his runway show. The wearable-electronics market reached $8 billion in sales last year, and is expected to hit $20 billion by 2017, according to research firm Futuresource Consulting. Nearly 600,000 applications for design and utility patents were filed in the U.S. Patent and Trademark Office last year, a 24 percent increase over 2009. Smart and fashionable wearables were the rave at the 2014 Week in Tech Consumer Electronics Show. The newest tech accessory designs have evolved from masculine black rubber band bracelets into head-turning high-tech haute-couture. Later this year, Barneys New York will begin selling a smart bracelet made by tech company Intel and trendy fashion house Opening Ceremony. Yes, the newest gadget technology to replace your Candy Crush obsession is now smart and trendy.  There is a newfound love between fashion and tech goes far beyond mere social networking. Check out these stylish tech trends that can make trendy and functional additions to your wardrobe.
Tory Burch & Fitbit
Tory Burch exclusively partnered with Fitbit to turn fitness into high fashion. Fitbit Flex is a wearable wristband designed to track your health habits and help you reach your goals. Log miles ran or calories burned, observe the quality of your sleep and progress toward your fitness goals with an LED-lit scoreboard. Fitbit's new design touched with Tory Burch style transforms the health tracker into a super chic accessory for hitting the gym or dining downtown. The Fitbit collection arrives this spring and will include signature Tory Burch colors and prints.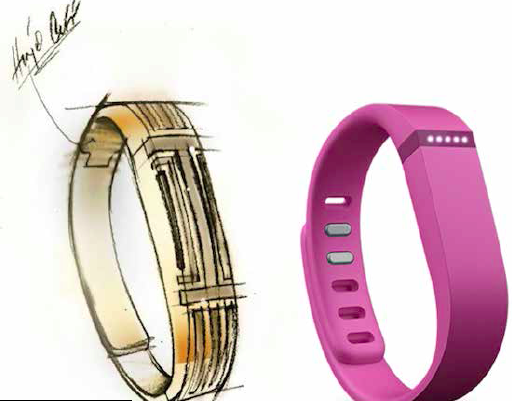 Cuff
Cuff is debuting a line of nine pieces known as CuffLinc, including necklaces, bracelets, and a key chain, all embedded with a device that uses Bluetooth technology to link directly to the wearer's iPhone and corresponding App, Cuff Community. When activated, the gold and black-detailed pieces send out a status and location update to all the followers in the wearer's Community. Cuff accessories are also waterproof, with batteries that keep going for a full year, and you can even swap out the digital sensor to a new wearable when your style changes.The line is scheduled to launch in late 2014.
Android Wear Smartwatch
Android and Google also teamed up this year to create another kind of sleek, wearable accessory called the Android Wear smartwatch. Though designed to blend as a classic wristwatch, the Wear technology displays message notifications and serves as an extension to the Android smartphone by accessing the Android Apps that are already on the wearer's phone. Android Wear allows notifications from smartphones to appear on new watches from Motorola (Moto 360) and LG Electronics (LG G Watch), allowing users to interact with those notifications using voice or swipe gestures.
NailSnaps
NailSnaps which started as a Kickstarter campaign,  is the brainchild of LA-based designers Angel Anderson and Sarah Heering. It is an app that will let you import your own Instagram photos to create unique, one-of-a-kind nail stickers. On the app, users can either take a picture from their personal library or design something new; then, NailSnaps prints the nail art on high-quality polish stickers and ships right to customers' door. The stickers are rumored to be priced at $20 and will hit the App Store this fall.
Google Glass
Google Glass is an operating system is based on a version of Android, and it can run apps called Glassware that are optimized for the device. The glasses have built-in WiFi and Bluetooth connectivity and a camera for taking photographs and videos. Last season the fashion industry was introduced to Google Glass at Diane von Furstenberg's runway show, where the designer, Google co-founders Sergey Brin, and numerous models sported the techy specs on and around the catwalk.