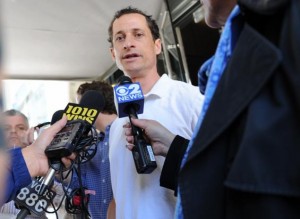 Disgraced ex-Congressman Anthony Weiner is considering jumping into the mayor's race — and his potential rivals largely would welcome him to the fray.
Weiner has long spoken of his desire to be mayor and was considered a frontrunner until his political career imploded amid a sexting scandal two years ago.
His entry now would shake up the crowded Democratic primary field – but publicly, anyway, the candidates told him to jump in.
"The one thing you should never do is you never discount anybody," said ex-Controller Bill Thompson. "So if the congressman is serious about getting in, come and join us in this race. Join us in these discussions and really help to engage in the dialogue about the future of New York City."
"All are welcome," Public Advocate Bill de Blasio agreed. "Anyone can choose who wants to run."
But other candidates — with varying degrees of subtly — wasted no time reminding voters of Weiner's foibles even as they encouraged his candidacy.
"If Anthony wants to be mayor, he should run," said Controller John Liu. "I guess I would just suggest getting rid of his phone and closing down the tweeting account."
"I say, this is a democracy, Anthony's got a lot of resources, he's a hustler," Liu continued. "Just stop tweeting."
Meanwhile, City Council Speaker Christine Quinn, who holds a commanding lead in the polls, issued a statement that implicitly referred to the pain caused by the scandal.
"Anthony Weiner's decision is between him and his family," she said.
Weiner stepped down from Congress after he admitted to sending lewd electronic messages to several women.
He did not commit to running in the wide-ranging interview that was published Wednesday in the New York Times magazine. He suggested to reporters waiting outside his Park Ave. South apartment building that he may have an update soon.
"I don't have anything more to add than what you read in the New York Times story, but I'd be glad to sit down with each of you individually sometime next week," said Weiner. "Thanks very much. Sorry to keep you all waiting."
Word that Weiner was even considering a run triggered wildly disparate reactions from his potential opponents.
"I'm not surprised," said ex-Councilman Sal Albanese. "I mean, Tony's been a career politician. That's his entire life."
"Frankly I'm surprised," said former Bronx Borough President Adolfo Carrion. "I think after such a horrific scandal and a demonstration of a lack of judgment and a real character flaw, for Mr. Weiner to return is surprising."