By Alicia Schaeffer
What I Loved: The acting leaves you with performances that are hard to shake. Many of the actresses seem to really capture their roles, yet barely have a former credit to their names. Stand-out performances by Lea DeLaria, Samira Wiley, Yael Stone, Danielle Brooks, Constance Shulman, and Vicky Jeudy. And then there's Kate Mulgrew, who will always be Captain Janeway to me, as a shrewd Russian mother-figure, which is a bonus for Trekkie fans of the former Star Trek series Voyager.
What I Shook My Head At: Why is the main character's mom so mean? My mom would never act like that if I got sent upstate. I guess that's not the point, except that the mom feels like a disingenuous attempt at creating drama. Where's the originality? Meanwhile, I wonder why prison isn't more mean? This prison is a place where inmates can make their closest friendships. Each inmate's strength is challenged, for sure, but the series paints a simplistic picture of incarcerated women. As if they only want to eat Snickers bars, get cast in a dancing role in the Christmas pageant, and tweeze their eyebrows in peace.
The Full Report:
Orange is the New Black is a Netflix original series based on a memoir of the same name. The show follows Piper Chapman, a fictionalized version of the real-life Piper, whose one-time experience working with an international drug smuggler ten years earlier is uncovered and exposed. She's sentenced to fifteen months in prison in upstate New York. The show is created by Jenji Kohan, who also created the recently wrapped Showtime series Weeds, about a wealthy young mother who turns to drug dealing in her California suburb after her husband unexpectedly dies.
My former obsession with Showtime's series Weeds took root on a lonely winter afternoon two years ago, when my friends were all out of town for the holidays. I watched the first five seasons of Weeds in one December week. I waited patiently for the sixth and seventh seasons as they became available on the internet over the next couple of years. Then came the final installment earlier this year, and I cried through the last few minutes, saying goodbye to the family that had existed on my little computer screen.
Fast forward to last month: I'm sitting at my computer, alone, again, but I've got Twitter now. The handful of folks whose tweets I follow are rolling out some massive love for a new drama about women in prison, Orange is the New Black. The title is smartly feminine, and the cast is a mini Weeds reunion. The two shows were both created by Kohan and share a couple of character actors that are satisfyingly entertaining as underhanded creepsters.
Season One of Orange is the New Black is on Netflix entirely and exclusively. Of course, I had to watched it all, and in less than a week. I watched the first five episodes in one night, even though Episode One was insulting to my intelligence as a viewer. Everything is explained too clearly. That's not fun. In case the audience isn't smart or attentive enough, the first episode force feeds us the main character's backstory through flashbacks, voice-over narration, and an introduction to everyone in her life.
I gave it another chance, and watched the rest of the season, trying to understand that the first few episodes can be tricky. I guess there's a fear on the part of film and television makers that viewers have become impatient, that we're a dumbed-down audience eager to get all the details as fast as a we expect to receive our Chalupas or food truck lunch.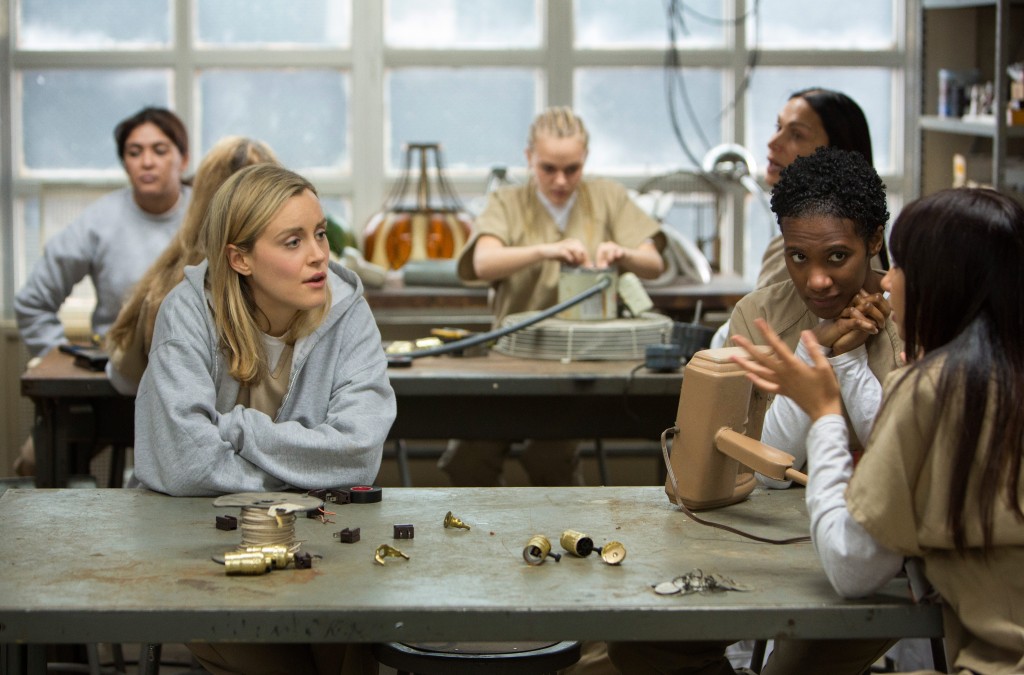 Each episode that follows sticks to a similar story-telling style, sewed together with flashbacks and contrived dialogue that rob us of feeling the world on screen. And what is that world? For one thing, it's kind of like sleepaway camp. There's an election for each racial group's prison equivalent of class president, lots of free time to sit and whisper, and the occasional run around the track and autumn breakfast under a tree.
Meanwhile, the world outside of prison is less understanding and much more selfish. For example, Piper's best friend from her life before prison is eight months pregnant, and at one point when Piper calls her in a moment of self-reflection about blame and regret, her friend reminds her that pregnancy is no picnic either, and changes the subject to a joke about silly nicknames for the female anatomy. That's a character we have no interest in liking or following for thirteen episodes. Here's another, Piper's fiance, who whines about looking like the third wheel when he hangs out with his coupled friends, and who manages to make every conversation he engages in about his ego and his rising career as a writer.
The show's main flaw might be that its message is way too obvious: Piper's fellow prisoners are more understanding than her family and friends on the outside. Or it's that the show's writers incorrectly think that drama can only come from characters being misunderstood in predictable premises, rather than from complex and zany struggles that are accompanied by genuine emotion. That's what Weeds delivered, and this show does not.
The series is based on a memoir that was written by the actual Piper who spent a year in prison, and I guess that means you can yell at me, "Hey, it's all mostly true! Who are you to say the relationships are corny or the officers aren't mean enough?"
But you know what I'd say back to you? This isn't a documentary. It's a drama. And all shows carry the responsibility to entertain, to make me sweat out some high stakes moments, and wow me every now and then with cool visuals and captivating shots – there's a camera and a director, after all. I want juicy prison details beyond the inmate who smuggles in electric toothbrushes or the Corrections Officer who discovers fuller lips are better than thin ones while taking advantage of young inmates. I expect my emotions to be tugged at by a conflict deeper than long-distance relationships being torn apart by the fear of lesbian infidelity. I can get that kind of controversy from a show about college freshmen.
My favorite line is delivered halfway into the series premiere. I appreciate this short piece of dialogue only because it feels like the most honest words spoken. When Corrections Officer Healy introduces Piper to the way of life behind bars, he comforts her by cluing her in that prison is not like it's represented on television. He's giving a warning to the viewer, also. "This isn't 'Oz," he says calmly. "Women fight with gossip and rumors."
A TV show worth watching on Netflix this month: The first two seasons (referred to as "Series" 1 and 2 in the UK and on Netflix) of the BBC's beautifully filmed, strikingly acted, modern-day telling of Sherlock. Sherlock is played by Benedict Cumberbatch, who received a ton of buzz earlier this year for his portrayal of Khan in Star Trek Into Darkness.
Also of note on the show is Sherlock's nemesis Moriarty, a character (portrayed by British actor Andrew Scott) who originally had an eight-minute appearance in Season 1, Episode 3, that was so well-received, they brought him back for every episode in Season 2. It's chilling!
__
ABOUT THE WRITER: Alicia Schaeffer is a writer who spends a lovely amount of time browsing for the great, the good enough, and the awful movies and TV shows available online. If you'd like to read her tweets about the timelessness of Who Framed Roger Rabbit and how to survive in New York City if you're not in finance, find her on Twitter: @LilMsMisinformd